Imagine the movie these four could make!
August 30th, 2019 under Jeff Goldblum, John Travolta, Saved by the Bell/City Guys, The Two Coreys. [ Comments: none ]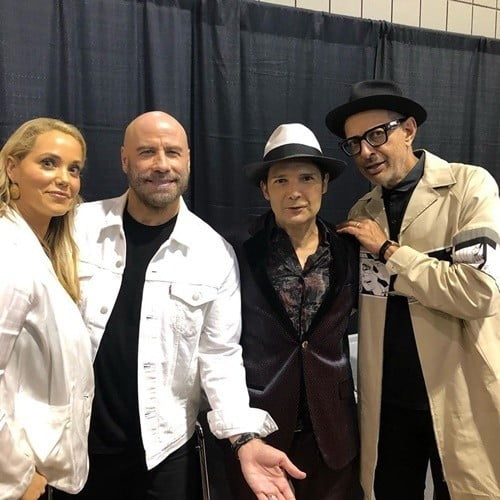 Over the weekend, several celebrities from all walks of Hollywood attended Fan Expo Canada. Like their fans fangirl over them, they fangirl over each other and pose together in photos.
Corey Feldman (Puppet Master vs Demonic Toys) did just that with Elizabeth Berkley (Showgirls), John Travolta (Battlefield Earth) and Jeff Goldblum (Transylvania 6-5000).
Seeing these four grouped together, I wonder what type of movie they could make. I could totally see Jeff Goldblum and John Travolta have a contest to see who is the suavest one of them all. Feldman is the son of one of them. While Berkley divorced one of them and is about to marry the other one. This causes even more tension between the men. Therefore, they are both plotting to destroy the other one. Only to find out in the end that they really like each other. They become BFFs, and Berkley winds up with Feldman. Would you go to see that film?
I would see anything these four did together for one project. I love mismatched casts, they create the most fun movies because of their odd chemistry.

---
Is that how Jeff Goldblum and Andie McDowell sound during sex?
July 30th, 2019 under James Corden, Jeff Goldblum. [ Comments: none ]

Jeff Goldblum was on The Late Late Show yesterday and James Corden asked him about the elephant impression that he does. However, you cannot question him about it, you also have to ask the actor to do it. Which the sex symbol was more than happy for us to hear. I don't know about you, but I was nuts for it. It is something I will soon not forget.
Then the CBS host asked his other guest if she can make any animal sounds. Andie MacDowell can so she demonstrated for us how she can howl like a grizzly. It was too much for me to bear.
So much so, I have to wonder if that is what they sound like when their lovers take them to the extreme they rock a mic like a vandal.
On that note, Goldblum and Corden went head to head in Drop the Mic. Only one man was left saying, "Help me!" To see who it is, then click here!

---
Jeff Goldblum lost his virginity on his opening night!
July 26th, 2019 under Jeff Goldblum, Stephen Colbert. [ Comments: none ]

Jeff Goldblum has had an interesting life and it all started on the first night of his professional career.
Back when he was 18 years old, he made his acting debut in Shakespeare in the Park's Two Gentlemen of Verona. On the opening night, he not only lost his acting cherry, but he also lost the other important one.
Only Jeff Goldblum can kill two milestones in one night! Which is why we bow down to him.
Too bad Stephen Colbert didn't let him finish the story. That is why I say The Late Show host is the worst interviewer in late night.

---
Jeff Goldblum shows off his sexy legs
May 30th, 2019 under Jeff Goldblum. [ Comments: none ]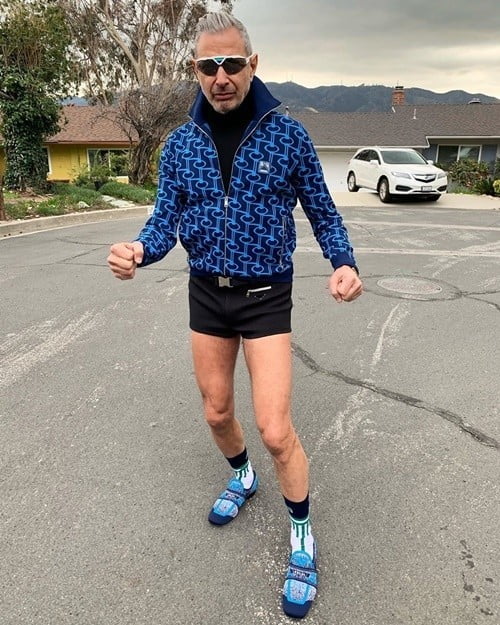 Jeff Goldblum shared a photo of himself in shorts and I do not remember seeing his legs in any of his movies. Which is very puzzling to me because those are some nice gams. His next movie he better be showing them off! It is only fair.

---
James Corden's ode to Jeff Goldblum
December 6th, 2018 under James Corden, Jeff Goldblum. [ Comments: none ]

James Corden took Ariana Grande's song Thank You, Next and changed the word next to Jeff. In honor of the sexy Jeff Goldblum.
While in this version it is the person who is being sung about that learns the lesson as compared to the other way around. What was it? The Fly learned he needs a restraining order against the Late Late Show host whenever he is going to be on the CBS show. Cause if I were the actor, I would, "Be afraid. Be very afraid."

---