James Corden will be staying up Late Late until 2022
August 19th, 2019 under James Corden. [ Comments:

none

]

CBS announced today that James Corden has signed on to continue to host The Late Late Show until August 2022.
He joined the network on March 23, 2015. Since then he has become a viral sensation thanks to segments like Carpool Karaoke, Drop the Mic and Crosswalk the Musical. Therefore his renewal seems like a no-brainer. However, before signing on the dotted line, he said he was not sure he wanted to be so far away from his family that is back home in England. His parents, his wife's parents and his kids are not getting any younger. Thus, he had them to consider when he was agreeing to stay on.
I am sure, he realized this is a cushy gig where he can take time off to do a movie like Cats or host the Tonys. Why not keep doing it and move his family here. I am sure he is making enough money to do that.
---
OMG, James Corden is sexy bald!
August 13th, 2019 under James Corden, Josh Gad. [ Comments:

none

]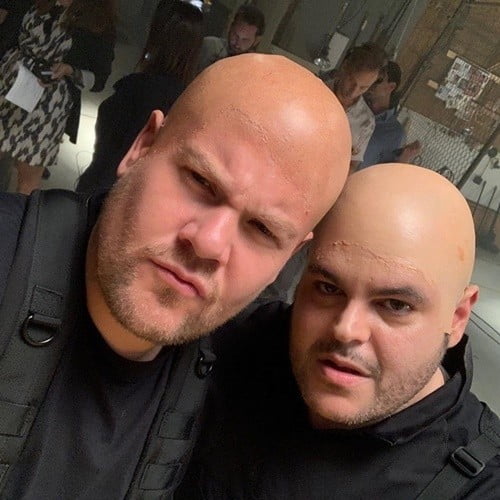 Josh Gad was on The Late Late Show yesterday. James Corden thought it would be fun if they revealed that they were the ones originally cast in this summer's biggest blockbusters. They had the roles before Brad Pitt and Leonardo DiCaprio in Once Upon a Time in Hollywood, The Rock and Jason Statham in Hobbs & Shaw and finally as Woody and Buzz Lightyear from Toy Story 4.
As we know, it did not work out for them, but we did learn something shocking about the CBS late night host. The cute Brit is actually really sexy with a chrome dome. He should shave it off ASAP and I don't normally find bald men attractive. However, on him, the Jack Russell becomes a German Shepard. Am I the only who is also turned on him by with this look?
---
Patricia Arquette gave Joseph Gordon-Levitt his first kiss
August 1st, 2019 under James Corden, Joseph Gordon-Levitt. [ Comments:

2

]

Patricia Arquette was on The Late Late Show yesterday and James Corden asked her about being Joseph Gordon-Levitt's 'first-ever kiss.'
Back in the early '90s, she starred in Holy Matrimony with Gordon-Levitt and the two of them had to get married. In the film, the two belonged to a community that when a woman's husband dies, she has to marry his brother. In this case, it was the 12-year-old actor who had never been kissed.
Before the scene, Jane Gordon went up to Arquette and said that her son was nervous because it was his first kiss. Therefore, the actress went up to her co-star and told him, "Hey, this is just pretend. This really isn't your first kiss either. Like you get to have your own first real kiss."
Although for a preteen to tell all of his friends that his first kiss was with a woman twice his age, I think he would he would be OK with saying his first kiss was with her. Now it is creepy to think about it. However, back then, it was probably cool to him and his friends.
When it comes to the smooch, she said it was just a peck. She wanted to make sure we knew it was nothing more than that. Because that would be really icky.
---
Is that how Jeff Goldblum and Andie McDowell sound during sex?
July 30th, 2019 under James Corden, Jeff Goldblum. [ Comments:

none

]

Jeff Goldblum was on The Late Late Show yesterday and James Corden asked him about the elephant impression that he does. However, you cannot question him about it, you also have to ask the actor to do it. Which the sex symbol was more than happy for us to hear. I don't know about you, but I was nuts for it. It is something I will soon not forget.
Then the CBS host asked his other guest if she can make any animal sounds. Andie MacDowell can so she demonstrated for us how she can howl like a grizzly. It was too much for me to bear.
So much so, I have to wonder if that is what they sound like when their lovers take them to the extreme they rock a mic like a vandal.
On that note, Goldblum and Corden went head to head in Drop the Mic. Only one man was left saying, "Help me!" To see who it is, then click here!
---
Don't let the Cats trailer fool you, it still sucks
July 18th, 2019 under James Corden, Rebel WIlson, Taylor Swift. [ Comments:

none

]

When you watch the trailer for Cats, you think this musical looks beautiful. I cannot wait to see it this Christmas.
Then you remember that it was one of Manhattan's biggest mysteries. People wondered why it was the longest-running musical on the Great White Way when almost everyone who saw it, hated it.
I grew up in NYC, so I went to plenty of Broadway shows growing up. Cats was the first one I hated and so did my parents. And we are cat people. Andrew Lloyd Webber has made some great shows and some awful ones. This falls in with the latter.
When it comes to Jennifer Hudson singing Memory, her singing is all power with no emotion. It is a showstopping number because it is the heart of the show. Not enough heart in her voice. The other problem is it cast a lot of A-listers, they are just celebrities that people find annoying. Not Judi Dench or Idris Elba, but you know who.
---