Jane Lynch reveals why they curbed the booze on Hollywood Game Night
August 22nd, 2019 under Conan O'Brien, Jane Lynch, Sean Hayes. [ Comments:

none

]

Jane Lynch was on Conan yesterday and Andy Richter mentioned how much drinking they did on the NBC show. The game show host said that it used to be that a glass never went empty on HGN.
However, things have changed and now they do not serve as much alcohol as they used to. Why? Simply too many, celebs and contestants got really wasted.
How drunk? She said that one person was so upset that they missed out on a point that they got into a fetal position and tears were flowing down her face. Another one got so drunk, that he could not stand up anymore. The last instance she talked about is someone gave a speech to the audience about how hard it is to find a good nanny.
I guess you can understand why Sean Hayes, who produces the show, put his foot down and stopped encouraging the players from having an unlimited amount of liquor. I mean he does not have kids, what does he know about hiring nannies? I guess it was for those people who found themselves crying like an infant or couldn't walk. What nanny wants to put up with that.
Of course, I am joking about Hayes being the one. Here is the IMDB page listing who has been on the show. Who do you think are the answers to her blind items? I think Kelly Clarkson or Kristen Bell was the crier and Jason Biggs was the person who has nanny issues. They are just the three names who popped into my head.
Side note: Jane Lynch and Andy Richter have been worked together almost 30 years ago. To see then do their take of The Brady Bunch, then click here.
---
Conan O'Brien solves the Popeyes vs Chick-fil-A chicken sandwich question?
August 21st, 2019 under Conan O'Brien, Fast Food. [ Comments:

none

]

For the last few days, people have been debating who has the better chicken sandwich, Popeyes or Chick-fil-A? Personally, I am a fan of neither, so I cannot answer the question.
While I cannot do it, Conan O'Brien decided to answer it for all of us. He sent someone out to both fast food restaurants, that are within walking distance of the Warner Bros, to pick up the choice menu item. Once they were in his studio, he had a real food connoisseur sample both delicacies. Which one did Dudley The Taste Test Dog prefer? He gobbled them both up in one bite. Thus, the answer is a tie.
Therefore, they are both equally as good (or bad) and we can move on with our lives. That is until someone brings Kentucky Fried Chicken into the mix…
---
Who is late night's mystery guest coming up on Thursday?
August 2nd, 2019 under Conan O'Brien, Jimmy Fallon, Jimmy Kimmel, Seth Meyers, Stephen Colbert. [ Comments:

none

]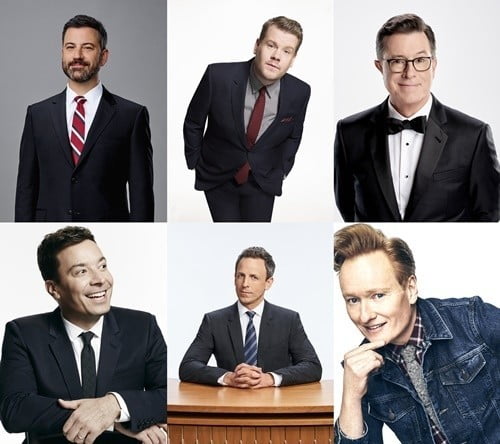 Sue Trowbridge, who runs the site Interbridge noticed something strange about the guest booking for the late night shows on August 8th. Since she has been listing which people are going to be on what talk shows since 1994, she would know if something is out of the ordinary.
What did she notice? She saw that Conan, Jimmy Kimmel Live, The Tonight Show with Jimmy Fallon, Late Night with Seth Meyers and The Late Show with Stephen Colbert all have a "Special Guest TBA." Who this guest is, we have no idea since they are to be announced.
Here are some of my theories. My first thought is Beyonce is going to release an album on the 9th and she is going to make the announcement on their shows. Or maybe one of the studios is releasing a secret movie next Friday? Could Oprah Winfrey or Michelle Obama be announcing that they are running for President of the United States? What about a bunch of celebrities announcing a telethon to raise money for something? Avengers: Endgame is coming out on home video the 13th, what if a cast member appears on each show with a special announcement.
Here is another interesting question, how will they handle it? Will they each get an exclusive with said guest? They all tape and air at different times. Would they all set a certain time so they could all interview them at the same time in a group interview? Will the guest give all of them a pre-taped statement? Will they each interview the person individually? Since Conan airs first, we will have to wait until T0ursday at 11p to find out.
Who do you think the mystery guest is? It has to be someone HUGE and it is not television show related.
---
Should Kevin Bacon or Dan Chadle be the next Indiana Jones?
July 18th, 2019 under Conan O'Brien, Don Cheadle, Harrison Ford, Kevin Bacon. [ Comments:

none

]

Harrison Ford just turned 77 this week, and you can say he might be getting too old to play Indiana Jones. Yesterday on Conan, who is at San Diego Comic-Con this week, decided to hold auditions for his replacement.
Thomas Middleditch (who I am convinced could play Marty Feldman after this), Billy Eichner, Sam Richardson, Adam Scott, Seth Green, Tig Notaro, Mr. Kyra Sedgwick and Dan Chadle all tried out for the part. Kumail Nanjiani would have been considered if he actually showed up. However, he cancelled on Conan O'Brien minutes beforehand.
Anyhoo, of the bunch of them, I am rooting for the guy who could be Footloose around a boulder to take over as Indy. Can you believe with all the movies Bacon and Ford have done, they have never done one together? That needs to change.
---
Welcome to the Conan-verse!
July 17th, 2019 under Conan O'Brien. [ Comments:

none

]

Conan O'Brien is doing his show at San Diego Comic-Com for the fifth time this week and he did a special opening for the event. This year, his story was told like Spider-Man: Into The Spider-Verse. Except he was not bitten by a radioactive spider, instead, for him, it was a radioactive party clown at his quinceanera. That moment made him the man that he is today.
Chris Miller and Phillip Lord have given many great productions besides the Oscar-winning movie featured in that opening number. They also are behind 21 Jump Street, The Lego Movies, The Last Man on Earth and Son of Zorn. I think they should turn Conan-verse its own weekly show. Imagine how wacky it will be with the three of them together? Animated gold!
---