John Travolta can still do the Vinnie Barbarino dance!
August 16th, 2019 under Jimmy Fallon, John Travolta. [ Comments:

none

]

Before John Travolta was dancing the night away in Grease, Saturday Night Fever and Pulp Fiction, to name a few of his movies, he was swinging his hips on Welcome Back, Kotter. Can he still move like he did when he was in his early 20's?
Yesterday, when he was on The Tonight Show, Jimmy Fallon challenged him to a Travolta-off. Basically, the two men went head-to-head to see who could do the better Travolta. Of course, Travolta won. I mean, how could he lose since he is the OG.
Anyways, for the last imitation, they both did Vinnie Barbarino together and ended with his character's signature number. Even though Travolta is a brand new senior citizen at 65, he can still boogie like he did 40 years ago. Which brings me so much joy.
Actually, the actor is just pure joy. It is hard not to smile when you watch him do his thing. If he did not turn your frown upside down, then up your nose with a rubber hose!
To see him do the Barbarino back in the '70s, then click here!
---
Kirstie Alley and John Travolta are pitching a Look Who's Talking sequel
July 11th, 2019 under John Travolta, Kirstie Alley. [ Comments:

none

]

Earlier this week, it was revealed that Hollywood is looking into remaking Look Who's Talking? I said to my friend, why don't they just do a sequel with Kirstie Alley and John Travolta's grandchild as the talking baby?
Well, I am not the only who feels that way. When someone asked the actress if she will be in the reboot, she told them. "No idea.. we've tried to do a sequel for years with us as the grand parents..:) 🤷‍♀️🤷‍♀️🤷‍♀️"
What is wrong with Hollywood? I would rather see Look Who's Talking 4 (even though Abe Vigoda will not be part of it) than a crappy reboot. Wouldn't you?
---
Remember Ellen Travolta?
March 21st, 2019 under John Travolta. [ Comments:

none

]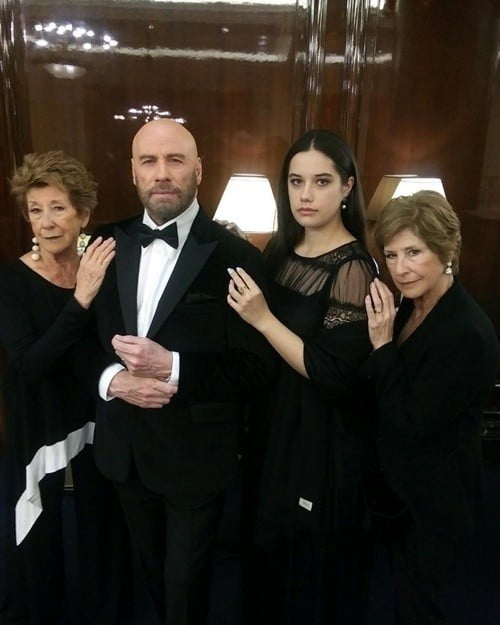 While we are used to seeing John Travolta all the time, we have not seen his sister, Ellen as much in recent years. This week the actor posted a photo of himself with her and their sister Margaret.
Even though the actress is 78, she looks like she has not aged a day since she played Scott Baio's mom on Happy Days, Joanie Loves Chachi and Charles in Charge. That family really ages well, I want to know their secret.
---
Who convinced John Travolta to shave it all off?
February 3rd, 2019 under John Travolta. [ Comments:

none

]

For years, John Travolta tried to hide his receding hairline, and then he finally decided to give into it after some convincing. Friends and family tried, but he told Extra it was Pitbull who made the difference. How? The singer would send the actor photos of him bald, and eventually, he realized how sexy (my words) would look. Off went the hair and hello a new John Travolta who is loving the attention.
The proud pop also talked about his daughter getting into acting. When he was asked if he would dissuade Ella Blue from going into it? He said, "No because I do not think there is a better life than we have as artists. We have the golden ticket to the World. Why would you want to deny someone that?" What a beautiful and honest way to look at the life of an actor. I wish more would see it as he does.
---
John Travolta embraces his baldness!
January 7th, 2019 under John Travolta. [ Comments:

1

]

Back in the '70s, we loved John Travolta's winged jet black hair on Welcome Back, Kotter and the slicked back do he had in Grease. As the years have gone by, his locks have thinned like a lot of men. For years, he tried to hide that fact.

However 2019 is a new year, and time for a new him. The actor shared a photo with his daughter, Ella Blue, on New Year's Eve and he is as bald as Kojack and Mr. Clean. You know what, bald is sexy and it is very sexy on him. I hope he keeps it off because it really suits the actor.

Hair today, gone tomorrow! Do you think his hair should stay gone or should he bring it back?
---