Harry Styles reveals he wants to be a florist
January 10th, 2020 under Ellen DeGeneres, Harry Styles, One Direction. [ Comments:

none

]

Harry Styles has everything, looks, hair, charm, triple threat, and lots of money. He can win women over with all of that. However, what if he did not have all of that One Direction money and never became an international superstar? What would he do?
Ellen Degeneres asked him that during her Burning Questions segment and he told her he would have been a florist. He would then win a girl's heart by crafting her the perfect bouquet. Who wouldn't want flowers from him?
And guess what ladies? He also told Ellen he is single. What does, the man who wears briefs, like in a woman? He says his three favorite features are "Eyes. Smile. Character." As I said, he knows how to use the charm!
Oh and he has been in handcuffs before, so I think we can use them on him if we want!
---
Which member of One Direction of has the largest member?
December 23rd, 2019 under Andy Cohen, One Direction. [ Comments:

none

]

Liam Payne was on Watch What Happens Live the other night, and Andy Cohen asked him to play Plead the Fifth. The singer opted to plead the fifth for that question instead of revealing if he dated Naomi Campbell.
That means he had to answer the remaining two questions. With that, the Bravo host asked him, "Which member of One Direction, do you think is the most well endowed?" Without hesitation, he boasted, "I'll have to say myself."
Since he cannot lie on live television, we have to believe he is telling the truth. Do you think he committed perjury or he has the most beautiful microphone in his trousers?
---
Liam Payne reveals he had drinking problem after One Direction split
December 5th, 2019 under One Direction, This Morning. [ Comments:

none

]

Liam Payne spent most of his teen years in the biggest boy band of their time. Then when he was 22, they split up. Therefore, leaving him lost, lonely, and confused. One of the ways to handle everything he was going through was to drink, and it became a problem for him. Before it got too bad, he went to therapy to get help. It helped him to remain sober for a year.
He told the hosts on This Morning that by getting therapy, it taught him how to deal with his feelings and not to mask them with alcohol.
Did he talk to the other band members about his experience, since he advocates that you should talk to others when you need help? Even though they keep in touch, he did not. Maybe now they will.
Payne says he feels for Justin Bieber having to go through the rise of fame all by himself. It is a difficult thing for someone to do. The singer can't imagine doing it on his own because he had four other people who were going through what they went through together. They helped each other then and are still helping each other now.
Even though he is just 26 years old, he has an older person's knowledge. I hope he writes a book that is the story of his life. I bet you it will be filled with a lot of wisdom. And also a lot of sex, drugs, and Rock'n'Roll.
---
Harry Styles replaces James Corden on The Late Late Show
December 2nd, 2019 under Harry Styles, James Corden, Jeff Goldblum, Ken Jeong, Melissa McCarthy, One Direction. [ Comments:

none

]

James Corden is taking some time off to do his day job, but The Late Late Show must go on. Therefore, they asked several celebrities to host the talk show while he is off doing those other things. Like doing press for Cats, the worst movie of the year, and starring in another musical The Prom.
Stepping in for him between December 9-18th are Alicia Keys, Chance the Rapper, Jeff Goldblum, Ken Jeong, Melissa McCarthy, and Harry Styles. Their hosting dates will be announced later.
Good thing he signed a 2-year contract with CBS or maybe one of them could be replacing him like Jeff Goldblum or Harry Styles. Who knows maybe Chance the Rapper will surprise us and be the best one of them all?
---
Harry Styles is pretty in a pink tutu
November 18th, 2019 under Harry Styles, One Direction. [ Comments:

none

]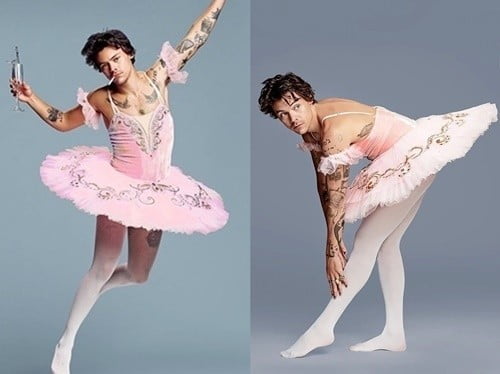 We know that Harry Styles can wear anything, no matter the pattern or texture. This weekend on Saturday Night Live, he changed things up. He wore a pink tutu with white stockings that showed off his very long legs.
How did he not win People's Sexiest Man Alive? He is such a turn on even as a ballet dancer getting ready for his debut in Black Swan.
---