Jeff Goldblum shows off his sexy legs
May 30th, 2019 under Jeff Goldblum. [ Comments: none ]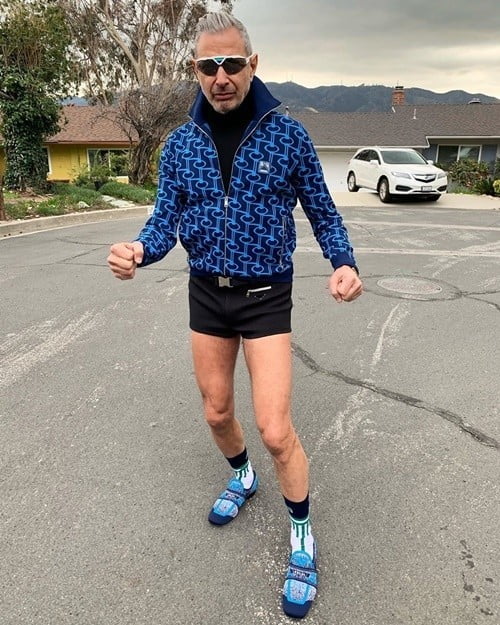 Jeff Goldblum shared a photo of himself in shorts and I do not remember seeing his legs in any of his movies. Which is very puzzling to me because those are some nice gams. His next movie he better be showing them off! It is only fair.

---
James Corden's ode to Jeff Goldblum
December 6th, 2018 under James Corden, Jeff Goldblum. [ Comments: none ]

James Corden took Ariana Grande's song Thank You, Next and changed the word next to Jeff. In honor of the sexy Jeff Goldblum.
While in this version it is the person who is being sung about that learns the lesson as compared to the other way around. What was it? The Fly learned he needs a restraining order against the Late Late Show host whenever he is going to be on the CBS show. Cause if I were the actor, I would, "Be afraid. Be very afraid."

---
Jeff Goldblum is larger than life
July 18th, 2018 under Jeff Goldblum. [ Comments: none ]

Jeff Goldblum is a big personality that stands out in a crowd, and I am not saying that because he is so tall. Well, Now TV feels the same way, so they made a 25-foot statue of him.
Why? To honor the 25th anniversary of Jurassic Park. Why use a dinosaur when you can you make a statue of the star as large as one. So that is what they did and placed him on Potter's Field in front of Tower Bridge in London. People all over the city are coming to check him out because it is the next best thing to the real thing.
When it comes to the statue itself, I don't know whether to be turned on or creeped out. A little bit of both, kind of like how I feel with Goldblum!
No word what they will do with the giant Fly, but I think they should give it to the actor. And he should put it on his front lawn. I do not know think anyone would question it, they would be like it is just Jeff

---
BTWF: Jeff Goldblum in Next Stop, Greenwich Village
June 14th, 2018 under Before They Were Famous, Jeff Goldblum. [ Comments: none ]

Before Jeff Goldblum did not have to audition for roles, he had to audition for one in the film Next Stop, Greenwich Villiage. He looks the same now as he did when he was 23 in that 1976 movie.

---
Caption Jeff Goldblum!
May 24th, 2018 under Caption the Celeb, Jeff Goldblum. [ Comments: none ]

This photo that Jeff Goldblum posted called "One night in Tokyo…" looks like it has an interesting story behind it, so tell me what it is.

---