BTWF: Jeff Goldblum in Annie Hall
June 5th, 2023 under Before They Were Famous, Jeff Goldblum. [ Comments: none ]
Before Jeff Goldblum knew his mantra in The Fly, he forgot it in Annie Hall. He looks the same now as he did when he was 23 in that 1977 movie.

---
BTWF: Jeff Goldblum on Columbo
July 7th, 2022 under Before They Were Famous, Jeff Goldblum. [ Comments: none ]
Before Jeff Goldblum had his own television show, The World According to Jeff Goldblum, he wasn't even credited in his television debut on Columbo. You can't miss the 22-year-old in that 1975 episode?

---
Jeff Goldblum recreates his Jurassic Park sexy pose
October 9th, 2020 under Jeff Goldblum. [ Comments: none ]

Back in the early '90s, Jeff Goldblum did a sexy pose in the 1993 movie Jurassic Park. The picture became such a fan favorite that people are still talking about it today. Therefore, he knew he could use it as a way to bribe people to get them to do what he wants.

"WOW! Thank you to everyone who used my @HeadCount page to make sure that you're #GoodToVote! Nearly 3,000 of you are ready for this November's election," Goldblum said. "Here's your reward…how time flies. @jurassicworld 🌋🦖"

It might have been 27 years since the movie came out, but I think the 67-year-old actor is sexier now than he was then. He is no dinosaur!

He starred in Earth Girls Are Easy. I have to agree with that title because of the things I want to do to him after this seeing this photo makes this Earth girl very easy!

---
Jeff Goldblum has some new eggcellent glasses!
May 26th, 2020 under Jeff Goldblum. [ Comments: none ]

Jeff Goldblum makes wearing glasses cool. Now, he is showing off his newest pair. Although, I am not sure if he would wear his "safer at home" glasses outside. People might think he flew the coop.

---
Look it is The Fly, Birdman and Big Dick Richie
February 10th, 2020 under Jeff Goldblum, Joe Manganiello, Michael Keaton, Strange Encounters. [ Comments: none ]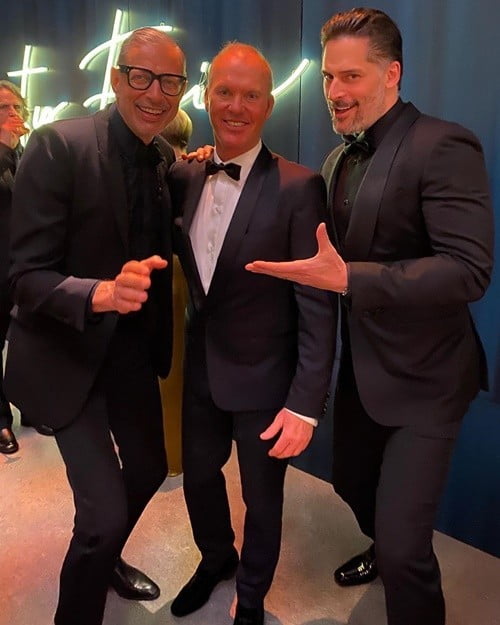 One of the cool things about the Vanity Fair Oscar party is that it brings celebrities together who normally would not hang out. Yesterday's shindig was able to let three Pittsburgh boys shoot the breeze about the Pirates and the Steelers. That is what they talked about, right?
Now that we have seen Jeff Goldblum, Michael Keaton, and Joe Manganiello as a trio, who wouldn't love to see them do a film? They could do a remake of La Cage aux Folles or a modern-day take of The Three Musketeers.

---