Jeff Goldblum has some new eggcellent glasses!
May 26th, 2020 under Jeff Goldblum. [ Comments:

none

]

Jeff Goldblum makes wearing glasses cool. Now, he is showing off his newest pair. Although, I am not sure if he would wear his "safer at home" glasses outside. People might think he flew the coop.

---
Look it is The Fly, Birdman and Big Dick Richie
February 10th, 2020 under Jeff Goldblum, Joe Manganiello, Michael Keaton, Strange Encounters. [ Comments:

none

]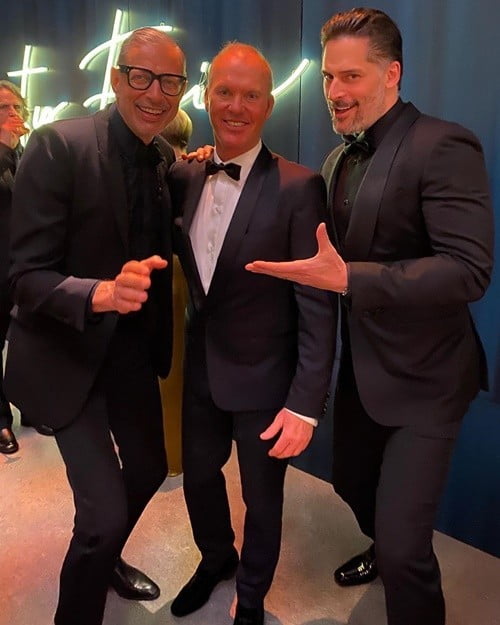 One of the cool things about the Vanity Fair Oscar party is that it brings celebrities together who normally would not hang out. Yesterday's shindig was able to let three Pittsburgh boys shoot the breeze about the Pirates and the Steelers. That is what they talked about, right?
Now that we have seen Jeff Goldblum, Michael Keaton, and Joe Manganiello as a trio, who wouldn't love to see them do a film? They could do a remake of La Cage aux Folles or a modern-day take of The Three Musketeers.

---
Conan O'Brien sucks on Jeff Goldblum's used sucking candy
January 22nd, 2020 under Conan O'Brien, Jeff Goldblum. [ Comments:

none

]

Jeff Goldblum was a guest on Conan O'Brien's talk show, yesterday and he wanted to make sure his mouth stayed moist. Therefore, he sucked on a sucking candy. Conan being Conan called him out on it.
However, the conversation changed, and they wound up talking about their wedding bands. When Goldblum was looking at the TBS host's ring, Conan put on Jeff's glasses. The look would not be complete without the sucker, so he gave it to the interviewer.
What did Conan do? He put it in his mouth, grossing out his audience. However, I look it as, now that they have swapped spit, they are forever bonded. Who wouldn't want to be bonded with the open shirt sexy guy from Jurassic Park? I do! I guess that is why they say Earth Girls Are Easy!

---
Harry Styles replaces James Corden on The Late Late Show
December 2nd, 2019 under Harry Styles, James Corden, Jeff Goldblum, Ken Jeong, Melissa McCarthy, One Direction. [ Comments:

none

]

James Corden is taking some time off to do his day job, but The Late Late Show must go on. Therefore, they asked several celebrities to host the talk show while he is off doing those other things. Like doing press for Cats, the worst movie of the year, and starring in another musical The Prom.
Stepping in for him between December 9-18th are Alicia Keys, Chance the Rapper, Jeff Goldblum, Ken Jeong, Melissa McCarthy, and Harry Styles. Their hosting dates will be announced later.
Good thing he signed a 2-year contract with CBS or maybe one of them could be replacing him like Jeff Goldblum or Harry Styles. Who knows maybe Chance the Rapper will surprise us and be the best one of them all?

---
Imagine the movie these four could make!
August 30th, 2019 under Jeff Goldblum, John Travolta, Saved by the Bell/City Guys, The Two Coreys. [ Comments:

none

]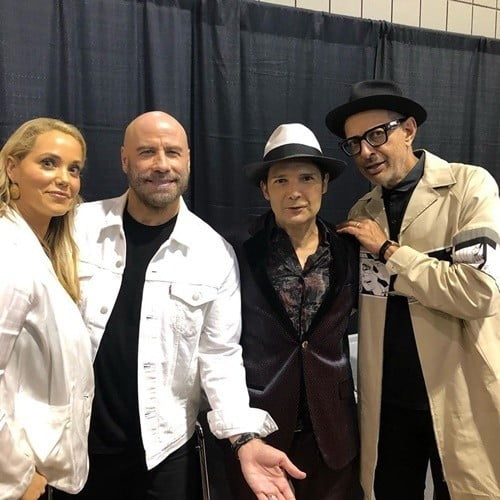 Over the weekend, several celebrities from all walks of Hollywood attended Fan Expo Canada. Like their fans fangirl over them, they fangirl over each other and pose together in photos.
Corey Feldman (Puppet Master vs Demonic Toys) did just that with Elizabeth Berkley (Showgirls), John Travolta (Battlefield Earth) and Jeff Goldblum (Transylvania 6-5000).
Seeing these four grouped together, I wonder what type of movie they could make. I could totally see Jeff Goldblum and John Travolta have a contest to see who is the suavest one of them all. Feldman is the son of one of them. While Berkley divorced one of them and is about to marry the other one. This causes even more tension between the men. Therefore, they are both plotting to destroy the other one. Only to find out in the end that they really like each other. They become BFFs, and Berkley winds up with Feldman. Would you go to see that film?
I would see anything these four did together for one project. I love mismatched casts, they create the most fun movies because of their odd chemistry.

---