[ # ] Imagine the movie these four could make!
August 30th, 2019 under Jeff Goldblum, John Travolta, Saved by the Bell/City Guys, The Two Coreys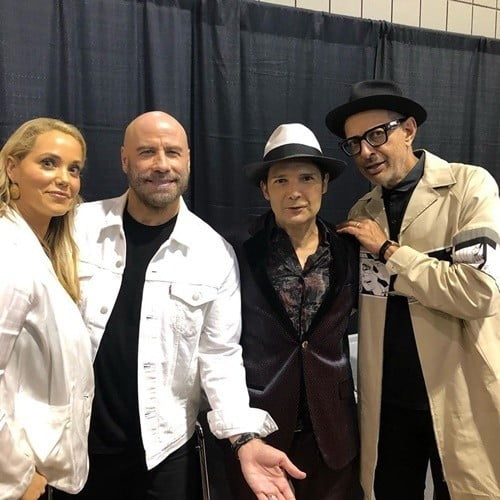 Over the weekend, several celebrities from all walks of Hollywood attended Fan Expo Canada. Like their fans fangirl over them, they fangirl over each other and pose together in photos.
Corey Feldman (Puppet Master vs Demonic Toys) did just that with Elizabeth Berkley (Showgirls), John Travolta (Battlefield Earth) and Jeff Goldblum (Transylvania 6-5000).
Seeing these four grouped together, I wonder what type of movie they could make. I could totally see Jeff Goldblum and John Travolta have a contest to see who is the suavest one of them all. Feldman is the son of one of them. While Berkley divorced one of them and is about to marry the other one. This causes even more tension between the men. Therefore, they are both plotting to destroy the other one. Only to find out in the end that they really like each other. They become BFFs, and Berkley winds up with Feldman. Would you go to see that film?
I would see anything these four did together for one project. I love mismatched casts, they create the most fun movies because of their odd chemistry.

---