The Bad News Bears got together to remember Kristoff St. John
March 5th, 2019 under Reunions, The Two Coreys. [ Comments:

none

]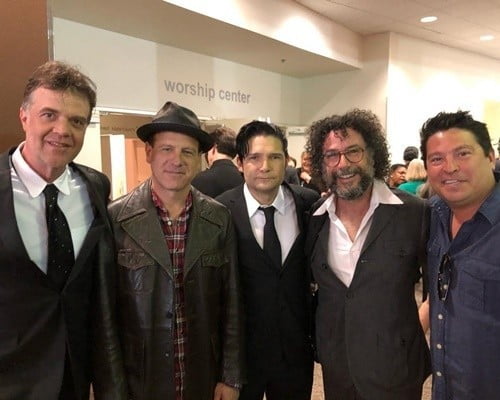 Back in 1979, Kristoff St. John was one of The Bad News Bears on the TV series. Yesterday, his teammates got together to remember their friend that passed away on February 3rd.
Billy Jayne (formerly Jacoby), Corey Feldman and Meeno Peluce all showed up to say goodbye to a lifelong friend along with Jason Lively and Chef Kevin Roberts. Feldman described the moment as, "TOUGH DAY, BUT A BITTERSWEET REUNION: 2 DAY WE BURIED MY DEAR FRIEND @kristoffstjohn IT WAS A MOVING & EMOTIONAL CEREMONY." Then he added, "R HEARTS STAND UNITED AS 1, IN MEMORY OF A GREAT MAN, & A GR8 FRIEND! HE WILL B GREATLY MISSED! WE LOVE U KRISTOFF!"
While their show lasted only 26 episodes, their friendship lasted for 40 years. Says a lot about the bond between child actors and Little League baseball players.
To see how they looked back in the day on the show, then click here!
---
Corey Feldman or Janice Dickinson?
April 13th, 2018 under The Two Coreys. [ Comments:

none

]

Corey Feldman is going to play a gender fluid vampire in Corbin Nash, and he posed as his character for Play Queen Magazine. At least I assume it is him because he looks exactly like Janice Dickinson here. Which makes me wonder who that really is? Who do you think it is?

When it comes to Corbin Nash, it comes out on April 20th. Therefore, buy some pot and enjoy the film on 4/20. I know that is how I will be spending the holiday.
---
Corey Feldman says he was not given the all clear from his stabbing
April 4th, 2018 under The Two Coreys. [ Comments:

none

]

Last week, Corey Feldman was stabbed by a sharp object in the stomach, possibly a syringe. A few days after the attack, there were reports that he was clean and clear of any poisons and/or disease. He says that is not true and he still has to wait six months to find out if he could be HIV+. He says he was offered meds to prevent the HIV from starting in his system, if he was injected with it, but he refused that course of action because he does not want to be sick for a month.
In the video message, he also states that Wolfpack is after him. They have been threatening him, his family and fans, so much so he is afraid to leave the house. He feels that he needs more security to protect him. That is where you come in. He would appreciate any money you can send him to hire more security, but he is not asking you for it directly.
Another thing he says is that he wants to do a documentary about all of the harassment he has been getting since he came forward with his truth. He says there is a lot of proof of the threats. All he wanted to do was tell the story of the person who raped his best friend.
Feldman's wife also said she is scared for their lives because of these threats and they need to feel more secure.
Needless to say, he is not going to let what happened last week go away quietly. Even though it sounds like authorities believe it was a random road rage attack.
---
Corey Feldman shows off his stab wound
March 29th, 2018 under The Two Coreys. [ Comments:

1

]

On Tuesday night, Corey Feldman says that he was stabbed by a stranger while driving home from dinner. Tonight, he shared a photo of the injury that he sustained from the incident.

He wrote this along with the photo, "THE WORLDS SMALLEST KNIFE WOUND…..OR?!?! YES I WAS ATTACKED 2 DAYS AGO, YES THEY USED SOME SORT OF SHARP WEAPON, AND YES IT WENT INTO MY BODY! THIS IS WHAT THE SCAR LOOKS LIKE NOW, OBVIOUSLY IF IT WAS A KNIFE I GOT VERY LUCKY & IM BLESSED! IF IT WAS A SYRINGE, I WILL PRAY 4 THE BEST RESULTS! GOD BLESS!! 🙏🏼🙏🏼#Kids2 #COREYSTRUTHISCOMING #PRESERVEINNOCENCE."

The mark looks bigger than a syringe but smaller than a knife. Maybe they used a pen? What kind of weapon do you think they used?

UPDATE: TMZ says that his blood came back "clean and clear of any hard drugs or infectious diseases."
---
Corey Feldman says he was stabbed
March 28th, 2018 under The Two Coreys. [ Comments:

none

]

Corey Feldman posted a photo lying in a hospital bed this morning and says he was stabbed by someone who is trying to kill. Then he followed it up with, "@LAPD R CURRENTLY INVESTIGATING THE CASE AS AN ATTEMPTED HOMICIDE! I HAVE HAD MOUNTING THREATS ON ALL SM PLATFORMS BY THIS VILE "WOLFPACK" & THIS IM SURE IS A RESULT OF THOSE NEGATIVE ACTIONS! I HAVE REASON 2 BELIEVE ITS ALL CONNECTED! ENOUGH IS ENOUGH! HOW SICK R THESE PPL?!??"
He thinks that the Wolfpack is after him because he is speaking out about his and Corey Haim's alleged abusers who sexually assaulted them when they were child actors.
When it comes to the LAPD, at first they told TMZ they did not see any lacerations on his body. But an hour later they changed their story. They said that Feldman claimed he was being followed by a car. His security guard decided to shine a light on the car. At the next stop light, someone got out of the other car and confronted the bodyguard. That is when Feldman says he was stabbed with some object like a syringe and now cops say they saw some sort of mark on his abdomen. Because Feldman thought he might have been injected with something is why he went to the hospital to get checked out. No word if he was as of now.
Cops are investigating this as road rage incident with a deadly weapon.
---