Caption Jerry O'Connell standing next to Corey Feldman!
October 21st, 2022 under Caption the Celeb, Jerry O'Connell/Rebecca Romijn, The Two Coreys. [ Comments: 1 ]
This photo of Jerry O'Connell and Corey Feldman has caption me all over it, so go ahead and do it.
To see what brought the two Stand By Me stars together, then click here!

---
The cast of Goonies reunited!
April 27th, 2022 under Josh Brolin, Reunions, The Two Coreys. [ Comments: none ]
Back in 1985, the Goonies took over the big screen, and they have won the hearts of kids ever since then. That is why the love of the movie will never die.
So over the weekend, Corey Feldman, Josh Brolin, Ke Huy Quan, Keri Green, Jeff Cohen, and bad guy Robert Davi reunited to honor their late director Richard Donner.
Seeing them all together makes me wish they would finally make a sequel. This way, us, kids at heart, can feel like kids all over again with them.

---
BTWF: Corey Feldman on Eight is Enough
July 14th, 2021 under Before They Were Famous, The Two Coreys. [ Comments: none ]
Before Corey Feldman was one of the Bad News Bears, he was just bad news on Eight is Enough. How cute was the 7-year-old in that 1978 episode?

---
The Goonies reunite, as Adam F. Goldberg reveals he's working on a sequel
April 27th, 2020 under Josh Brolin, Mackenzie and Sean Astin, The Goldbergs, The Two Coreys. [ Comments: none ]

Next week, The Goonies turns the big 3-5. In honor of that anniversary, Sean Astin, Corey Feldman, Jeff Cohen, Ke Huy Quan, Josh Brolin, Kerri Green, and Martha Plimpton reunited today to talk about the movie that still has a giant cult following.
So much so, Adam F. Goldberg dedicated two episodes from his sitcoms to it. One on his Fox show Breaking In and the other on his ABC comedy The Goldbergs. You can say he is a huge fan. How huge? He revealed, "For the last 9 years I've been secretly writing PART 2 for fun. It's my masterpiece. I even had a big meeting scheduled with Richard Donner… canceled 'cause of the lockdown! THE GOONIES 2 WILL happen when life resumes. Promise!!!"
If anyone could write a sequel that is loyal to the original, it is him. I hope Donner takes that meeting as soon as he is allowed to take meetings again. Who doesn't want a Goonies 2? And who doesn't want it from someone who really idolized the original film?
I know it is a little premature, but let's all do the Truffle Shuffle in honor of this most excellent news.

---
Imagine the movie these four could make!
August 30th, 2019 under Jeff Goldblum, John Travolta, Saved by the Bell/City Guys, The Two Coreys. [ Comments: none ]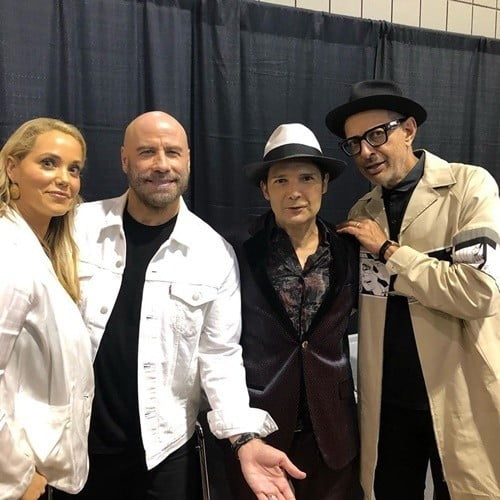 Over the weekend, several celebrities from all walks of Hollywood attended Fan Expo Canada. Like their fans fangirl over them, they fangirl over each other and pose together in photos.
Corey Feldman (Puppet Master vs Demonic Toys) did just that with Elizabeth Berkley (Showgirls), John Travolta (Battlefield Earth) and Jeff Goldblum (Transylvania 6-5000).
Seeing these four grouped together, I wonder what type of movie they could make. I could totally see Jeff Goldblum and John Travolta have a contest to see who is the suavest one of them all. Feldman is the son of one of them. While Berkley divorced one of them and is about to marry the other one. This causes even more tension between the men. Therefore, they are both plotting to destroy the other one. Only to find out in the end that they really like each other. They become BFFs, and Berkley winds up with Feldman. Would you go to see that film?
I would see anything these four did together for one project. I love mismatched casts, they create the most fun movies because of their odd chemistry.

---