A mini-Lost Boys reunion
May 24th, 2019 under Kiefer Sutherland, The Two Coreys. [ Comments:

none

]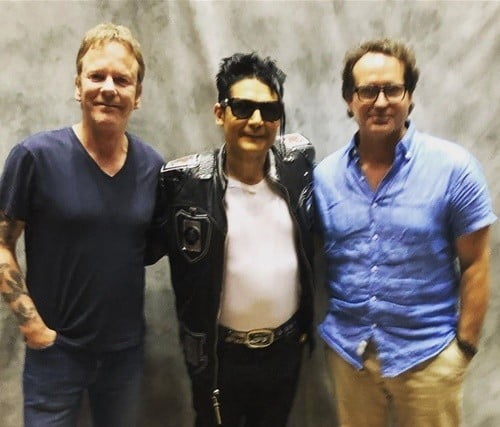 The best thing about conventions is they reunite actors who might not have seen each other in over 30 years. Recently Corey Feldman reunited with Kiefer Sutherland and Jason Patric, and it was the first (and probably the last time) they have been in the same room in 32 years. You know, since their iconic film came out.
Just when I thought that a Frog brother could get along with some vampires, I found out I thought wrong. I guess they will always be mortal enemies. Too bad Lost Boys never got the sequel it truly deserved.
---
An '80s movie geek's wet dream: Back to the Future and The Goonies
May 7th, 2019 under Lea Thompson, Michael J Fox, The Two Coreys. [ Comments:

1

]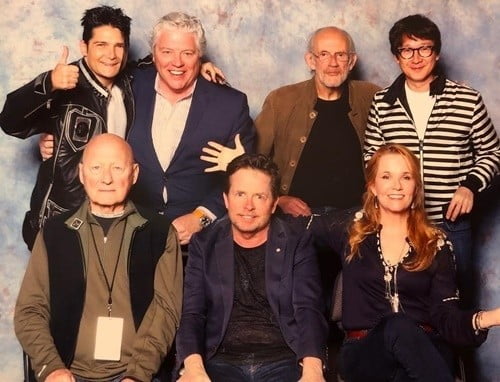 Back in the '80s, movie-going teenagers could not get enough of Back to the Future and The Goonies. However, those two movies were never to unite like Freddy vs Jason or Mega Python vs Gatoroid or Superman v. Batman.
That was then, this is 2019. Do the Truffle Shuffle dance because several cast members from both films posed for this photo at the Dallas Fan Expo over the weekend. Or Corey Feldman and Jonathan Ke Quan crashed Michael J. Fox, Christopher Lloyd, Lea Thompson, Thomas Wilson and James Tolkan's photo.
Giving us a glimpse of what it would be like if Back to the Future hopped into the DeLorean and helped The Goonies find out why we never got a sequel to their beloved movie.
---
The Bad News Bears got together to remember Kristoff St. John
March 5th, 2019 under Reunions, The Two Coreys. [ Comments:

none

]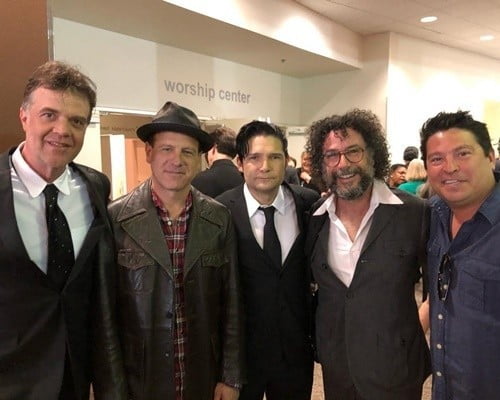 Back in 1979, Kristoff St. John was one of The Bad News Bears on the TV series. Yesterday, his teammates got together to remember their friend that passed away on February 3rd.
Billy Jayne (formerly Jacoby), Corey Feldman and Meeno Peluce all showed up to say goodbye to a lifelong friend along with Jason Lively and Chef Kevin Roberts. Feldman described the moment as, "TOUGH DAY, BUT A BITTERSWEET REUNION: 2 DAY WE BURIED MY DEAR FRIEND @kristoffstjohn IT WAS A MOVING & EMOTIONAL CEREMONY." Then he added, "R HEARTS STAND UNITED AS 1, IN MEMORY OF A GREAT MAN, & A GR8 FRIEND! HE WILL B GREATLY MISSED! WE LOVE U KRISTOFF!"
While their show lasted only 26 episodes, their friendship lasted for 40 years. Says a lot about the bond between child actors and Little League baseball players.
To see how they looked back in the day on the show, then click here!
---
Corey Feldman or Janice Dickinson?
April 13th, 2018 under The Two Coreys. [ Comments:

none

]

Corey Feldman is going to play a gender fluid vampire in Corbin Nash, and he posed as his character for Play Queen Magazine. At least I assume it is him because he looks exactly like Janice Dickinson here. Which makes me wonder who that really is? Who do you think it is?

When it comes to Corbin Nash, it comes out on April 20th. Therefore, buy some pot and enjoy the film on 4/20. I know that is how I will be spending the holiday.
---
Corey Feldman says he was not given the all clear from his stabbing
April 4th, 2018 under The Two Coreys. [ Comments:

none

]

Last week, Corey Feldman was stabbed by a sharp object in the stomach, possibly a syringe. A few days after the attack, there were reports that he was clean and clear of any poisons and/or disease. He says that is not true and he still has to wait six months to find out if he could be HIV+. He says he was offered meds to prevent the HIV from starting in his system, if he was injected with it, but he refused that course of action because he does not want to be sick for a month.
In the video message, he also states that Wolfpack is after him. They have been threatening him, his family and fans, so much so he is afraid to leave the house. He feels that he needs more security to protect him. That is where you come in. He would appreciate any money you can send him to hire more security, but he is not asking you for it directly.
Another thing he says is that he wants to do a documentary about all of the harassment he has been getting since he came forward with his truth. He says there is a lot of proof of the threats. All he wanted to do was tell the story of the person who raped his best friend.
Feldman's wife also said she is scared for their lives because of these threats and they need to feel more secure.
Needless to say, he is not going to let what happened last week go away quietly. Even though it sounds like authorities believe it was a random road rage attack.
---