Bad Santa and Greg Brady
August 2nd, 2021 under Billy Bob Thornton, Strange Encounters, The Brady Bunch. [ Comments: none ]
Over the weekend Barry Williams went to see Billy Bob Thornton play with his band The Box Masters, and we got this photo to prove it.
I mean, who would believe that they are seeing these two polar opposites together. One is the naughtiest Santa Claus, and the other is so squeaky clean. But to save face, I am going to say Johnny Bravo took over, and he is the one that went to the concert and not Greg Brady.

---
This NYC subway showdown should be made into a movie
July 9th, 2021 under Strange Encounters. [ Comments: none ]
We saw Freddy vs Jason at Camp Crystal Lake. However, the hockey mask-wearing serial killer recently traveled north from New Jersey to NYC via the subway. Much to his surprise, he ran into one of his other rivals on the train. That arch-nemesis is Chucky.
Since Subway Creatures Official only filmed the first few seconds of their showdown, we are left to wonder what happened next. Hey Blumhouse, make it happen. I need Freddy vs Chucky on the Subway.
Who do you think will win their duel?

---
Would you like to have lunch with these characters?
July 1st, 2021 under Eric McCormack, LeVar Burton, Strange Encounters. [ Comments: none ]
Noah Wyle has wanted to be invited to lunch with this group of character actors, and they finally asked him to join them. However, no one would believe him if there was no photographic evidence. So here he is with Spencer Garrett, Rob Morrow, Kevin Pollak, Eric Mccormack, Levar Burton, Alfred Molina, Michael Nouri, Michael Mckean, and Steven Webber.
I want to know who and what they were talking about. Can you imagine their conversation? It is probably better than anything we have seen them in, and McKean was in Spinal Tap,

---
Meeting Salma Hayek left Eminem all wet
February 12th, 2020 under Eminem, Salma Hayek, Strange Encounters. [ Comments: none ]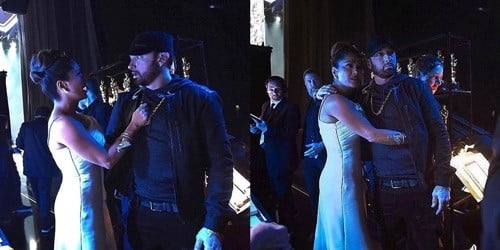 We saw what went on during the Oscars telecast, but we don't know what happened backstage. Today, Salma Hayek shared her embarrassing about when she met Eminem.
In these pictures it might look like @Eminem and I are best friends, but what really happened is as he was walking offstage and I was getting ready to walk onstage, I was so shocked to see him that I spilled water all over him. If you examine our faces, I look mortified and he looks terrified of me- As I was trying to wipe it off I impulsively hugged him and I said "Nice to meet you Eminem- I'm a HUGE fan!" because I AM! But I was so disappointed that I made such a fool of myself in front of him
How did he feel about their encounter? When Variety asked him if he enjoyed that night, he said, "Absolutely. I got to hug Salma Hayek!"
Too bad, she is married. If not, they would be Hollywood's hottest couple right now. You could say they would lose themselves in each other.

---
Look it is The Fly, Birdman and Big Dick Richie
February 10th, 2020 under Jeff Goldblum, Joe Manganiello, Michael Keaton, Strange Encounters. [ Comments: none ]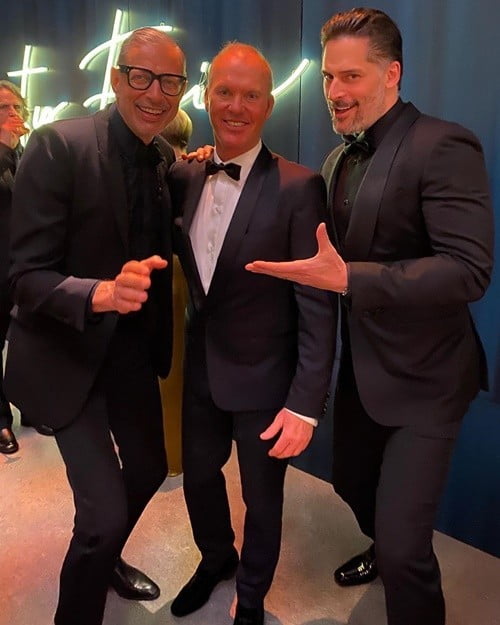 One of the cool things about the Vanity Fair Oscar party is that it brings celebrities together who normally would not hang out. Yesterday's shindig was able to let three Pittsburgh boys shoot the breeze about the Pirates and the Steelers. That is what they talked about, right?
Now that we have seen Jeff Goldblum, Michael Keaton, and Joe Manganiello as a trio, who wouldn't love to see them do a film? They could do a remake of La Cage aux Folles or a modern-day take of The Three Musketeers.

---