Bad Boys meets Coming to America
October 30th, 2019 under Eddie Murphy, Martin Lawrence, Strange Encounters, Tracy Morgan, Will Smith. [ Comments:

none

]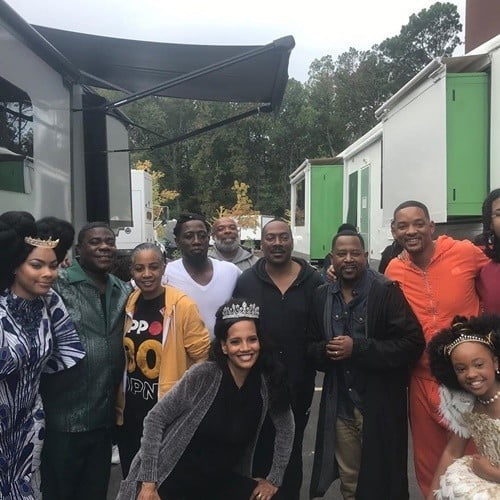 Bad Boys 3 and Coming to America 2 are both filming on the same lot and both casts met up for this epic photo. Imagine the movie all of these actors could make together!
Seriously could you get a funnier cast than Eddie Murphy, Tracy Morgan, Will Smith, Martin Lawrence and Wesley Snipes? It would be the Avengers movie of comedy. Tyler Perry, since this is at your studios, make it happen!
BTW where it is Arsenio Hall?
---
A friendship made in our Hell
March 6th, 2018 under Madonna, Strange Encounters, The Kardashians. [ Comments:

none

]

On Sunday night, Madonna and Kim Kardashian became instant friends, and we will pay for it. Because these two desperate-for-attention moms, who cannot keep their clothes on, bonded immediately. So much so, Madonna declared, "A foreshadowing of things to come." And we thought that Donald Trump was going to cause the apocalypse. I think this might do it first. Or maybe it is just one of the seven signs of it. Nice knowing y'all.
---
Seth Rogen shares an epic throwback photo!
December 27th, 2017 under Lady Gaga, Lindsay Lohan, Seth Rogen, Sex and the City, Strange Encounters, The Kardashians. [ Comments:

none

]

For years, Seth Rogen was locked out of his Instagram account, but now he is back. Since he has not been on in like forever, he has to make up for lost time. One way to do that is by posting a long lost photo of himself hanging with Joan Rivers, Kim Kardashian, Lindsay Lohan, Joe Namath, Sarah Jessica Parker and Lady Gaga. He did not say why they were all together like that, but he did say, "The conversation was exactly as awkward as you'd imagine." Let's be all honest, we all expected it to be extremely awkward with that bunch all together in one room. What do you think they talked about? Or do you even want to even know?

This is the best group photo shot since Liza Minnelli's wedding to David Gest with Michael Jackson and Elizabeth Taylor. Hard to believe that only one of them is still among us. Unlike Rogen's photo where only one of them is no longer with us.
---
Uncle Jesse and Kelso ran into each other food shopping
October 2nd, 2017 under Ashton Kutcher, John Stamos, Strange Encounters. [ Comments:

none

]

While most celebrities have their assistants go shopping for them, John Stamos and Ashton Kutcher do it themselves. The other day, the two hunks ran into each other and found out they were both making lasagna for their special ladies. Just one is making it the normal way and the one is making it the yucky aka healthy way. Either way, both of them look good enough to eat! Don't you agree?
---
What a trio!
August 14th, 2017 under Don Johnson, Justin Timberlake, Strange Encounters. [ Comments:

none

]

Celebrities of all types attend events and every now again they pose together. Here is Miami Vice's Don Johnson aka the small screen Sonny Crockett with the big screen Ricardo Tubbs aka Jamie Foxx and Justin Timberlake at the Apollo Theatre. How the Bringing Sexy Back singer fits in the mix I do not know. Maybe he can bring Miami Vice back with these two starring as Crockett and Tubbs. How awesome would that film be?
---