Does this make you excited for This Is Us season four?
August 31st, 2019 under This Is Us, Timothy Omundson. [ Comments: none ]

NBC released the first look at season four for This Is Us and there are going to be a lot of new faces on the show. The first ones we see are House MD's Jennifer Morrison and Omar Epps. If they don't get Hugh Laurie too, then I don't know. But they need him to join these two.
Anyways, it is not all about them. Also, guest starring on the show, which brought a huge smile to my face, is Timothy Omundson who worked with EP Dan Fogleman on Galavant. The actor suffered a major stroke in 2017, so I am psyched to see him on television again.
The three of them are joined by Asante Blackk, Marsha Stephanie Blake, Bahara Golestani, Julian Silva, Auden Thornton, Nick Wechsler and some guy named M. Night Shyamalan.
We do not know what they will be doing on the show, but we will get some answers on September 24th. Or will we? With This Is Us you never know.

---
The Replace trailer will make you want to moisturize
August 31st, 2019 under Movies. [ Comments: none ]

Who says horror has run out of ideas? I have. However, every now and again, we get a movie with an original concept. Replace is one of those movies and it will be available on home video on October 1st.
Replace is described as, "Afflicted with a dermatological disease, young and beautiful Kira (Rebecca Forsythe) discovers that she can replace her skin with that of other girls. Helped by her lover, she plots a murder and the victim becomes her donor, but when the disease returns, she is forced to find more victims." The movie also stars Scream Queen Barbara Crampton.
Not only is the idea new, but it also looks like it will make our skin crawl. When was the last time a horror movie did that to you?

---
RIP Valerie Harper
August 30th, 2019 under Obits. [ Comments: none ]


https://www.youtube.com/watch?v=1fK3dtLEVy8




Valerie Harper passed away today 8 days after her 80th birtday from a long battle with a rare type of brain cancer accoding to The Washington Post.
The actress is best known for playing Rhoda Morgenstern on The Mary Tyler Moore Show and Rhoda. She was a wise cracking, fearless, independent woman, you could not help but to love. Since I am a girl from The Bronx, I grew up wanting to be her. In some ways, I am lot like Rhoda.
Before she became one of the biggest television stars of the '70s, she starred on Broadway. After Rhoda, she still did plays, starred in a few more televsion shows along with many telemovies and movies.
She never stopped acting even when she started having health issues. In 2009, she was diagnosed with lung cancer. She beat it. However, in 2013, she was revealed she was suffering from leptomeningeal carcinomatosis and was told she had 6 months to live. Thanks to experimental treatments, 6 months turned into 6 years.
Today, let's remember her with a huge smile, one as big as hers. I know I will be doing that.

---
Imagine the movie these four could make!
August 30th, 2019 under Jeff Goldblum, John Travolta, Saved by the Bell/City Guys, The Two Coreys. [ Comments: none ]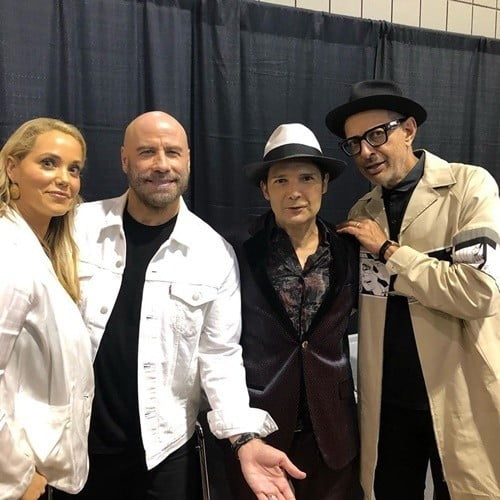 Over the weekend, several celebrities from all walks of Hollywood attended Fan Expo Canada. Like their fans fangirl over them, they fangirl over each other and pose together in photos.
Corey Feldman (Puppet Master vs Demonic Toys) did just that with Elizabeth Berkley (Showgirls), John Travolta (Battlefield Earth) and Jeff Goldblum (Transylvania 6-5000).
Seeing these four grouped together, I wonder what type of movie they could make. I could totally see Jeff Goldblum and John Travolta have a contest to see who is the suavest one of them all. Feldman is the son of one of them. While Berkley divorced one of them and is about to marry the other one. This causes even more tension between the men. Therefore, they are both plotting to destroy the other one. Only to find out in the end that they really like each other. They become BFFs, and Berkley winds up with Feldman. Would you go to see that film?
I would see anything these four did together for one project. I love mismatched casts, they create the most fun movies because of their odd chemistry.

---
Want to know how Empire will get rid of Jussie Smollett?
August 30th, 2019 under Empire, Jussie Smollett. [ Comments: none ]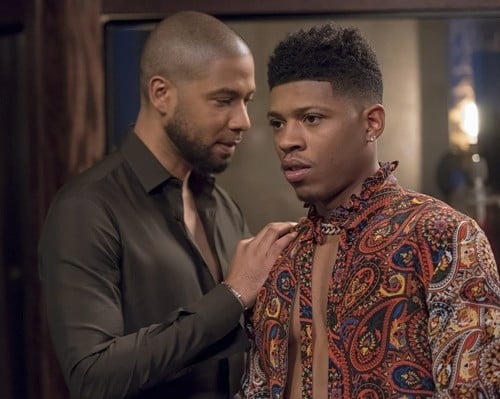 Lee Daniels has said that Jussie Smollett will not be returning for Empire's final season after, you know. Now, we know how they will be writing Jamal Lyon off.
Executive producer Brett Mahoney told TV Line, "Jamal is taking a sabbatical from the family." Then added, "He doesn't want to be caught up in Lyon family drama, which is very much in keeping with his point of view last season — that [the family business] should be something that the family moves away from." Talking about moving, the newlyweds have moved to London.
Personally, I am sure I am not alone with this thought, I wished they would have killed him off. They could have him die after a racial and homophobic attack. The Lyons mourn his loss. Then in the series finale we find out it was all a hoax. It was his way of getting away from his family. Too close to home?
Empire begins its final season September 24th.

---