Hot Links!
December 14th, 2021 under Hot Links!, Movies. [ Comments: none ]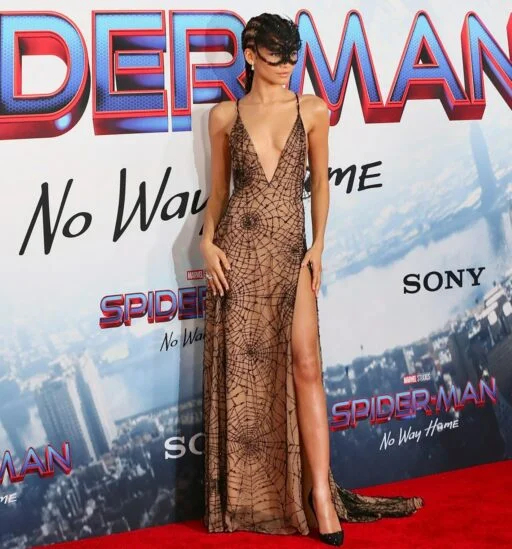 Who is showing a lot of leg? – Celebitchy
Hilary Duff taking a bath – Drunken Stepfather
What is the oldest movie in the film registry? – Grunge
Which 3 Real Housewives of BH have COVID-19? – Dlisted
What teenage book is The CW destroying now? – Screen Rant

---
Ankle Biters proves evil things come in little packages
November 20th, 2021 under Movies. [ Comments: none ]
Ankles Biters is a suspenseful thriller that will keep you guessing what will happen next until the credits roll.
Sean Chase (Zion Forrest Lee) is a recently retired hockey player who has fallen in love with a widowed mother. Laura (Marianthi Evans) has four daughters, and Sean is doing everything he can to win them over. However, he made one fatal mistake, and now the little girls are doing everything in their power to destroy him.
Sean and Laura had some kinky sex, and he recorded himself on top of her with her arms tied up. When the girls find the video, they think that Sean is hurting their mother, so they vow to get their revenge. They are way too young to understand that the couple was just having fun.
The little girls will mess him with both physically and mentally until they reach the point of no return. As they go further down the rabbit hole, some of the sisters will have a change of heart. But is it too late to stop their evil plan? You just have to watch this frightening tale that is out on home video now to find out.
The movie has several twists and turns until the shocking ending. So make sure to watch it all the way until the end because you don't want to miss a single second of this nail-biting feature.
What makes this film so haunting is the believable psychotic performance from the Reid sisters, Lily, Violet, Rosalee, and Dahlia Reid. The four blonde girls look so innocent, but they play psychopaths better than the Oscar winners.
So sit back and watch this movie with your lover. That is unless you have kids and they are not their parent because they will run out of there faster than you can say Ankle Biters, and you will never hear from them again.
Either way, you won't be sleeping after you watch this horrifying movie because killer kids are scarier than adult murderers. This is the stuff Freddy Krueger dreams of at night to scare his prey.
Ankle Biters is the type of movie that stays with you, so you don't want to miss something that is that good. Do you??

---
See Austin Butler as Elvis in the teaser
November 15th, 2021 under Movies. [ Comments: none ]
For years, we have been hearing about how Baz Luhrman is doing a movie about Elvis Presley with Austin Butler in the title role. However, it got delayed because Tom Hanks was the first celebrity to reveal he tested positive for COVID-19. And then the virus went into full pandemic.
Well, after several delays, the movie has a release date of June 24th. So today, the director released a teaser for his film.
Well, the teasing worked because I can't wait to see it. Between Luhrman, Hanks, Butler, you know we are going to get a movie that is fit for a King, the King of Rock'n'Roll!

---
Ankle Biters will make you never want to be a stepparent
November 3rd, 2021 under Movies. [ Comments: none ]
There have been plenty of movies with scary killer kids like The Shining, Children of the Corn, and The Omen, to name a few. Now, there is a new movie to add that to the list, and it is Ankle Biters.
Laura (Marianthi Evans) is a recently widowed mother of four little girls (Lily Gail Reid, Violet Reid, Rosalee Reid, Dahlia Reid), and she has decided to start dating again. She meets and falls in love with Sean (Zion Forrest Lee). As much as she loves him, her girls hate him. Therefore, they plot to get rid of him any way they can, including murdering him.
For some reason, I think these four little girls are scarier than the twins in The Shining. Maybe because there are twice as many of them, or it could be because this is a more relatable situation than staying in a haunted hotel in Colorado.
OK, I am off to break up with my boyfriend, who has kids, for reasons that are unrelated to this trailer.
Now, having said that, I will be watching this Dark Star Pictures film on OnDemand and DVD on November 16th. I need to know what to look out for just in case my next boyfriend has ankle biters.

---
Here's the first look at Rob Zombie's Munsters
October 19th, 2021 under Movies. [ Comments: none ]
Rob Zombie is in Hungary filming Meet the Munsters with his wife, Sherri Moon Zombie, Jeff Daniel Phillips, and Daniel Roebuck. Now, that their home, 1313 Mockingbird Lane is complete, the director thought it would be a good time to share a photo of his cast in their costumes.
What do you think? I have seen several awful telemovies on Tubi TV based on The Munsters, and these are the worst-looking monsters of The Munsters. On a positive note, the house looks fantastic. Zombie is the kind of director, you either like his work, or you don't. Can you tell which one I am?
To see close-ups of their faces, then click here!

---