What are the best Halloween movies coming up in 2019?
July 16th, 2019 under Movies. [ Comments:

none

]
The horror movie genre seems to be going from strength-to-strength with some great movies released in 2018. Movies which included the remake of the iconic Halloween. So, with a lot to live up to, what does 2019 have in store?
Well the good news is there's lots to look forward to for the horror movie buffs amongst us. We've already had some great movies and there's lots more on the way. And, as a genre that thrives on sequels, there are some much anticipated stories to be continued.
Annabelle 3
A sequel to Annabelle and Anabelle:Creation, and all spin-offs from The Conjuring this could be the scariest premise of the franchise so far. Anabelle is a possessed doll who, in this movie, now sets her sights on Ed and Lorraine Warren's young daughter. But not content to haunt alone, the doll brings all the other haunted items in the Warren's artefact room to life.
IT: Chapter 2
This could be the most anticipated sequel of this year. Based on the 1,100 page Stephen King novel, it's the second part of the book adaptation. The first movie, released in 2017 grossed over $700 million worldwide, focused on the children. The sequel, set to be released in September 2019, focuses on the same characters but as adults. With some big names including Jessica Chastain as the grown-up Beverly, James McAvoy as Bill, James Ransone as Eddie, and Bill Hader as Richie. Bill Skarsgard returns in his star-making role as Pennywise, the evil clown.
The Prodigy
Nicholas McCarthy directs this paranormal chiller starring Taylor Schilling from Orange is the New Black. Schilling plays a mother of a young boy with behavioural issues who comes to believe they may have a supernatural cause.
The dead don't die
So, this is more comedy horror than terrifying but judging by the trailer, it looks like one to watch. Staring Tilda Swinton, Bill Murray, Adam Driver, Chloe Sevigny, Steve Buscemi, it's got some big names battling the undead in the small peaceful town of Centreville.
Child's Play
A new and completely modern version of Chucky is about to hit our screens and it looks terrifying. It's based on the original movie but has been brought into the modern-day times and now features a modern-day toy with no limitations. Written and directed by Lars Klevberg, the original Child's Play writer and director of the recent Cult of Chucky and Curse of Chucky movies, Don Mancini has had nothing to do with it. However, the main characters remain the same.
The New Mutants
This is a horror-themed X-Men spinoff which has been recalled and rescheduled several times in order for them to avoid clashes with other superhero movies and make it scarier– let's hope they've been successful. The film is about a group of young mutants held in a secret facility who are fighting to save themselves whilst coming to grips with their new powers.
Article provided by Blossom Costumes
---
D-Railed is a disaster movie/creature feature/heist film all rolled into one
June 25th, 2019 under Movies. [ Comments:

none

]

Ever since I was a kid, I have loved disaster movies and creature features, but rarely, if ever, have the two genres collided. That is until now.
D-Railed is described as "A woman boards a train that derails into a lake in the middle of the night. She, along with other surviving passengers find themselves trapped within the sinking wreckage. They discover what lies beneath the surface is far more terrifying as they fight to stay alive against a deadly predator determined to kill them one by one!"
What they failed to mention, is there is also a heist in it too for people who like that sort of thing. It has something for everyone. Well, not kids. Unless you do not want them to sleep at night.
Did I mention it also has Lance Henriksen, who is creepy every time he is on the screen? He never does a bad movie and I do not expect this to be his first.
Even more enticing is the story concept was created by a woman (Suzanne DeLaurentiis) and the executive producers are women. Which, as you know, is rare for Hollywood and even rarer for horror. Just another reason to support this flick that is available August 6th on home video.
I just cancelled my planned train trip after watching this trailer, so I have plenty of time to watch it. I didn't. If I did not do things because of disaster flicks, I would not be living in LA thanks to Earthquake, Towering Inferno, Two-Minute Warning, Night of the Comet and Volcano to name a just a few. Don't get me started on disaster films and creature features that have been based in NYC and Miami. Surprisingly, no one has wanted to destroy Atlanta on film.
---
Toy Story 4 annihilated Child's Play
June 24th, 2019 under Movies. [ Comments:

none

]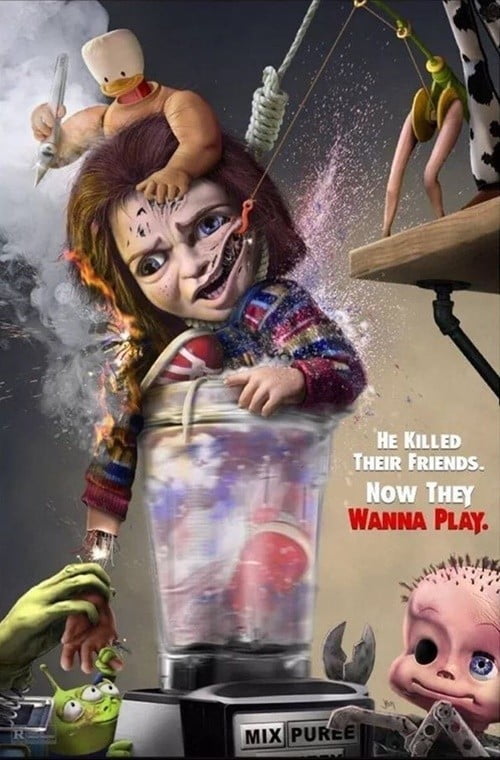 This weekend, it was Toy Story 4 versus Child's Play at the box office. Before they went head-to-head in the theater, Chucky was off with their heads. You know, because that is what he does.
Well, they had the last laugh. Not because the sequel made a killing with $121 million as compared to the remake's mere $14 million. It is because the surviving toys actually did a Chucky and killed him! No offense Mark Hamill, but he totally deserved it. He is not Don Mancini's Chucky. That is the only killer redhead doll creator's creation I care about.
To see how Chucky killed Slinky Dog and Hamm, then click here!
---
This movie will make you want to throw out your Dolls
June 5th, 2019 under Movies. [ Comments:

none

]

Dee Wallace has been doing horror movies for over 40 years now. In that time, she has battled a killer dog named Cujo, werewolves who would not stop Howling, Critters from outer space and now she might have met her match in Dolls.
A man, who writes children books, and his daughter move into a house they just inherited. While going through their new home, they find some unusual dolls in the attic. They have a sinister past and their new neighbor (Wallace) tells them all about it. Now that the toys have been freed, they are ready to kill again.
Sometimes the scariest horror movies are the ones that are about the cutest, most innocent things like antique dolls.
Dolls is available on home video July 2nd. Before you hit play, make sure to lock up all your of dolls. In fact, you might want to put them in storage for a few weeks.
---
Shudder celebrates Pride Month with LGBTQ movies
June 1st, 2019 under Movies, Uncategorized. [ Comments:

none

]

Today begins Pride Month and Shudder is honoring it with several horror-themed films. They are already streaming The Old Dark House, Vampyros Lesbos, Hellraiser, Nightbreed, Let the Right One In, Predestination, Alena, Sweet Sweet Lonely Girl, Rift, and Lizzie, and debuting two new films.
On June 17th, The Wild Boys get wild on Shudder. It is about, "Five adolescent boys (all played by actresses) are enamored by the arts but drawn to crime and transgression. As punishment for a brutal crime, they're forced to board a boat whose captain is hell-bent on taming their ferocious appetites. After arriving on a lush island where dangers and pleasures abound, the boys start to transform in both mind and body."
Knife+Heart starts beating on June 20th. The film is described as, "Paris, Summer 1979. Anne (French pop star Vanessa Paradis) produces third-rate gay porn. After her editor and lover Lois leaves her, she tries to win her back by shooting her most ambitious film yet with her trusted, flaming sidekick Archibald. But one of her actors is brutally murdered and Anne gets caught up in a strange investigation that turns her life upside-down.
Since my father raised me on horror since I was 4, I have seen plenty of LGBTQ themed scary movies. However, I wonder how many people did not know there are so many. What they also do not know is that they are really terrifying. Therefore, you should subscribe to Shudder and start watching them today. What else do you have going on?
---