Jussie Smollett breaks his silence to say he won't be silent on #BlackOutTuesday
June 2nd, 2020 under Jussie Smollett. [ Comments:

none

]

Remember last year when Jussie Smollett said that he was racially attacked by white men, and Chicago police searched for his attackers. Only for them to say that they discovered that he hired two African-American men to do the alleged hate crime.
Since that reveal, he has mostly been silent. Today, on a day when people in the entertainment industry are having a day of social media silence in order to put down the phones and hold an online protest to denounce the injustice of Black people in American by criminal system, he decided to speak out.
He said, "I was confused exactly by what this #BlackOutTuesday meant. After watching what a few of our leaders, particularly our Black female leaders like Britney and Patrice, this #BlackOutTuesday was never meant for us to silence our voices. Social media has been an incredible tool to pulling the lid off of the lies and showing and exposing the truth. Something we have not gotten from the media. It is not the time for people to silence their voices. it is actually the time for white people to bear witness to our voices.
"With that said, time to vote…Get out and vote."
I think Black people and white people can agree that we don't care what he has to say. Well, I did because I posted it. But it is a slow news day.

---
Jussie Smollett indicted on six new charges
February 11th, 2020 under Jussie Smollett. [ Comments:

none

]

A special Cook County grand jury has concluded their investigation into Jussie Smollet, and he been indicited on six counts of diorderly conduct according to WBBM.
The charges are related to a year ago, when they say the actor filed a fake police report about being involved in racial attacks. Days after the incident, two brothers, who were acquaintances of his, were arrested for attacking him. Then they were released after they volunteered evidence that they said proved he was in on the crime.
Smollett will be in court on February 24th. I think, if he were smart, he would plead guilty. Chicago is not going to forgive him for what he put them through, and Hollywood has written him off. Lee Daniels has said multiple times he will not be any more episodes of Empire, including the final 10 that begin airing next month.

---
Did Vivica A. Fox just hint we might see Jussie Smollett on Empire again?
November 11th, 2019 under Andy Cohen, Jussie Smollett, Vivica A Fox. [ Comments:

none

]

Yesterday, when Vivica A. Fox was on Watch What Happens Live, a viewer wanted to know if she agrees with Lee Daniels' decision not to have Jussie Smollett back on Empire for the final season. The actress told Andy Cohen, "That was tough. He's family. He's always going to be family. I love him to death." Then she admitted, "But there was too much drama surrounding the circumstances."
The Bravo host wanted to know if she still talks with him. The actress revealed that she does and then told Cohen, "Don't count him out. Y'all may see him." To which Cohen wanted to know, "On Empire?" All she did was tilt her head and bat her eyelashes at him. Does that mean we will? Only time will tell.
As much as this season needs a jolt of something something, that is not the something something the nighttime soap needs. Would you be OK with Jamal having one last hurrah?

---
Want to know how Empire will get rid of Jussie Smollett?
August 30th, 2019 under Empire, Jussie Smollett. [ Comments:

none

]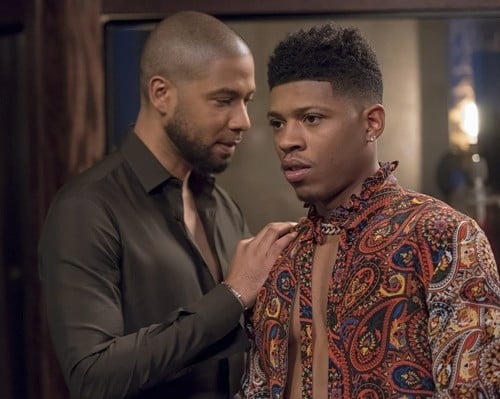 Lee Daniels has said that Jussie Smollett will not be returning for Empire's final season after, you know. Now, we know how they will be writing Jamal Lyon off.
Executive producer Brett Mahoney told TV Line, "Jamal is taking a sabbatical from the family." Then added, "He doesn't want to be caught up in Lyon family drama, which is very much in keeping with his point of view last season — that [the family business] should be something that the family moves away from." Talking about moving, the newlyweds have moved to London.
Personally, I am sure I am not alone with this thought, I wished they would have killed him off. They could have him die after a racial and homophobic attack. The Lyons mourn his loss. Then in the series finale we find out it was all a hoax. It was his way of getting away from his family. Too close to home?
Empire begins its final season September 24th.

---
Lee Daniels detaches himself from Jussie Smollett
June 11th, 2019 under Jussie Smollett. [ Comments:

none

]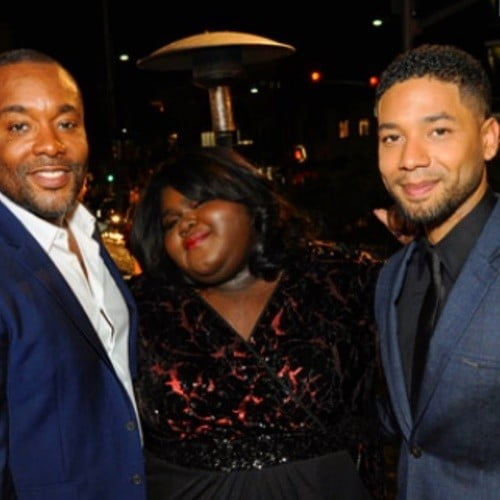 Lee Daniels and Jussie Smollett were close friends, but then it all changed. Back in January, Smollett claimed he was involved a homophobic/racial hate crime. As time went on, his story seemed to have a lot of holes in it.
While it was easy for us to distance ourselves from him, what about his Empire family? Daniels is talking about that to Vulture and he has a lot to say about the matter.
Does the show creator feel embarrassed supporting his star after all that has come out since that night? He says, "I'm beyond embarrassed. I think that when it happened, I had a flash of me running from bullies. I had a flash of my whole life, of my childhood, my youth, getting beaten."
Even though he is embarrassed about it, part of him still believes that Smollett is telling the truth. The director loves him like family, and that is why all of this hurts him so much.
So much so, he says, "I had to detach myself and stop calling him, because it was taking away the time I have for my kids, the time I have for my partner. It was affecting my spirit and other shows, everything."
Does he think that Smollett is partially responsible for Fox deciding that this season of Empire will be its last? He does in some way, but he is grateful for the time he has had with the show.
You know the saying, it ain't over until the fat lady sings? Well, he revealed that the final season will also be setting up for a possible spinoff. He did not say what it will be. We will just have to tune in to find out.

---