Ice-T drops the mic on Jussie Smollett
March 11th, 2022 under Ice-T/ Coco, Jussie Smollett. [ Comments: none ]
Jussie Smollett was sentenced to 150 days in jail and 30 months of probation for faking a hate crime and lying to the police.
One of the news sources posted this caption "#Jussie Smollett still doubling down on his lie on his way to the clink!" As soon as Ice T saw that headline, he had something to say, and that thing is, "Jussie is obviously not that good an Actor… Dun Dun."
That is cold, colder than Ice T, Ice Cube, and Vanilla Ice combined. And anyone who has seen Empire knows that it is true.

---
Today was a bad day for Josh Duggar and Jussie Smollett
December 9th, 2021 under Jussie Smollett. [ Comments: none ]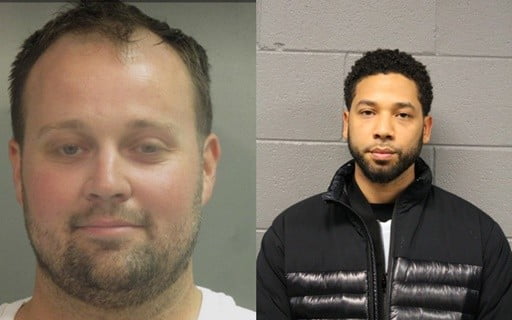 Josh Duggar and Jussie Smollett were on trial this week for crimes they allegedly committed. Today, both men were found guilty of those crimes.
The 19 and Counting star was found guilty of knowingly receiving and possessing child pornography. He faces up to 40 years in prison and a $500,000 fine.
Meanwhile, the Empire star was found guilty of five of the six counts of felony disorderly conduct for falsely reporting to police that he was attacked in a hate crime. Each conviction could be punishable with up to 4 years in prison and a $25,000 fine.
Both men will be sentenced at a later day.
Today was a good day for justice. We need more like them.

---
Jussie Smollett breaks his silence to say he won't be silent on #BlackOutTuesday
June 2nd, 2020 under Jussie Smollett. [ Comments: none ]

Remember last year when Jussie Smollett said that he was racially attacked by white men, and Chicago police searched for his attackers. Only for them to say that they discovered that he hired two African-American men to do the alleged hate crime.
Since that reveal, he has mostly been silent. Today, on a day when people in the entertainment industry are having a day of social media silence in order to put down the phones and hold an online protest to denounce the injustice of Black people in American by criminal system, he decided to speak out.
He said, "I was confused exactly by what this #BlackOutTuesday meant. After watching what a few of our leaders, particularly our Black female leaders like Britney and Patrice, this #BlackOutTuesday was never meant for us to silence our voices. Social media has been an incredible tool to pulling the lid off of the lies and showing and exposing the truth. Something we have not gotten from the media. It is not the time for people to silence their voices. it is actually the time for white people to bear witness to our voices.
"With that said, time to vote…Get out and vote."
I think Black people and white people can agree that we don't care what he has to say. Well, I did because I posted it. But it is a slow news day.

---
Jussie Smollett indicted on six new charges
February 11th, 2020 under Jussie Smollett. [ Comments: none ]

A special Cook County grand jury has concluded their investigation into Jussie Smollet, and he been indicited on six counts of diorderly conduct according to WBBM.
The charges are related to a year ago, when they say the actor filed a fake police report about being involved in racial attacks. Days after the incident, two brothers, who were acquaintances of his, were arrested for attacking him. Then they were released after they volunteered evidence that they said proved he was in on the crime.
Smollett will be in court on February 24th. I think, if he were smart, he would plead guilty. Chicago is not going to forgive him for what he put them through, and Hollywood has written him off. Lee Daniels has said multiple times he will not be any more episodes of Empire, including the final 10 that begin airing next month.

---
Did Vivica A. Fox just hint we might see Jussie Smollett on Empire again?
November 11th, 2019 under Andy Cohen, Jussie Smollett, Vivica A Fox. [ Comments: none ]

Yesterday, when Vivica A. Fox was on Watch What Happens Live, a viewer wanted to know if she agrees with Lee Daniels' decision not to have Jussie Smollett back on Empire for the final season. The actress told Andy Cohen, "That was tough. He's family. He's always going to be family. I love him to death." Then she admitted, "But there was too much drama surrounding the circumstances."
The Bravo host wanted to know if she still talks with him. The actress revealed that she does and then told Cohen, "Don't count him out. Y'all may see him." To which Cohen wanted to know, "On Empire?" All she did was tilt her head and bat her eyelashes at him. Does that mean we will? Only time will tell.
As much as this season needs a jolt of something something, that is not the something something the nighttime soap needs. Would you be OK with Jamal having one last hurrah?

---