Fox renews Empire and Jussie Smollett for season six, but…
April 30th, 2019 under Empire, Jussie Smollett. [ Comments:

none

]

Fox announced today that they picked up Empire for another season. In the press release, Michael Thorn, President, Entertainment for FOX Entertainment said, "EMPIRE continues to break barriers with its emotionally powerful storytelling, and it remains a core part of the FOX legacy," said Thorn. "We want to thank everyone on the show – Taraji, Terrence and the entire cast."
They mention their parents and not the kids. That is because Andre (Trai Byers) life is in peril as Jussie Smollett's. One is fictional and one is fact.
Let's talk about the one whose real life is a mess right now, is Smollett coming back in the fall? Fox said, "By mutual agreement, the studio has negotiated an extension to Jussie Smollett's option for season 6, but at this time there are no plans for the character of Jamal to return to 'Empire.'"
Will the Lyons be down two sons next season? We only have two episodes left this one to find out who is in that coffin. Is it Andre who is dying from heart failure after beating cancer with a deadly amount of chemo? Tune in to find out.
---
Gee, I wonder which Lyon is going to end up in the coffin on Empire?
March 26th, 2019 under Empire, Jussie Smollett. [ Comments:

none

]

When this season of Empire we saw Lucious Lyon standing in front of a closed coffin and to this day we do not know who it is. Fox has been a running a promo saying we will find out who it is. However, do they really need to? I think we all know who it is.
We know it is not Lucious' bastard son Kingsley because why would Cookie care about him? Is it Andre? He finally got an interesting story this year, so I doubt it is him. What about Hakeem? His storyline seems to have dried up, but there is still plenty they can do with him.
That means the only one left is Jamal. Could it be him because of Jussie Smollett's troubles outside of work and the fact that he was written out of the last two episodes?
If it is him, they might have jumped too soon. That is because his attorneys, Tina Glandian and Patricia Brown Holmes, told WLS statement, "Today, all criminal charges against Jussie Smollett were dropped and his record has been wiped clean of the filing of this tragic complaint against him. Jussie was attacked by two people he was unable to identify on January 29th. He was a victim who was vilified and made to appear as a perpetrator as a result of false and inappropriate remarks made to the public causing an inappropriate rush to judgement.
"Jussie and many others were hurt by these unfair and unwarranted actions. This entire situation is a reminder that there should never be an attempt to prove a case in the court of public opinion. That is wrong. It is a reminder that a victim, in this case Jussie, deserves dignity and respect. Dismissal of charges against the victim in this case was the only just result.
"Jussie is relieved to have this situation behind him and is very much looking forward to getting back to focusing on his family, friends and career."
Which I guess, that in the process of me starting this post and him being cleared of all criminal charges, we still don't know who is in that coffin. We also are back to not knowing what happened on that night? Was he attacked? Why were the two brothers in the area on that night during that early morning hour and seem to have items that were said to be used in the attack?
Why were all of the criminal charges dropped against him? My first thought is that he sold out Mark Geragos, his lawyer who is having his own legal woes. Although, in my heart, I hope it is because he is innocent like he has always said that he is.
UPDATE: The Cook County State's Attorney's office released this statement, "After reviewing all of the facts and circumstances of the case, including Mr. Smollett's volunteer service in the community and agreement to forfeit his bond to the City of Chicago, we believe this outcome is a just disposition and appropriate resolution to this case."
---
Jussie Smollett indicted on 16 felony counts by a grand jury
March 8th, 2019 under Jussie Smollett. [ Comments:

none

]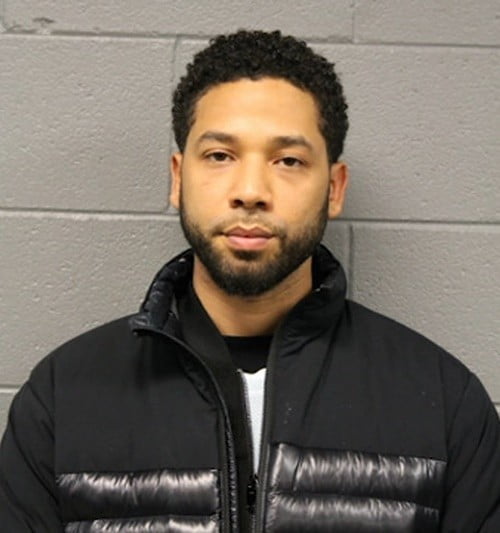 On January 29th, Jussie Smollett said he was attacked by two men who hurled homophobic and racial slurs at him. Then a few weeks later two men were taken in for questioning because they were seen near the scene of the crime. Within days, we found out that they knew the Empire star and they claimed the actor paid them to make it look like they attacked him. Police believed them and Smollett was charged with falsifying a police report.
Today, the grand jury returned their decision and the actor was indicted on 16 felony counts of disorderly conduct for filing a false police report. According to WLS, each count can carry a possible sentence of probation to four years, but they are expecting him to take a plea deal. If he does, then there is a possibility he can avoid jail time.
Smollett has continued to claim he is innocent, so it will be interesting to see if he takes the plea. He has already been written out the last two of Empire episodes this season. No word, if he will be written off of the show permanently.
---
Jussie Smollett will not be in the last two episodes of Empire
February 22nd, 2019 under Empire, Jussie Smollett. [ Comments:

none

]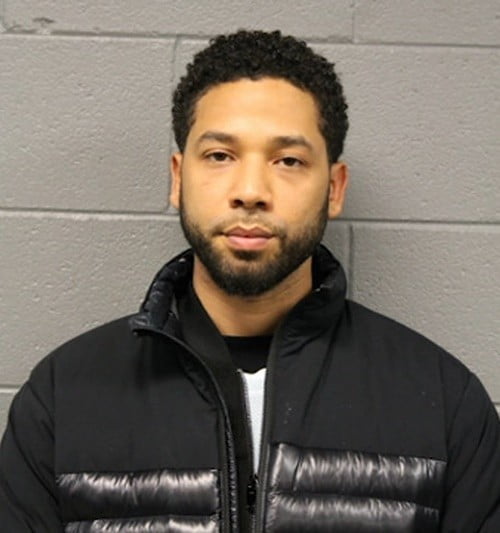 A day after Jussie Smollett turned himself in to police after being charged with falsifying a police report, Fox announced that he will not be in the last 2 episodes of Empire for season 5.
The show's executive producers Lee Daniels, Danny Strong, Brett Mahoney, Brian Grazer, Sanaa Hamri, Francie Calfo and Dennis Hammer released this statement about their decision, "The events of the past few weeks have been incredibly emotional for all of us. Jussie has been an important member of our EMPIRE family for the past five years and we care about him deeply. While these allegations are very disturbing, we are placing our trust in the legal system as the process plays out. We are also aware of the effects of this process on the cast and crew members who work on our show and to avoid further disruption on set, we have decided to remove the role of 'Jamal' from the final two episodes of the season."
Why just the last two episodes? The other 16 have already been filmed. How they will handle in his character in the 7 episodes that have not aired but have been shot, we do not know yet. With production almost wrapped, it will be very expensive to edit him out and reshoot scenes to fill time. Although, it might be a smart move on their part.
Empire will be back on Fox with new episodes on March 13th, so technically they can do it. But, it is a lot of expensive work.
Where is a broom when Cookie really needs it?
The ironic thing is that the reported motive for the attack was because he was "dissatisfied with his salary." Now, he will not be getting one at all.
---
Jussie Smollett turned himself in to Chicago Police
February 21st, 2019 under Jussie Smollett. [ Comments:

none

]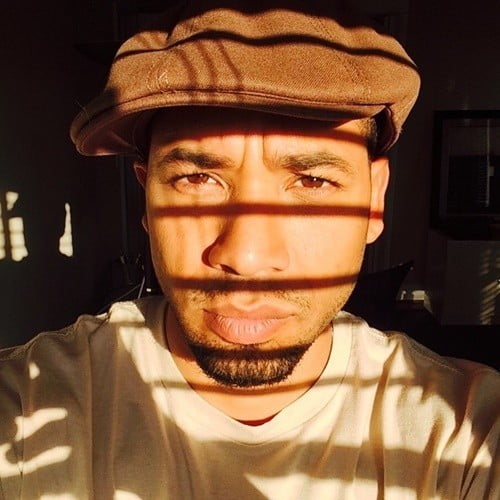 Yesterday, Chicago Police announced that Jussie Smollett was charged with Disorderly Conduct/Filing a False Police Report. In that report, he claimed that he was attacked by two men on January 29th who yelled homophobic and racial slurs at him as they beat him. The two African-American men were brought in for question and said the actor hired them to attack him.
At around 5a this morning, he turned himself in and was accompanied by a female attorney. According to WLS, he has been fingerprinted and transferred to bond court. The Empire star is expected to go in front of a judge at 1:30p CST for his bond hearing.
No word yet from Fox, what the future holds for Jamal Lyon? I would assume we now know who is in that casket? Whether he was supposed to be in there or not.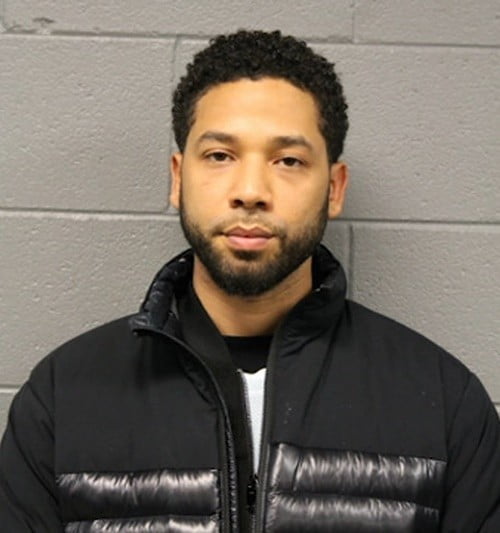 UPDATE: Chicago police held a press conference about his arrest and they are not happy with him. Eddie T. Johnson, Superintendent of the Chicago Police Department, said the actor was the one that sent the letter to himself before he orchestrated the attack. Then he worked with the brothers to attack him. Johnson said, he paid them with a check. Which is interesting because Johnson says that he did it because he was dissatisfied with his salary.
Edward Wodnicki. Detective Commander at Chicago Police Department, detailed how they caught the two brothers. He said, they followed them through the city with the camera video and interviewed the cab drivers who took them from the scene to their home and other locations including the airport. Which makes you wonder why anyone commits a crime in that city because they are living 1984.
After those details, Johnson said that Smollett facial injury was most likely self-inflicted. He was also in contact with the brothers hours before and after the attack. Smollett even called them when they were in Africa.
Johnson wants Smollett to confess and apologize to the city. We also want him to apologize to us.
UPDATE: 20th Century Fox said, "We understand the seriousness of this matter and we respect the legal process. We are evaluating the situation and we are considering our options." What that means, we will find out soon enough.
---