Cancer plays a big role on Empire and Jane the Virgin tonight
April 17th, 2019 under Empire, Jane the Virgin. [ Comments:

none

]

Tonight at 8p on Fox's Empire, Andre (Trai Byers) is still battling his cancer. While he lies in bed fighting for his life, his family and girlfriend (Meta Golding) go to church asking Gd for his help. Something Andre does not believe in for obvious reasons.
All the members of the Lyon family are dealing with Andre's sickness differently. Lucious (Terrence Howard) only wants everyone to be positive, while Cookie (Taraji P. Hensen) is more realistic. Since she cannot talk to her husband about it, she goes to the man she almost had an affair with to comfort her. That will not end well.
Meanwhile, Lucious finally confronts Kingsley's (A.Z. Kelsey) mother about their time together. They see things differently and she continues to tell her son her side. That is why he went to the FBI and offered to help them. Tonight he confronts his father with a wire. That is enough of a reason to watch. Therefore, tune in because you do not want to miss what happened next.

Then at on The CW's Jane the Virgin, Xo (Andrea Navedo) has her final chemotherapy session. She is ready to live life to its fullest again but is her body ready for it?
But you don't care about that, you want to know if Jane (Gina Rodriguez) is going to figure out that Michael (Brett Dier) got his memory back. I cannot tell you that, but I can tell you so much happens on this must-watch episode. That might or might not involve Michael…
---
The Lyons come together for Andre on Empire tonight
April 10th, 2019 under Empire. [ Comments:

none

]

Last week on Empire, Lucious Lyon (Terrence Howard) found out his older son with Cookie (Taraji P. Hensen) has cancer, and tonight at 8p on Fox, all of the Lyons come together for Andre (Trai Byers). Whether he wants them there or not.
This not the first time that Andre's life was in danger and his parents did everything they could to save him. Now that he is grown up, they want to do the same. Although this time they are trying to save two other things, their marriage and Empire Records.
There is fallout from Cookie catching their biggest new artist Treasure (Katlynn Simone) on her husband's lap and her running to another man as revenge. Yet, they do not have time to deal with it because they need to do everything they can to make sure Dre is going to live. There is only one thing stopping them from doing that is Andre's girlfriend, Teri (Meta Golding). Who is going to win that fight, his mother or his lover?
What about his two brothers? They decide to go back on tour, but their big brother is always on their mind. They even sing a duet in honor of him.
Back to Treasure, what happens when she and Cookie come face to face? I said too much with this one.
Then at the end of the episode, The Lyons get a health update on Andrew. Is he the one in the coffin that the show has been teasing us with all season? Find out tonight.
---
Gee, I wonder which Lyon is going to end up in the coffin on Empire?
March 26th, 2019 under Empire, Jussie Smollett. [ Comments:

none

]

When this season of Empire we saw Lucious Lyon standing in front of a closed coffin and to this day we do not know who it is. Fox has been a running a promo saying we will find out who it is. However, do they really need to? I think we all know who it is.
We know it is not Lucious' bastard son Kingsley because why would Cookie care about him? Is it Andre? He finally got an interesting story this year, so I doubt it is him. What about Hakeem? His storyline seems to have dried up, but there is still plenty they can do with him.
That means the only one left is Jamal. Could it be him because of Jussie Smollett's troubles outside of work and the fact that he was written out of the last two episodes?
If it is him, they might have jumped too soon. That is because his attorneys, Tina Glandian and Patricia Brown Holmes, told WLS statement, "Today, all criminal charges against Jussie Smollett were dropped and his record has been wiped clean of the filing of this tragic complaint against him. Jussie was attacked by two people he was unable to identify on January 29th. He was a victim who was vilified and made to appear as a perpetrator as a result of false and inappropriate remarks made to the public causing an inappropriate rush to judgement.
"Jussie and many others were hurt by these unfair and unwarranted actions. This entire situation is a reminder that there should never be an attempt to prove a case in the court of public opinion. That is wrong. It is a reminder that a victim, in this case Jussie, deserves dignity and respect. Dismissal of charges against the victim in this case was the only just result.
"Jussie is relieved to have this situation behind him and is very much looking forward to getting back to focusing on his family, friends and career."
Which I guess, that in the process of me starting this post and him being cleared of all criminal charges, we still don't know who is in that coffin. We also are back to not knowing what happened on that night? Was he attacked? Why were the two brothers in the area on that night during that early morning hour and seem to have items that were said to be used in the attack?
Why were all of the criminal charges dropped against him? My first thought is that he sold out Mark Geragos, his lawyer who is having his own legal woes. Although, in my heart, I hope it is because he is innocent like he has always said that he is.
UPDATE: The Cook County State's Attorney's office released this statement, "After reviewing all of the facts and circumstances of the case, including Mr. Smollett's volunteer service in the community and agreement to forfeit his bond to the City of Chicago, we believe this outcome is a just disposition and appropriate resolution to this case."
---
Jussie Smollett will not be in the last two episodes of Empire
February 22nd, 2019 under Empire, Jussie Smollett. [ Comments:

none

]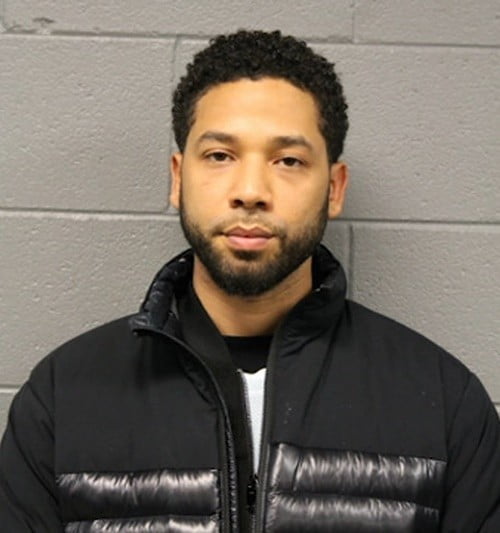 A day after Jussie Smollett turned himself in to police after being charged with falsifying a police report, Fox announced that he will not be in the last 2 episodes of Empire for season 5.
The show's executive producers Lee Daniels, Danny Strong, Brett Mahoney, Brian Grazer, Sanaa Hamri, Francie Calfo and Dennis Hammer released this statement about their decision, "The events of the past few weeks have been incredibly emotional for all of us. Jussie has been an important member of our EMPIRE family for the past five years and we care about him deeply. While these allegations are very disturbing, we are placing our trust in the legal system as the process plays out. We are also aware of the effects of this process on the cast and crew members who work on our show and to avoid further disruption on set, we have decided to remove the role of 'Jamal' from the final two episodes of the season."
Why just the last two episodes? The other 16 have already been filmed. How they will handle in his character in the 7 episodes that have not aired but have been shot, we do not know yet. With production almost wrapped, it will be very expensive to edit him out and reshoot scenes to fill time. Although, it might be a smart move on their part.
Empire will be back on Fox with new episodes on March 13th, so technically they can do it. But, it is a lot of expensive work.
Where is a broom when Cookie really needs it?
The ironic thing is that the reported motive for the attack was because he was "dissatisfied with his salary." Now, he will not be getting one at all.
---
Is Jussie Smollett being written off of Empire?
February 19th, 2019 under Empire, Jussie Smollett. [ Comments:

none

]

Right now Jussie Smollett is persona non grata, and that leaves Fox in a lurch. What do they do with his character on Empire?
Right not they are in production on the second to last episode of the season and they were expecting Jamal Lyon to be a big part of it. Not anymore according to TMZ. They say he was supposed to be in nine scenes with a musical number, but now he is down to four. Depending what happens next in his case, as in did he stage his attack, he might be completely written out. The site says his scenes are scheduled to be shot at the end of the week. That means they have a few days to make that decision if they have to.
Which means the rumor of him being written off the show was a possible motive might become true even though it was not at that time.
While it is easier to change things in the last two episodes because they have not been filmed, it will be harder to edit him of the seven episodes that have not aired and have already been filmed. If that is what they choose to do.
It will be interesting to see what they will do next if he is in fact arrested for faking what he said was a hate crime. All they can do is take it one day at a time.
---