I guess Terrence Howard is not retiring from acting after all
October 3rd, 2019 under Empire. [ Comments:

none

]

Last month, Terrence Howard said he was done playing other people after Empire ended. Well, that show has not even ended and he already has his next acting job lined up.
According to Deadline, he is going produce and star in Triumph with RJ Mitte. Then after that, he is going to star in Cut Throat City with Eiza Gonzalez, Ethan Hawke, Wesley Snipes and more.
I have to say his retirement lasted even less than I thought it would last. I thought he would take at least a year off. Guess I was way off.
---
The Resident, Empire and FBI have explosive season premieres!
September 24th, 2019 under Dick Wolf, Empire, Fox. [ Comments:

none

]

The Resident moves to its new night tonight at 8p on Fox and it takes place a month after the season finale.
Nic (Emily VanCamp) is still dealing with the loss of her family member. In the season finale, her father gave her sister his kidney. The surgeries did not go as smoothly as expected. Therefore, only one survived and we find out who. The loss is so devastating to her that she cannot even step into the hospital. Tonight she goes back for the first time.
Not on a good day. As soon as she walks in, there is an explosion in the basement. Little does she know that Conrad (Matt Czuchry) went down to the basement looking for a lost little boy. Together the two of them and another person are caught in the explosion. Will Nic lose someone else she loves?
Meanwhile, Dr. Bell (Bruce Greenwood) is dealing with the hospital being sold to a conglomerate. They made him take on Barrett Cain (Morris Chestnut) neurosurgeon, who has an ego that puts them all to shame. As we know, no one has a bigger ego than Bell. At least we used to know.
Chastain General is going through a lot of changes this season. I cannot wait to see them play out.

Then at 9p, Empire begins its final season. It will be a figuratively explosive one. The show picks up months after the season finale.
Lucious (Terrence Howard) is in hiding and has a new look. Cookie (Taraji P. Henson) is on a View like show. Andre (Trai Byers) is running Empire but someone comes in claim their stake. He does not want this person there.
The Lyons are trying to figure out who they are without their leader. However, how long can he stay away? Do they need him?
You are just going to have to tune in for a season where anything can happen. Anything but Jussie Smollett coming back to the show this season.

Also at 9p, is FBI that starts off with a Muslim restaurant getting bombed. The case hits close to home for Omar (Zeeko Zaki) who used to eat there all the time as a kid. This is his community in more ways than one.
When an FBI agent comes to him and tells him that there is going to be another attack, he has to go undercover to stop it. Since this is close to him, he will make a mistake. One that could cost him his job.
The episode also looks at what Muslims in America have been dealing with since 9/11. Something they handle very responsibly.
Tune in for an emotional season premiere that really makes people think.
---
Terrence Howard announces he is retiring from acting
September 12th, 2019 under Empire. [ Comments:

1

]

We are just a few weeks from the start of the final season for Empire. That means the actors are going to be looking for their next jobs in a few months.
Extra's Cheslie Kryst asked Terrence Howard what he is going to do when the show ends. He told her, "I'm done with acting. I'm done pretending." What is going to do with his time? He says, "I'm focusing on bringing truth to the World."
Do you think he can really retire from acting? I give it a year. Once he needs the money, he will be back to pretending for a living.
---
Want to know how Empire will get rid of Jussie Smollett?
August 30th, 2019 under Empire, Jussie Smollett. [ Comments:

none

]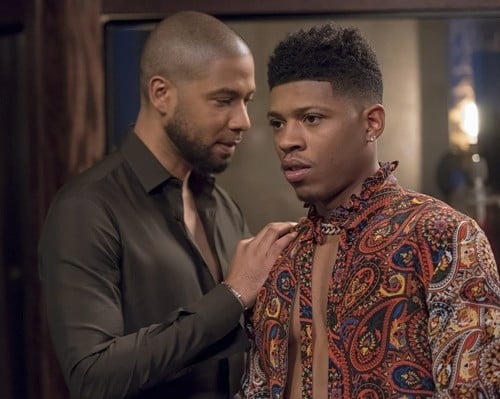 Lee Daniels has said that Jussie Smollett will not be returning for Empire's final season after, you know. Now, we know how they will be writing Jamal Lyon off.
Executive producer Brett Mahoney told TV Line, "Jamal is taking a sabbatical from the family." Then added, "He doesn't want to be caught up in Lyon family drama, which is very much in keeping with his point of view last season — that [the family business] should be something that the family moves away from." Talking about moving, the newlyweds have moved to London.
Personally, I am sure I am not alone with this thought, I wished they would have killed him off. They could have him die after a racial and homophobic attack. The Lyons mourn his loss. Then in the series finale we find out it was all a hoax. It was his way of getting away from his family. Too close to home?
Empire begins its final season September 24th.
---
Find out who is in the casket on Empire tonight
May 8th, 2019 under Empire. [ Comments:

none

]

Ever since the season premiere of Empire, the drama has hinted that, a Lyon will die. Tonight at 8p on Fox, we will find out who is in the closed casket.
We know it is not Lucious Lyon (Terrence Howard) because he is standing over the casket. It is also not Cookie (Taraji P. Hensen) because Lucious said she was in a car outside. That means it is one of his sons. Which one could it be?
Is it their youngest son? This season the show has found less and less to do with Hakeem (Bryshere Y. Gray). Have they run out of storylines for him? Maybe being dead would be his biggest storyline yet?
What about Jamal? Jussie Smollett was written off this season's final two episodes because his personal life is more scandalous than anything that is happening on the show. Fox has also said that they have no plans to bring him back next season even though they renewed his contract. A phone call from Jamal early on in the episode sets up his fate. Do they have their easy out?
The most obvious choice is Andre (Trai Byers). He was diagnosed with terminal cancer that was miraculously cured with large amounts of chemotherapy. Unfortunately, the chemo saved him, but it destroyed his heart. He found out he has just weeks to live, so he decided to end his life on his terms. At the end of last week's episode, he downed a bottle of pills. While he was lying on the floor clinging to life, Cookie walked in and called for help. This week's episode starts with him being rushed into the hospital. Will the doctors be able to save him or is it too late?
Finally, there is Lucious' oldest son Jeff Kingsley (A.Z. Kelsey) with Tracey (Amanda Detmer), a past girlfriend who became a drug addict. Over the last few episodes, Kingsley has been torn between his mother, who has lied to her son his whole life about his dad, and Lucious, who just wants to get to know the son he never knew he had until recently. Has all of this become too much for him?
Or maybe it is someone other than Lucious' sons who is in the casket? I will tell you we definitely find out who died before the episode ends. While that is a literal death, two other metaphorical deaths take place tonight. Both of those setup storylines for next season. Fox already announced that Empire will be back for a 6th season.
---