Justin Hartley, this is divorce
November 23rd, 2019 under This Is Us. [ Comments:

none

]

Justin Hartley might have a fiancee on This Is Us; but in real life, he has an estranged wife. The actor filed for divorce from Chrishell Stause yesterday citing irreconcilable differences. According to People, he listed the date of separation in July, even though they have been seen together at multiple public events since then.
The two tied the knot on October 28, 2017, 4 years to the day after they met.
The couple was introduced to each by her Days of our Lives' co-stars. The same soap that his first ex-wife, Lindsay Korman, also used to be on.
---
Does this make you excited for This Is Us season four?
August 31st, 2019 under This Is Us, Timothy Omundson. [ Comments:

none

]

NBC released the first look at season four for This Is Us and there are going to be a lot of new faces on the show. The first ones we see are House MD's Jennifer Morrison and Omar Epps. If they don't get Hugh Laurie too, then I don't know. But they need him to join these two.
Anyways, it is not all about them. Also, guest starring on the show, which brought a huge smile to my face, is Timothy Omundson who worked with EP Dan Fogleman on Galavant. The actor suffered a major stroke in 2017, so I am psyched to see him on television again.
The three of them are joined by Asante Blackk, Marsha Stephanie Blake, Bahara Golestani, Julian Silva, Auden Thornton, Nick Wechsler and some guy named M. Night Shyamalan.
We do not know what they will be doing on the show, but we will get some answers on September 24th. Or will we? With This Is Us you never know.
---
Ellen scares the crap out of Sterling K. Brown
May 14th, 2019 under Ellen DeGeneres, This Is Us. [ Comments:

none

]

Sterling K. Brown knew that Ellen DeGeneres was going to scare him on her show today. Therefore, he thought he checked out every place where she could hide someone on the set. There was just one place that he did not look and that was up. Ellen made the Weather Girls song come to life as in it was raining men. Or should I say a man,
Once that guy dropped down like a jewel thief at a museum, so did whatever the This Is Us star ate.
I actually felt for Brown on this one because that one would have had me checking into the local hospital afterward.
---
Justin Hartley can't ice skate
April 10th, 2019 under Jimmy Fallon, This Is Us. [ Comments:

none

]

We know Justin Hartley can do a lot of things, but there is one thing he cannot do. That thing is ice skate.
The actor told Jimmy Fallon on The Tonight Show yesterday that he is filming a new movie called The Exchange where he is playing a former hockey player. One of the requirements for the role is ice skating. Something he has never done before. He thought it would be easy because he is athletic. They even gave him a three-hour lesson and he thought he could master it in 30 minutes.
Then he got on the ice and well, it was not for him. He shared a video of him during hour three and even three-year-olds can do better that. I did.
Hey, he lives in LA and we have an ice skating rink in Burbank for like a month out of the year. It is not a skill we need unless we are filming a movie.
What did the director do about his lack of gracefulness on the ice? They pulled him around so it looks like he was doing it. Only we know he wasn't. That is why they say that acting is make-believe.
You know, at least he has a lot of other talents to fall back on. If he ever goes skating again, he might fall back on that too, as in fall backwards on his ass. Poor Justin.
---
Mandy Moore got really old looking
April 3rd, 2019 under Mandy Moore, This Is Us. [ Comments:

none

]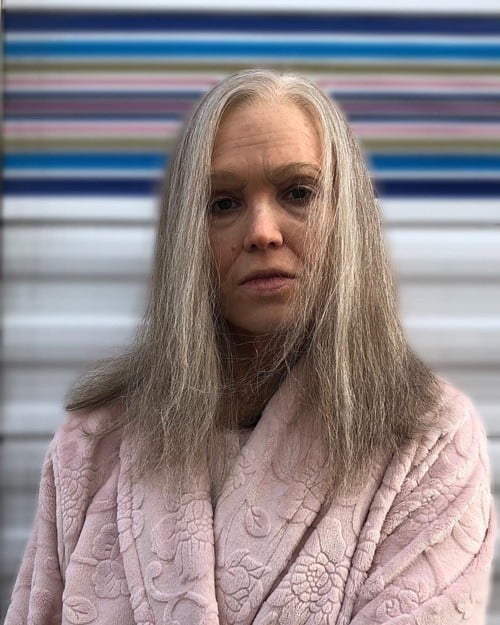 If you watched the third season finale of This Is Us, then you know that they flash forwarded to the cast to being older and grayer. It is one thing to do it for the triplets, Beth and Toby. However, when it comes to Mandy Moore, they had to do a lot more to age the 34-year-old actress around 50 years.
She shared a photo of her old self on the set after her transformation and she is unrecognizable. The makeup department did such a great job you would think she was her own grandmother.
What do you think of very old Rebecca Pearson?
UPDATE: To see the transformation, then click here!
---