Justin Hartley can't ice skate
April 10th, 2019 under Jimmy Fallon, This Is Us. [ Comments:

none

]

We know Justin Hartley can do a lot of things, but there is one thing he cannot do. That thing is ice skate.
The actor told Jimmy Fallon on The Tonight Show yesterday that he is filming a new movie called The Exchange where he is playing a former hockey player. One of the requirements for the role is ice skating. Something he has never done before. He thought it would be easy because he is athletic. They even gave him a three-hour lesson and he thought he could master it in 30 minutes.
Then he got on the ice and well, it was not for him. He shared a video of him during hour three and even three-year-olds can do better that. I did.
Hey, he lives in LA and we have an ice skating rink in Burbank for like a month out of the year. It is not a skill we need unless we are filming a movie.
What did the director do about his lack of gracefulness on the ice? They pulled him around so it looks like he was doing it. Only we know he wasn't. That is why they say that acting is make-believe.
You know, at least he has a lot of other talents to fall back on. If he ever goes skating again, he might fall back on that too, as in fall backwards on his ass. Poor Justin.
---
Mandy Moore got really old looking
April 3rd, 2019 under Mandy Moore, This Is Us. [ Comments:

none

]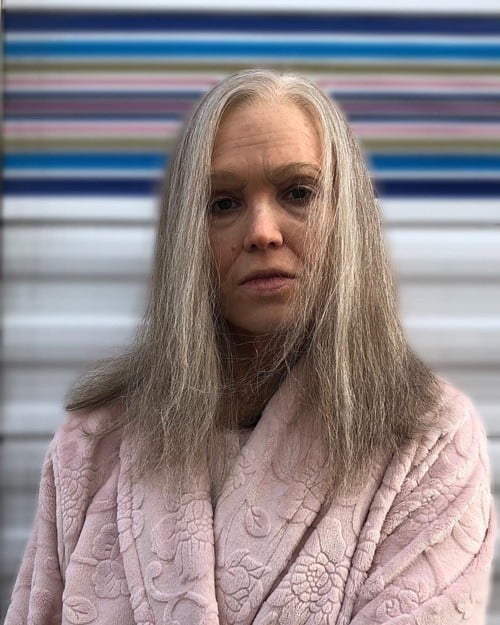 If you watched the third season finale of This Is Us, then you know that they flash forwarded to the cast to being older and grayer. It is one thing to do it for the triplets, Beth and Toby. However, when it comes to Mandy Moore, they had to do a lot more to age the 34-year-old actress around 50 years.
She shared a photo of her old self on the set after her transformation and she is unrecognizable. The makeup department did such a great job you would think she was her own grandmother.
What do you think of very old Rebecca Pearson?
UPDATE: To see the transformation, then click here!
---
Bruno Mars' music makes for a good Soap Opera
March 15th, 2019 under Bruno Mars, James Corden, Kate Beckinsale, This Is Us. [ Comments:

none

]

James Corden and his staff from The Late Late Show took the lyrics from Bruno Mars' song and created a Soap Opera scene with the singer's words. Then they asked Kate Beckinsale and Milo Ventimiglia to star in it with the CBS late night host.
What we got is the best scene from a daytime drama in a long time. If only they did stuff like this on shows like The Bold and the Beautiful, more people would be watching. I miss when soaps were this good.
Ventimiglia missed his calling because he is natural for daytime TV. Don't you agree?
---
What if This Is Us was a sitcom?
March 14th, 2019 under This Is Us. [ Comments:

1

]

We are used to This Is Us being a drama that makes us cry every week. What if Randall's family was more like the one on Family Matters? That is what Shadow and Act asked themselves. Therefore, they took scenes from the show and edited to the theme from the '90s TGIF sitcom.
You know, someone please tell Dan Fogelman about this because I think his program needs a happy spinoff like this one. We all know he can do comedy, see The Neighbors, Galavant and Grandfathered.
---
BTWF: Susan Kelechi Watson on Private Practice
March 12th, 2019 under Before They Were Famous, Shonda Rhimes, This Is Us. [ Comments:

none

]

Before Susan Kelechi Watson was married to the perfect guy on This Is Us, she was married to someone on Private Practice. She looks the same now as she did when she was 26 in that 2007 episode.
---