This year's Rock and Roll Hall of Fame nominees are…
February 1st, 2023 under Cyndi Lauper, George Michael, Willie Nelson. [ Comments: none ]
It seems like it was just yesterday we found out who was going to be inducted into the Rock and Roll Hall of Fame but it turns out it was a year ago. And what a year it was. Duran Duran was finally inducted, and Dolly Parton and Dionne Warwick tried to bow out of their nominations.
Hopefully, this year will go easier for the Cleveland museum. So who did they nominate? They are Kate Bush, Sheryl Crow, Missy Elliott, Iron Maiden, Joy Division/New Order, Cyndi Lauper. George Michael, Willie Nelson, Rage Against the Machine, Soundgarden, The Spinners, A Tribe Called Quest, The White Stripes, and Warren Zevon.
I have my favorites, like the girl who just wants to have fun, the man who gives me the faith, the faith, the faith, and the band I get down on my knees for. However, there are several worthy candidates like Willie Nelson, Missy Elliott, and Iron Maiden.
Now you know who has my vote, who has yours? You have until April 28th to vote here.
The 8 future Hall of Famers will be announced in May. Good luck to them all.

---
Five legendary '80s songstresses sing a song for 80 For Brady
January 5th, 2023 under Cyndi Lauper, Dolly Parton, Gloria Estefan, Rita Moreno, The Go-Go's. [ Comments: none ]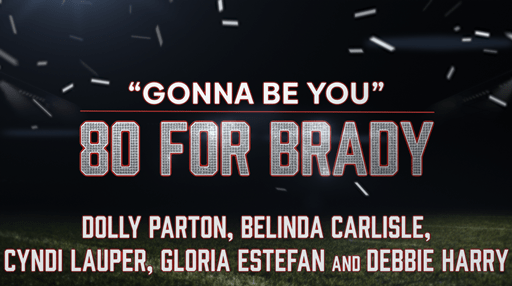 80 For Brady stars four iconic actresses, Lily Tomlin, Jane Fonda, Rita Moreno, and Sally Field. Therefore, it makes sense that they would ask five legends from the '80s to sing the theme song from the movie and get an esteemed female songwriter to write it.
"When I wrote 'Gonna Be You' for 80 FOR BRADY, I wanted to write a song that celebrated these women's deep friendship," says Diane Warren. "Since 80 was in the title I got a crazy idea, why not get some of the most iconic singers from the 80s, who are still amazing and always will be, to all sing it?!!!! Everyone I approached said yes and was just as excited as me!! I'm honored to have Dolly Parton, Belinda Carlisle, Cyndi Lauper, Gloria Estefan, and Debbie Harry on this song!! 'Gonna Be You' is that song you want to sing along to with all your good friends!!!"
I can't wait to hear the tune on January 12th because you know it is going to score a touchdown. Seriously, it will be the biggest soundtrack single since Moulin Rogues' Lady Marmalade. I bet you it is going to sweep the Oscars in 2024. How can it not be with all of those ladies involved?

---
Cyndi Lauper recreates Titanic in a bubble bath
October 16th, 2020 under Celine Dion, Cyndi Lauper. [ Comments: none ]

Back in 1983, Cyndi Lauper sang a cover of Robert Hazard's Girls Just Want to Have Fun. Did you know the song was originally recorded in 1979 by someone else before you read this? I didn't either. I am blown away by this fact.
Anyways that is not the point of this post. I was going to say that even though the Lauper is 67, she is still a girl who wants to have fun in a bubble bath. Therefore, she printed a picture of the Titanic, glued it on to some popsicle sticks, drew a bath, got in, and lip-synched Celine Dion's My Heart Will Go On. Now, my heart will go on forever for Cyndi Lauper.
Once I get over the fact that the woman I thought created an anthem for all of us girls actually didn't. I haven't been this stunned since I found out that Rob Base & DJ E-Z Rock sampled Lyn Collins' 1972 Think (About It) for It Takes Two. What song will be next?

---
Rod Stewart had to fire a publicist for spreading a rumor about him!
March 22nd, 2018 under Andy Cohen, Cyndi Lauper, Rod Stewart. [ Comments: none ]

I don't know about you, but I had that rumor about Rod Stewart. The one where he had to get his stomach pumped because he had too much man juice in his belly. Yesterday, when he was on Watch What Happens Live, Andy Cohen asked him if that rumor bothered him.
Before he could answer, Cyndi Lauper asked him what rumor? That is when he revealed it was his mean publicist who was the one that started it and Stewart fired him over it.
For you youngsters and people like Lauper who don't know what the rumor is, he told everyone what it was. He said the rumor was, "That I was ??? by 12 sailors, and I had to be taken to San Fransisco hospital and have me tummy pumped to get all the semen out." That is a lot of seamen's semen.
On a different note, Stewart was also asked about Elton John's retirement tour. The sexy singer told Cohen, "It stinks of selling tickets." When Andy brought up Cher's retirement tours, Lauper said that she really did want to retire and then realized what a mistake she made. When it comes to how Rod will do it, he says he will just fade away. Something I hope he never does. I have seen him a few times and he always puts on great show! And not just for all of the sailors in the audience.

---
Did Andy Cohen ask Rod Stewart, 'Da Ya Think I'm Sexy?'
January 25th, 2017 under Andy Cohen, Cyndi Lauper, Rod Stewart. [ Comments: none ]

Rod Stewart and Cyndi Lauper are going on tour together and they are promoting their announcement on Watch What Happens Live tonight on Bravo. Before the show, the three of them posed for photos and Andy Cohen got a nice surprise. One that made the host say, "Tonight I'm Yours (Don't Hurt Me)." That's because Stewart gave him a love touch to that thing between his two hot legs.
Some guys have all the luck!

---