Remember when Jimmy Kimmel hinted about retiring? It ain't happening!
May 14th, 2019 under Jimmy Kimmel. [ Comments:

none

]

Jimmy Kimmel hinted when he signed his contract the last time that would be it for him. That was then and this is now. Today, ABC announced that he will be hosting Jimmy Kimmel Live for 3 more years. Bringing the late night talk show to its 20th year. What happens in 2023? We will find out then.
For now, we will just enjoy him torturing kids every Halloween and his Aunt Chippy until his contract is up again.
Seriously though, congrats to Kimmel and his team. They changed late night with viral videos like I'm F*cking Matt Damon and its follow-up I'm Fucking Ben Affleck. Along with many other things.
---
Diane Keaton gave Jimmy Kimmel an erection
May 7th, 2019 under Diane Keaton, Jimmy Kimmel. [ Comments:

none

]

Last year, Diane Keaton was on Jimmy Kimmel Live and she kissed the host like how she passionately kissed Andy Garcia in Book Club. In those just over 350 days, she has not kissed another man. Therefore, she used being on the ABC talk show to hopefully show men that she is still very much kissable.
She did so by using the ABC late night host as her dummy. She wanted to show the boys her two new ways of locking lips. After seeing her lip-locking techniques, does it make you fellas want to make out with her?
Last year, I said I wanted to kiss her, this year not as much. While that is me, Kimmel really enjoyed being her dummy.
---
Tom Brady and Jimmy Kimmel do not have time for Matt Damon
May 3rd, 2019 under Jimmy Kimmel, Matt Damon. [ Comments:

none

]

You do not have to be a football fan to know that Tom Brady had a good throwing arm. Jimmy Kimmel wanted to see it in person. Therefore, he took him to a house and told him to throw a pigskin through a window. What the Patriot did not know is that window belongs to his #1 fan Matt Damon.
When Matt Damon came out and saw who broke his window, he was OK with it. All he wanted was a photo with the quarterback. Was the ABC host going to let him get that? What do you think? Of course not.
The biggest takeaway from this bit is that Tom Brady cannot act to save his life. That has to be some of the worst acting I have ever seen and I watch really cheaply done horror movies.
---
Jimmy Kimmel is recreating All in the Family and The Jeffersons with an awful cast
April 19th, 2019 under Jimmy Kimmel. [ Comments:

none

]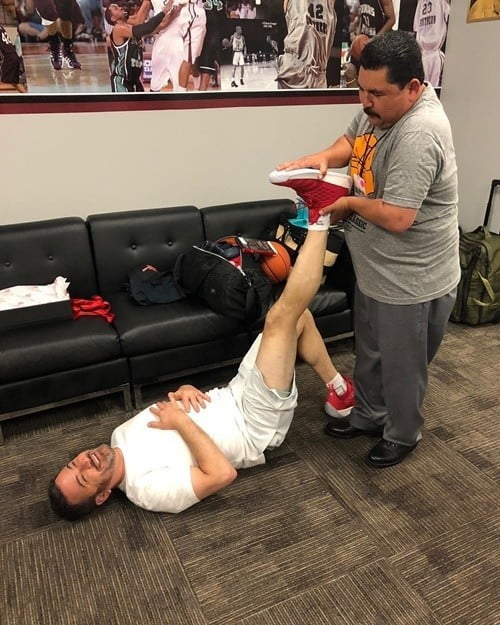 Jimmy Kimmel announced that on May 22nd, he is going to do live versions of iconic All in the Family and The Jefferson episodes for an ABC primetime special hosted by those shows' creator Norman Lear. Since most of the casts of both shows are no longer with us, they recast the roles.
Luckily for those late great cast members, they are dead because they should not be alive to see this 💩. That is because according to ABC, the cast includes Woody Harrelson as Archie Bunker, alongside Marisa Tomei who will be playing Edith Bunker, with Jamie Foxx and Wanda Sykes playing George and Louise Jefferson. Ellie Kemper will play Gloria Stivic; Will Ferrell will appear as Tom Willis, and Justina Machado is set to play Florence Johnston.
I mean this is the worst recasting in remake since Will Ferrell and Nicole Kidman were cast as Darren and Samantha Stevens in the Bewitched movie.
I will be hate watching this special with more hatred than I watch the live musicals. And I did know that was even possible to do.
---
Tears For Fears joins Weezer for Everybody Wants to Rule the World
April 16th, 2019 under Jimmy Kimmel, Tears For Fears, Weezer. [ Comments:

none

]

Weezer recently released the Teal album which only has covers on it. One of the songs they chose to sing is Tears For Fears' Everybody Wants to Rule the World. Yesterday when Rivers Cuomo and the band were asked to do Jimmy Kimmel Live they asked Curt Smith and Roland Orzabal to join them. Since the duo just wowed at Coachella.
Both bands started the 1985 tune out together, then the lead singers alternated verses and finally, they all concluded the song as one. Personally, I think they need to release that version of the single too. Smith and Cuomo's voices are so beautiful together. Doesn't make you think they can rule the World together.
---