Why comedy Roasts are not nice
September 17th, 2019 under Henry Winkler, Jimmy Kimmel. [ Comments:

none

]

Over the weekend, Comedy Central roasted Alec Baldwin and there were not a lot of nice things to say about him and the dais. That is just the way the Roasts are.
However, Jimmy Kimmel wondered what would happen if they were nice to everyone even Courtney Love. Therefore, he held one with Henry Winkler, the nicest guy in Hollywood, as the host to see what it would be like.
What did we learn? Nice is boring, we want them to be mean! And also funny. Mostly funny.
When it comes to The Fonz, I would love to see someone Roast him. But how can you be to mean to him? He is just so gosh darn nice.
---
Is Jimmy Kimmel trying to kill his Aunt Chippy for her 80th birthday?
August 16th, 2019 under Jimmy Kimmel. [ Comments:

none

]

Aunt Chippy is about to turn the big 8-0 and Jimmy Kimmel wanted to help her celebrate the big milestone. Therefore, he and his Cousin Sal got a bunch of people together to throw her a surprise party. Not just one, one wherever she went. She could not get away from them and she never knew when they were going to jump out and yell surprise at her.
Which is sweet when someone is younger. However, when someone is 80, you can kill them. They could keel over with a heart attack and die. Therefore, you have to wonder if her nephews are trying to murder her? Which would be horrible because she is the funniest person in their family. Who doesn't love Aunt Chippy? Besides her nephews who prank her all the time.
She needs to hook up with Ashton Kutcher and Howie Mandel so that she can play the ultimate prank on them. Now that would be the best 80th birthday present anyone could give her.
---
Which episodes will In Front of a Live Audience do for their two more specials?
August 5th, 2019 under Jimmy Kimmel. [ Comments:

none

]

Back in May, ABC aired a special night of television where they recreated an episode from All in the Family and one from the Jeffersons. Today the announced that since In Front of a Live Audience was such a huge hit, they are bringing it back in December and May with all-new episode recreations. They did not say which episodes they will be recreating, but I have some suggestions for Jimmy Kimmel, Norman Lear and the gang.
For one of the holiday-themed episode, I think they should do the one where Mike and Drag Queen Beverly LaSalle go for a walk and only one of them comes back after being attacked. Edith is so upset over her friend's death that she is not in the mood for Christmas.
Then for May, I think they should change up the shows. If they are really really really brave, they will do the episode where Maude gets an abortion. In 1972, it was the first time primetime TV aired a character getting an abortion and the last time until Everwood tackled the topic in 2003. Keeping sex in the mix, I hope they consider doing the episode where J.J. thinks he has Dyn-O-Mite in his pants. As in he thinks he has an STD or as they called it back then a VD.
If they want to skip the sex issues, then they can give the whole night to the Good Times' Damn, Damn, Damn two-parter.
Which episodes do you want to see them bring back to television for the one-night events?
ABC also announced that Kimmel teamed up with Mark Burnett for the family game show Generation Gap. Mariah Carey wrote and will be singing the theme song for the black-ish spinoff mixed-ish. The Goldbergs take on National Lampoon's Vacation on the season premiere as they take a road trip to Disneyland. That is a really long trip from Pennsylvania!
Lastly, they are finally getting into the live musical business with The Wonderful World of Disney Presents The Little Mermaid Live on November 5th. Moana's Auli'i Cravalho will play Ariel, Shaggy will voice Sebastian and Queen Latifah is Ursula. Not bad casting for the reimagination of the Disney classic that is getting a remake.
---
Who is late night's mystery guest coming up on Thursday?
August 2nd, 2019 under Conan O'Brien, Jimmy Fallon, Jimmy Kimmel, Seth Meyers, Stephen Colbert. [ Comments:

none

]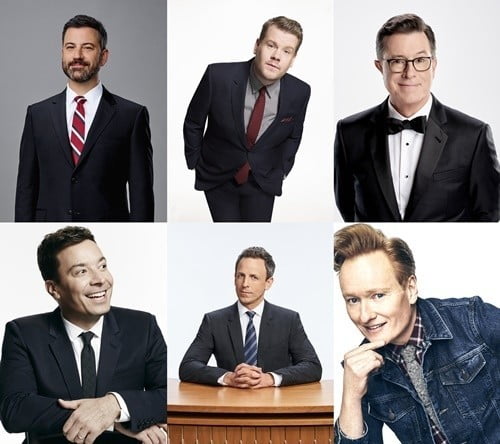 Sue Trowbridge, who runs the site Interbridge noticed something strange about the guest booking for the late night shows on August 8th. Since she has been listing which people are going to be on what talk shows since 1994, she would know if something is out of the ordinary.
What did she notice? She saw that Conan, Jimmy Kimmel Live, The Tonight Show with Jimmy Fallon, Late Night with Seth Meyers and The Late Show with Stephen Colbert all have a "Special Guest TBA." Who this guest is, we have no idea since they are to be announced.
Here are some of my theories. My first thought is Beyonce is going to release an album on the 9th and she is going to make the announcement on their shows. Or maybe one of the studios is releasing a secret movie next Friday? Could Oprah Winfrey or Michelle Obama be announcing that they are running for President of the United States? What about a bunch of celebrities announcing a telethon to raise money for something? Avengers: Endgame is coming out on home video the 13th, what if a cast member appears on each show with a special announcement.
Here is another interesting question, how will they handle it? Will they each get an exclusive with said guest? They all tape and air at different times. Would they all set a certain time so they could all interview them at the same time in a group interview? Will the guest give all of them a pre-taped statement? Will they each interview the person individually? Since Conan airs first, we will have to wait until T0ursday at 11p to find out.
Who do you think the mystery guest is? It has to be someone HUGE and it is not television show related.
---
Can you believe it is August?
August 2nd, 2019 under Jimmy Kimmel. [ Comments:

none

]

Can you believe it is August 2nd already? To me, it still feels like April. Well, we are not alone. Several news anchors all over the United States and Canada feel the same way. That is why they took the airwaves to declare that they cannot believe it is August already.
How many? Jimmy Kimmel Live compiled them all them together in one video that proves that local news all over North America can have the same story.
How much do you want to bet in September they are going to be saying the same thing. Obviously, they will swap out September for August, but you know what I meant.
---