Five legendary '80s songstresses sing a song for 80 For Brady
January 5th, 2023 under Cyndi Lauper, Dolly Parton, Gloria Estefan, Rita Moreno, The Go-Go's. [ Comments: none ]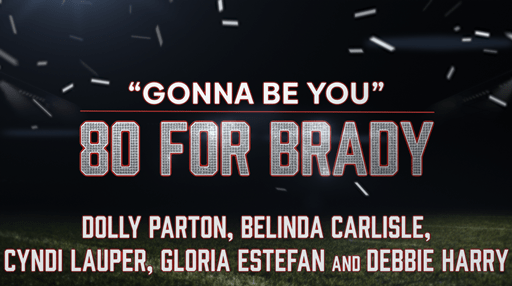 80 For Brady stars four iconic actresses, Lily Tomlin, Jane Fonda, Rita Moreno, and Sally Field. Therefore, it makes sense that they would ask five legends from the '80s to sing the theme song from the movie and get an esteemed female songwriter to write it.
"When I wrote 'Gonna Be You' for 80 FOR BRADY, I wanted to write a song that celebrated these women's deep friendship," says Diane Warren. "Since 80 was in the title I got a crazy idea, why not get some of the most iconic singers from the 80s, who are still amazing and always will be, to all sing it?!!!! Everyone I approached said yes and was just as excited as me!! I'm honored to have Dolly Parton, Belinda Carlisle, Cyndi Lauper, Gloria Estefan, and Debbie Harry on this song!! 'Gonna Be You' is that song you want to sing along to with all your good friends!!!"
I can't wait to hear the tune on January 12th because you know it is going to score a touchdown. Seriously, it will be the biggest soundtrack single since Moulin Rogues' Lady Marmalade. I bet you it is going to sweep the Oscars in 2024. How can it not be with all of those ladies involved?

---
Gloria Estefan gets a Barbie doll for his 65th birthday!
September 1st, 2022 under Barbie, Gloria Estefan. [ Comments: none ]
Today is Gloria Estefan's 65th birthday, and Mattle gave her a very special present. They created a Barbie doll in her likeness.
Mattel explains why they choose the singer. "Taking inspiration from her Cuban heritage to blend Latin rhythms with pop and dance beats, Estefan's unique sound catapulted her to stardom, making her one of the most successful crossover artists in the world," they write, "Gloria Estefan Barbie® doll celebrates the chart-topping 1989 hit, 'Get on Your Feet.' Inspired by the iconic music video, Barbie® doll's black jacket features intricate gold detailing with jeweled accents and a dramatic, oversized lace sleeve. A soft leopard belt is accentuated with a gold waist chain, while bold thigh-high boots and gold accessories complete her look. A microphone accessory and doll stand make this posable doll ideal for display."
As someone, who lived in Miami, went to the University of Miami, and interned with a company that worked with Estefan (on this music video), I can tell she deserves this honor. She gives back to the community, Miami and Cubans, more than she gets from it.
Congrats and happy birthday!

---
Gloria Estefan and Andy Garcia in Father of the Bride
May 9th, 2022 under Andy Garcia, Gloria Estefan, HBO Max. [ Comments: 1 ]
Gloria Estefan and Andy Garcia are starring in the third incarnation of Father of the Bride on June 16th. Today, HBO Max released the first trailer for the movie, and what took so long for these Cuban Miamians to work together. Their chemistry is perfect, so I can't wait to see this movie, even if their characters don't get along.

---
Superfan announces its Superstars!
April 19th, 2022 under CBS, Gloria Estefan, Shania Twain. [ Comments: none ]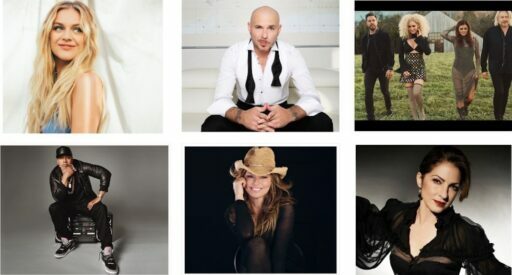 CBS is doing a competition show to find the biggest Superfan. But who are they going to be the superfans of?
Today, we found out who they are, and they are Kelsea Ballerini, Gloria Estefan, Little Big Town, LL COOL J, Pitbull, and Shania Twain.
During the six episodes, the contestants will play several rounds to determine if they are the ultimate superfan. However, it will be up to the Superstar to decide which person gets the one-in-a-lifetime prize. That will make the winner squee even more than just being crowned with the title.
I get that the producers wanted this to be music based, but I wish they would've gotten a Soap star to be on the show. Because their fans are not only the best, they are also the most loyal.
Superfan starts filming this week and will air later this year.

---
Gloria Estefan says I do to Andy Garcia
April 23rd, 2021 under Andy Garcia, Gloria Estefan. [ Comments: none ]
It was recently announced that Warner Bros is going to remake Father of the Bride for a second time. Today, we found who is going to play the father and his bride. They are Andy Garcia and Gloria Estefan.
"A resounding YES was my answer to the invitation to join my good friend, the incredibly talented Andy Garcia, for this new and wonderfully warm and funny incarnation of the classic, 'Father Of The Bride,'" the singer wrote. "I've been a fan of Director, Gaz Alazraki, since I saw his record breaking comedy, 'Nosotros Los Nobles' and can't wait to experience how he brings this amazing script by Matt Lopez to life."
To me, no one can do it better than Steve Martin and Diane Keaton. However, I think they will be a close second.
I hope they shoot it in Miami and give it a Cuban feel. If they don't, then there is no reason to make it. Yeah, that's why.

---