Gloria Estefan and Andy Garcia in Father of the Bride
May 9th, 2022 under Andy Garcia, Gloria Estefan, HBO Max. [ Comments: 1 ]
Gloria Estefan and Andy Garcia are starring in the third incarnation of Father of the Bride on June 16th. Today, HBO Max released the first trailer for the movie, and what took so long for these Cuban Miamians to work together. Their chemistry is perfect, so I can't wait to see this movie, even if their characters don't get along.

---
Superfan announces its Superstars!
April 19th, 2022 under CBS, Gloria Estefan, Shania Twain. [ Comments: none ]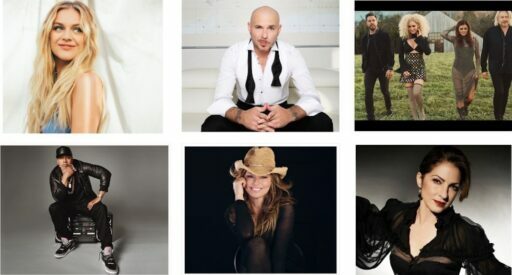 CBS is doing a competition show to find the biggest Superfan. But who are they going to be the superfans of?
Today, we found out who they are, and they are Kelsea Ballerini, Gloria Estefan, Little Big Town, LL COOL J, Pitbull, and Shania Twain.
During the six episodes, the contestants will play several rounds to determine if they are the ultimate superfan. However, it will be up to the Superstar to decide which person gets the one-in-a-lifetime prize. That will make the winner squee even more than just being crowned with the title.
I get that the producers wanted this to be music based, but I wish they would've gotten a Soap star to be on the show. Because their fans are not only the best, they are also the most loyal.
Superfan starts filming this week and will air later this year.

---
Gloria Estefan says I do to Andy Garcia
April 23rd, 2021 under Andy Garcia, Gloria Estefan. [ Comments: none ]
It was recently announced that Warner Bros is going to remake Father of the Bride for a second time. Today, we found who is going to play the father and his bride. They are Andy Garcia and Gloria Estefan.
"A resounding YES was my answer to the invitation to join my good friend, the incredibly talented Andy Garcia, for this new and wonderfully warm and funny incarnation of the classic, 'Father Of The Bride,'" the singer wrote. "I've been a fan of Director, Gaz Alazraki, since I saw his record breaking comedy, 'Nosotros Los Nobles' and can't wait to experience how he brings this amazing script by Matt Lopez to life."
To me, no one can do it better than Steve Martin and Diane Keaton. However, I think they will be a close second.
I hope they shoot it in Miami and give it a Cuban feel. If they don't, then there is no reason to make it. Yeah, that's why.

---
Gloria Estefan did the Conga with COVID-19
December 1st, 2020 under Coronavirus, Gloria Estefan. [ Comments: none ]

Gloria Estefan revealed today that she had COVID-19 in early November. Thankfully, her symptoms were mild. She only suffered from loss of taste and smell, along with a little cough.
The singer thinks that her symptoms were mild because she has been taking vitamins like D3, C, B12, melatonin, and a multivitamin. She also says Gatorade 0 helps with the dehydration that comes with the illness.
How does she think she got it? Estefan says she went out to eat on October 30th, and a fan with no mask stopped to talk to her. Even though she held her breath, the coronavirus still found a way into her system. Her immunologist friend told her that he thinks because Estefan wears a mask all the time, it helped her to get a lesser amount of the virus in her system. Therefore, wear a mask!
Estefan says she is feeling better now and has tested negative twice since she tested positive. Miami can breathe a sigh of relief, your most famous child is still OK.

---
Gloria Estefan reworks Get On Your Feet to Put On Your Mask
April 5th, 2020 under Coronavirus, Gloria Estefan. [ Comments: none ]

Rick Springfield reworked Human Touch for Coronavirus, and now Gloria Estefan did the same for her hit Get On Your Feet. She says if you are going to get on your feet and go outside, then you need to wear a mask. Therefore, she wants you to Put On You Mask, and she is reminding you to do it with this informative song.
Since Gloria and I went to one of the top pre-medical colleges (University of Miami) in the country, we know what we are talking about. So cover your mouths and protect others as you want them to protect you. The whole world is in this together.

---