Five legendary '80s songstresses sing a song for 80 For Brady
January 5th, 2023 under Cyndi Lauper, Dolly Parton, Gloria Estefan, Rita Moreno, The Go-Go's. [ Comments: none ]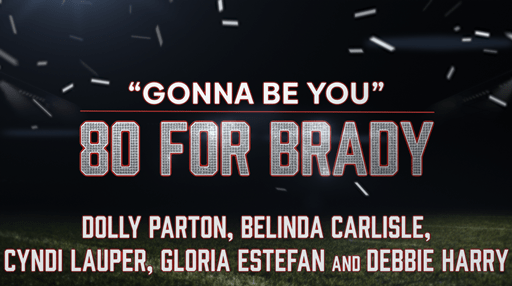 80 For Brady stars four iconic actresses, Lily Tomlin, Jane Fonda, Rita Moreno, and Sally Field. Therefore, it makes sense that they would ask five legends from the '80s to sing the theme song from the movie and get an esteemed female songwriter to write it.
"When I wrote 'Gonna Be You' for 80 FOR BRADY, I wanted to write a song that celebrated these women's deep friendship," says Diane Warren. "Since 80 was in the title I got a crazy idea, why not get some of the most iconic singers from the 80s, who are still amazing and always will be, to all sing it?!!!! Everyone I approached said yes and was just as excited as me!! I'm honored to have Dolly Parton, Belinda Carlisle, Cyndi Lauper, Gloria Estefan, and Debbie Harry on this song!! 'Gonna Be You' is that song you want to sing along to with all your good friends!!!"
I can't wait to hear the tune on January 12th because you know it is going to score a touchdown. Seriously, it will be the biggest soundtrack single since Moulin Rogues' Lady Marmalade. I bet you it is going to sweep the Oscars in 2024. How can it not be with all of those ladies involved?

---
BTWF: Rob Lowe in The Go-Go's Turn to You
August 17th, 2022 under Before They Were Famous, Rob Lowe, The Go-Go's. [ Comments: none ]
Before girls were turning to look at Rob Lowe, Rob Lowe was turning to The Go-Go's in Turn to You. He hasn't aged since he was 20 in that 1984 music video.
To hear how he wound up in that video, then click here!

---
An '80s teen boy's wet dream: Tiffany and Belinda Carlisle!
June 27th, 2022 under Debbie Gibson/ Tiffany, The Go-Go's. [ Comments: none ]
Back in the '80s, teenage boys wanted to think they were alone with Tiffany, and they were head over heels for Belinda Carlisle. However, they never saw the mall singer with the one from The Go-Go's.
That was then, but this is now. Over the weekend, heaven was a place on Earth for those boys because the two of them were photographed looking as beautiful as ever. Can you believe Tiffany is 50 and Carlisle is 63? I don't. And I can see why those no-longer-teenage boys are still mad about them.

---
An '80s boy's wet dream: Debbie Gibson and Belinda Carlisle
April 22nd, 2022 under Debbie Gibson/ Tiffany, The Go-Go's. [ Comments: none ]
Ooh, Heaven Is a Place on Earth because it is Debbie Gibson and Belinda Carlisle together again. Back in the '80s, boys were mad about them, but it was only in their dreams that they saw them together. So, they had to get up and go because they needed to shake their love for the two singers. You know, because they got the beat it off!
I will take a vacation from those jokes even though I am head over heels about them.
Anyways, can we talk about how great Gibson, 51, and The Go-Go's singer, 61, look? They still have the electric youth. Last one! Because there is nothing else to say because I think I am alone now with my sense of humor. Whoops, wrong singer!

---
Find out how The Go-Go's got their beat in a Showtime documentary
July 1st, 2020 under Showtime, The Go-Go's. [ Comments: none ]

Before there was Madonna, The Bangles, Tiffany, and Wilson Phillips, there was The Go-Go's. The all-girl band from Los Angeles, who played their own instruments, opened the door for all of those acts, and they have not closed it.
Charlotte Caffey (lead guitar, keyboards and vocals), Belinda Carlisle (lead vocals), Gina Schock (drums), Kathy Valentine (bass and vocals), and Jane Wiedlin (guitar & vocals) have had a career that has spanned over 40 years. As a band, they have had several hits that we all know like We Got The Beat, Vacation, Turn to You, and more. They inspired a whole new generation of female rockers, so they have a story to tell.
On August 1st, that story will be told on Showtime. The doc will include archived interviews and new ones with the quintet. It is an honest look at their rise to fame, the good times, the bad times, and everything in between that includes several breakups and makeups.
Whether you are a fan of The Go-Go's or not, this is a must-watch for fans of music. They created a movement that can still be felt today because they still have the beat!

---