American Idol doesn't change things up
July 25th, 2023 under ABC, American Idol 9+, Katy Perry, Lionel Richie, Luke Bryan, Ryan Seacrest. [ Comments: none ]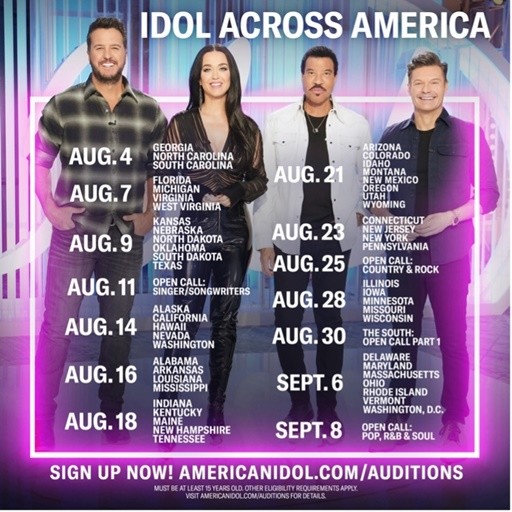 We are still months away from American Idol being back on ABC. However today, the network announced that Ryan Seacrest, Luke Bryan, Lionel Richie, and Katy Perry will all be back for season 7.
The latter is a little bit of a surprise because a lot of fans were upset with what a bitch the California Gurl was to several of the contestants. But that is good for ratings, so they invited her back because Idol is the biggest hit she has had since joined the singing competition.
If you want her to be bitchy to you, then you can audition to be on the show. To see where they are holding auditions, then click here!

---
Can America trade Ed Sheeran for Katy Perry and Lionel Richie?
May 2nd, 2023 under Alanis Morissette, American Idol 9+, Ed Sheeran, Katy Perry, Lionel Richie. [ Comments: none ]
So there is a rumor that King Charles III asked Ed Sheeran to perform at his coronation concert this weekend, and he said no. He wasn't the only musician.
So the King had to cross the pond and ask two American Idols if they would do it. And Katy Perry and Lionel Richie said yes.
Well, that leaves American Idol without two judges on Sunday's live show. So what is the singing competition going to do? They are going to ask Sheeran and Alanis Morissette to fill in for them.
So if we are getting two people who are part of the United Kingdom to fill in for the Yankees, why can't we make a trade permanent? You oughta know, I would rather them over the two who can't go all night, all night long. What about you?

---
Lionel Richie can no longer go All Night Long
March 28th, 2023 under Lionel Richie, The View. [ Comments: none ]
It has been 40 years since Lionel Richie released his hit song All Night Long (All Night), and a lot has changed for the singer.
Today, when he was on The View with his American Idol co-judges, Katy Perry and Luke Bryan, he told the hosts how. "When I wrote 'All Night Long,' it was truly all night long," he said. "Now my all night long is down to a fierce 15 minutes. But don't worry. We'll talk about that later!"
And now we know more about Lionel Richie than we needed to know about him like he doesn't use Viagra.

---
Katy Perry gave Lionel Richie a mullet
February 26th, 2023 under American Idol 9+, Katy Perry, Lionel Richie. [ Comments: none ]
Katy Perry was rocking so hard during an American Idol audition that her extensions fell out.
Since she wasn't going to put it back on her head, she decided to put on Lionel Richie's instead. You know what? It works on the crooner. So much so that I think he should grow it out in the back!
What do you think?
To see her lose her hair, then click here!

---
The Rock & Roll Hall of Fame is coming to HBO on November 19th
October 19th, 2022 under Carly Simon, Duran Duran, Eminem, HBO Max, Lionel Richie. [ Comments: none ]
I normally hate the Rock & Roll Hall of Fame. The people I think who deserve to be there aren't even nominated. However, this year, this Duranie is finally seeing Duran Duran get inducted along with Dolly Parton, Pat Benetar, Carly Simon, Eminem, and Lionel Richie.
As much as I love the Eurythmics, I don't think they are as deserving as The New York Dolls, who were nominated but not inducted. Although, the latter's acceptance speech would be sad because they are down to one member. Buster Poindexter might be Hot, Hot, Hot, but he would be lonely up there by himself.
Anyways, it's not about my feelings or this year's controversies like Dolly Parton and Dionne Warwick criticizing the name of the Hall of Fame and asking not to be inducted, it about the inductees' night.
That night is going to be November 19th on HBO. So mark your calendars because it is going to be a night to remember.

---