[ # ] Five legendary '80s songstresses sing a song for 80 For Brady
January 5th, 2023 under Cyndi Lauper, Dolly Parton, Gloria Estefan, Rita Moreno, The Go-Go's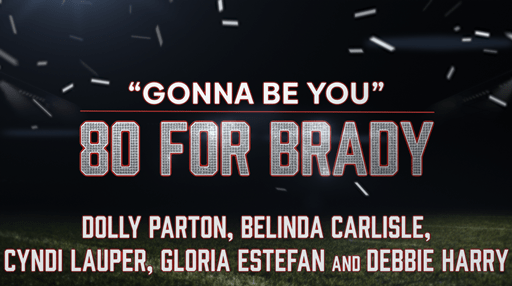 80 For Brady stars four iconic actresses, Lily Tomlin, Jane Fonda, Rita Moreno, and Sally Field. Therefore, it makes sense that they would ask five legends from the '80s to sing the theme song from the movie and get an esteemed female songwriter to write it.
"When I wrote 'Gonna Be You' for 80 FOR BRADY, I wanted to write a song that celebrated these women's deep friendship," says Diane Warren. "Since 80 was in the title I got a crazy idea, why not get some of the most iconic singers from the 80s, who are still amazing and always will be, to all sing it?!!!! Everyone I approached said yes and was just as excited as me!! I'm honored to have Dolly Parton, Belinda Carlisle, Cyndi Lauper, Gloria Estefan, and Debbie Harry on this song!! 'Gonna Be You' is that song you want to sing along to with all your good friends!!!"
I can't wait to hear the tune on January 12th because you know it is going to score a touchdown. Seriously, it will be the biggest soundtrack single since Moulin Rogues' Lady Marmalade. I bet you it is going to sweep the Oscars in 2024. How can it not be with all of those ladies involved?

---