Do ya think Rod Stewart is sexy in these PJs?
August 11th, 2023 under Rod Stewart. [ Comments: none ]
For 35 years, Rod Stewart has been asking us if we think he is sexy. And that answer has always been yes.
Today, we got a glimpse of what he looks like in his Dirty Weekend pajamas in bed. And now my infatuation for him is even great. Some girls have all the luck, and those are his wives who get to sleep with the ageless Rocker!

---
Sir Rod Stewart is not retiring
June 21st, 2023 under Rod Stewart. [ Comments: none ]
Sir Rod Stewart is going to try something new out musically, and people think that means that he is going to retire. Today, he took to social media to clear things up.
I'd like to clear up any confusion that I may have caused with my dear fans and the media. I shall never retire! I was put on this earth to be a singer and will keep doing so for as long as the good Lord lets me. I'll be playing the hits as advertised for the UK, US, South America, and Vegas and into 2024 but no retirement as such.

During recent interviews, I've mentioned my newest passion is big band/swing music and when we wrap this greatest hits tour, it's something I'm very eager to share with you.

I could never turn my back on the songs that I've written and sung over the last six decades. They are like my children. I created them and I love them. I'll always come back to them, just like I did after The Great American Songbook series, which I shall boastfully add, sold 26 million albums!

I look forward to seeing you on the road with all the hits, and I can't wait to introduce you to my new swing album next year.
The 78-year-old has reinvented himself before, so I don't know why they jumped to that conclusion. While people like Neil Diamond, Elton John, Aerosmith, and KISS have retired/will retire from the road, Stewart is the type who is going to die on it. Hopefully, in the far, far, far future, because he is one of the greatest live acts I have ever seen. He is someone you need to see in person because he puts on such a fun show.

---
Caption Rod Stewart and Ronnie Wood!
May 24th, 2023 under Caption the Celeb, Rod Stewart, Rolling Stones. [ Comments: none ]
This photo of Rod Stewart and Ronnie Wood staring at each other at Jeff Beck's tribute show has caption me written all over it, so go ahead and do it.

---
Rod Stewart is back with new music
September 16th, 2021 under Rod Stewart. [ Comments: none ]
If ever we needed new music from Rod Stewart, it is now. So be prepared for the release of his 31st studio album, The Tears of Hercules, on November 12th.
"I've never said this before about any previous efforts, but I believe this is by far my best album in many a year," Stewart writes.
The record will include original songs and these covers, Soul Brother Six's Some Kind Of Wonderful and Johnny Cash's These Are My People.
Those are the covers, and today the sexy singer, because we all think he is, released the first original single from it. One More Time is definitively his sound, and I love it. He also dedicates the song Touchline to his father for teaching him and his brothers the love of football.
Along with the album, he will be touring the US next year starting in July.
To see the tracklist, then click here!

---
Rod Stewart reveals he beat Prostate cancer
September 16th, 2019 under Rod Stewart. [ Comments: none ]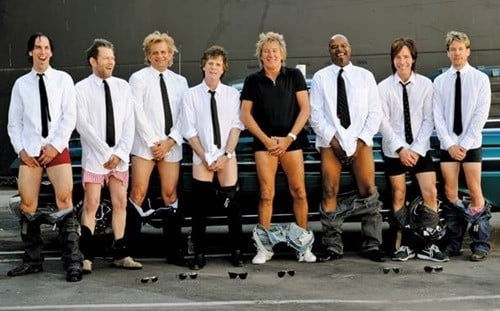 Rod Stewart has been keeping a secret for the last two years and this weekend he finally shared it.
Back in February 2017, the singer was diagnosed with Prostate cancer. According to Mirror he told an audience at a charity event for Prostate Project and European Tour ­Foundation, "No one knows this, but I thought this was about time I told everybody. I'm in the clear, now, simply because I caught it early. I have so many tests." He was told he was cancer free in July.
The 74-year-old told the crowd, "Guys, you've got to really go to the doctor." Then he added in a way fitting for him, "Finger up the bum, no harm done."
My father beat it too. It is very curable cancer if it is caught early. Therefore men, go get the blood test and let the doctor in. You know you like it a little?
When it comes to Stewart, Glad he is cured.

---