Rod Stewart is back with new music
September 16th, 2021 under Rod Stewart. [ Comments: none ]
If ever we needed new music from Rod Stewart, it is now. So be prepared for the release of his 31st studio album, The Tears of Hercules, on November 12th.
"I've never said this before about any previous efforts, but I believe this is by far my best album in many a year," Stewart writes.
The record will include original songs and these covers, Soul Brother Six's Some Kind Of Wonderful and Johnny Cash's These Are My People.
Those are the covers, and today the sexy singer, because we all think he is, released the first original single from it. One More Time is definitively his sound, and I love it. He also dedicates the song Touchline to his father for teaching him and his brothers the love of football.
Along with the album, he will be touring the US next year starting in July.
To see the tracklist, then click here!

---
Rod Stewart reveals he beat Prostate cancer
September 16th, 2019 under Rod Stewart. [ Comments: none ]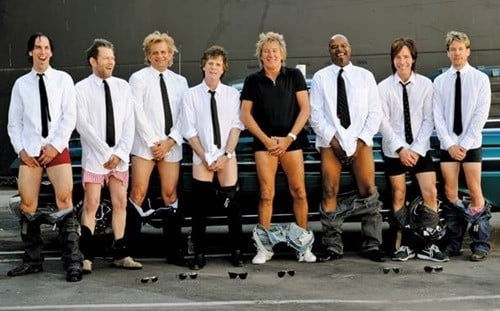 Rod Stewart has been keeping a secret for the last two years and this weekend he finally shared it.
Back in February 2017, the singer was diagnosed with Prostate cancer. According to Mirror he told an audience at a charity event for Prostate Project and European Tour ­Foundation, "No one knows this, but I thought this was about time I told everybody. I'm in the clear, now, simply because I caught it early. I have so many tests." He was told he was cancer free in July.
The 74-year-old told the crowd, "Guys, you've got to really go to the doctor." Then he added in a way fitting for him, "Finger up the bum, no harm done."
My father beat it too. It is very curable cancer if it is caught early. Therefore men, go get the blood test and let the doctor in. You know you like it a little?
When it comes to Stewart, Glad he is cured.

---
Rod Stewart loves his clothes so much, he sings about them!
June 24th, 2019 under Rod Stewart. [ Comments: none ]

Rod Stewart once asked, "Da ya think I'm sexy?" The answer will always be yes. What makes him so sexy is his clothes. Well, one of the many things.
The singer took us into his closet and he sang about his shiny threads in a way only he can. Some guys have all the luck. However, in this case, it is his clothes who have all the luck. Not only do they get to cover his body, but he also serenades them with his raspy voice.
BTW I am going to move my exercise bike into my closet. If I see the outfits I want to fit into, then I will be more willing to work out. It is a real motivator. Thanks, Rod for the tip.

---
Sir Rod Stewart is retiring aspects of his life
May 30th, 2019 under Rod Stewart. [ Comments: none ]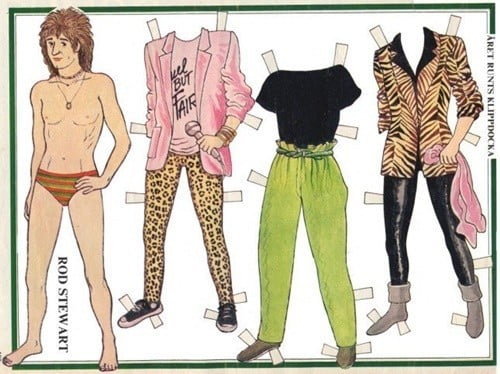 Rod Stewart is 74 years old and he is ready to retire. Wait before you freak out, he told The Sun, he is done with Rock'n'Roll and wants to transition to Jazz standards. Which is pretty much retiring. Unless he does he songs in the style of Jazz.
Another thing the father of 8 retired from is having any more kids. Or as he put it, "My cue is back in the rack, the banana's back in the fruit bowl." Before he married Penny Lancaster in 2007, he was getting bored of sex with long-legged models. He enjoys being with love of his life more than sleeping with everyone woman who comes his way,
Now that he is just with one woman, does he still think he is sexy? Yes, does and he should because he is still sexy! That raspy voice with the blonde spikes and the way he moves can turn anyone on.
Anyone but Elton John because they are no longer talking. Their on again-off again friendship is off again.
Talking about Elton, his biopic is coming out tomorrow, would Rod do one about his life that is just as rockin'? Hell, yes! Now, who should play him is another the question? His youngest two sons offered to play the younger versions of him.
What keeps him forever young? Besides 8 kids, sex with his wife and Rock'n'Roll? His model trains. He actually has someone look over them when he is on the road. I want that job!
These youngsters today can say they are true rockers, but they are nowhere as cool as the OGs!

---
Rod Stewart had to fire a publicist for spreading a rumor about him!
March 22nd, 2018 under Andy Cohen, Cyndi Lauper, Rod Stewart. [ Comments: none ]

I don't know about you, but I had that rumor about Rod Stewart. The one where he had to get his stomach pumped because he had too much man juice in his belly. Yesterday, when he was on Watch What Happens Live, Andy Cohen asked him if that rumor bothered him.
Before he could answer, Cyndi Lauper asked him what rumor? That is when he revealed it was his mean publicist who was the one that started it and Stewart fired him over it.
For you youngsters and people like Lauper who don't know what the rumor is, he told everyone what it was. He said the rumor was, "That I was ??? by 12 sailors, and I had to be taken to San Fransisco hospital and have me tummy pumped to get all the semen out." That is a lot of seamen's semen.
On a different note, Stewart was also asked about Elton John's retirement tour. The sexy singer told Cohen, "It stinks of selling tickets." When Andy brought up Cher's retirement tours, Lauper said that she really did want to retire and then realized what a mistake she made. When it comes to how Rod will do it, he says he will just fade away. Something I hope he never does. I have seen him a few times and he always puts on great show! And not just for all of the sailors in the audience.

---