Who else wants a David Hasselhoff Chia Pet for Christmas?
December 7th, 2021 under Chia Pet, David Hasselhoff/Baywatch, Willie Nelson. [ Comments: none ]
I don't know what it is about Chia Pets, but they are just so groovy. They were always cool, but now they are even cooler because they are shaped like people and characters from pop culture. This year, they are adding a Knight Rider version of David Hasselhoff and a braided one of Willie Nelson to their collection.
I must have the Hoff one because it is Hoffmazing. It is not that I don't want the one of the Red Headed Stranger. I just would want it more if the plant that grew out of his braids was marijuana. How rockin' would that be?

---
Shocking news: Willie Nelson quit smoking pot
December 4th, 2019 under Willie Nelson. [ Comments: none ]

When you think of Willie Nelson, you associate him with four things. Those four things are that he is a singer, the songs he sings, his 2 long braids and that he smokes marijuana. Well, we can cross one of those things off the list. He told KSAT TV's Paul Venema that he no longer smokes the good stuff.
The Country crooner explained why, "I have abused my lungs quite a bit in the past, so breathing is a little more difficult these days and I have to be careful." So careful that he takes better care of himself, now at 86, then he did when he was younger.
In fact, Nelson revealed that performing an hour on stage is a good workout for him. To all those people who thought he would never be on the road again, he says, "I don't give a sh!t, I'm here, I'm glad to be here." We are glad to have him be here.
It is just going to take us a while to accept that he no longer smokes. But we got used to without braids for a little while, so we will get used to this too.

---
BTWF: Willie Nelson singing
August 9th, 2019 under Before They Were Famous, Willie Nelson. [ Comments: none ]

Before Willie Nelson had a beard, his hair in 2 long braids and wearing jeans, he was clean-shaven with short hair and wearing a suit while performing. If it was not for his deep singing voice, we never would have known that 29-year-old singer in 1962 is the man we know today.

---
Willie Nelson cancels his tour over breathing problems
August 8th, 2019 under Uncategorized, Willie Nelson. [ Comments: none ]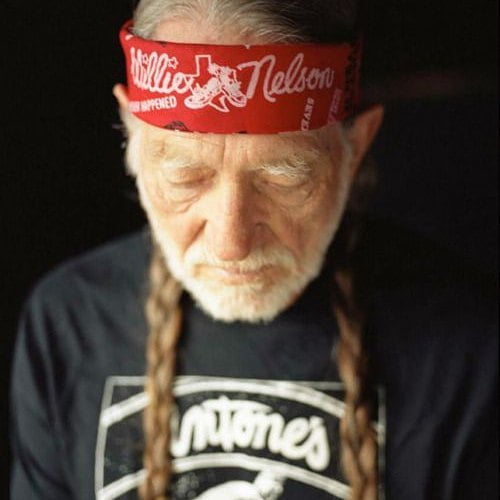 Willie Nelson is 86 years old, and he is not letting his age stopping him from touring. However, the highwayman announced yesterday he is forced to cancel the rest of this tour. He wrote, "I'm sorry to cancel my tour, but I have a breathing problem that I need to have my doctor check out." Then he added, "I'll be back."
Hopefully, it is nothing serious and he will be back on the road again real soon.
UPDATE: Willie Nelson's people tweeted an update, "Willie is resting and feeling better. The tour will resume on September 6 in Gilford, NH. Thanks to all the fans for the continued [support]." I wonder what he will be doing until then? Who am I kidding, we all know. He will be getting high.

---
Willie Nelson explains his braids!
April 7th, 2014 under Larry King, Willie Nelson. [ Comments: none ]

Willie Nelson is as known for his braids as he is music and pot smoking; and Larry King wanted to know why he has them on his OraTV show Larry King Now. The singer said, "Well, it pissed a few people off, and I figured it was worth doing." Now over 30 years later, they are more iconic than something that pisses people off.
Who'd think that doing something as simple as braiding his pigtails to piss people off would be something he would still be known for today. Thankfully they did because I can't imagine him without them, can you?

---