Rita Moreno flirts with Today's Craig Melvin
May 16th, 2023 under Rita Moreno. [ Comments: none ]
Rita Moreno was on Today today to talk about playing Vin Diesel's grandmother in Fast X, and she told Hoda Kotb that she is getting dirtier and dirtier the older she gets. Basically, the actress said that she is 91 and she doesn't give a fuck anymore. Although, she didn't say fuck because broadcast television.
Anyways, Moreno is an EGOT winner, which means she has an Emmy, a Grammy, an Oscar, and a Tony. So Today wanted to give an award, and they brought Craig Melvin out to give it to her.
The anchor walked over to her and kissed her hand and her cheek. Then she told him, "Sit down, you animal!" And as a good animal, he obeyed his master.
After that, they flirted. And Melvin told her, "I'm married." To which the actress responded, "Do we give a hoot?"
At that point, a blushing Melvin wanted to toss to commercial. Because, after all, this is Today and not GMA3. The anchors don't cheat on their spouses. Too soon? I mean, Matt Lauer has been gone for like ever.
Seriously, I love Miss Moreno for being as carefree as she is. But then I had this thought. I am like her now. And if I am like her at my age. What the fuck am I going to be like at her age? I don't even want to know! And neither will the people around me!
Oh, and am I the only one who kind of wants something to happen between Morvin? I don't want his marriage to end, but they were so sweet together at that moment.

---
Rita Moreno has more energy at 91 than I do
February 3rd, 2023 under Jennifer Hudson, Rita Moreno. [ Comments: none ]
Rita Moreno is on The Jennifer Hudson Show today, and the legendary actress showed the host how to dance with Castanets.
It might not seem like that big of a deal, but Moreno is 91 years young, and she has more energy than me and Hudson combined.
I need to know how she does it because I am exhausted just watching her. Gd bless her!

---
Tom Brady is a little old for Rita Moreno
January 20th, 2023 under Jane Fonda, Jimmy Kimmel, Lily Tomlin, Rita Moreno, Sally Field. [ Comments: none ]
No matter what people think of 80 for Brady. They have to admit the press tour, for it has been touchdown! That is because Jane Fonda, Rita Moreno, Sally Field, and Lily Tomlin say whatever they want.
Yesterday, they were on Jimmy Kimmel Live and the oldest one in the quartet admitted that she loves to talk about sex. In fact, the Oscar winner revealed that she went into the locker room when they were filming the movie, she got turned on. So much so that she started touching herself.
So what does the 91-year-old think of Tom Brady? She says, "He's a little old" However, Marshawn Lynch is not. With age comes wisdom. And she is very wise.
When it comes to the rest of the interview, I wish someone would just give them a talk show and let them discuss different topics. Just let them go because you never know when Field is going to chime in with something hilarious.
I love these ladies!!!

---
Five legendary '80s songstresses sing a song for 80 For Brady
January 5th, 2023 under Cyndi Lauper, Dolly Parton, Gloria Estefan, Rita Moreno, The Go-Go's. [ Comments: none ]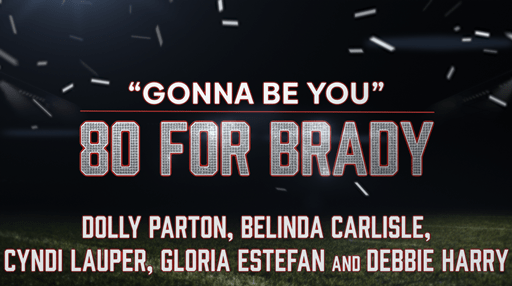 80 For Brady stars four iconic actresses, Lily Tomlin, Jane Fonda, Rita Moreno, and Sally Field. Therefore, it makes sense that they would ask five legends from the '80s to sing the theme song from the movie and get an esteemed female songwriter to write it.
"When I wrote 'Gonna Be You' for 80 FOR BRADY, I wanted to write a song that celebrated these women's deep friendship," says Diane Warren. "Since 80 was in the title I got a crazy idea, why not get some of the most iconic singers from the 80s, who are still amazing and always will be, to all sing it?!!!! Everyone I approached said yes and was just as excited as me!! I'm honored to have Dolly Parton, Belinda Carlisle, Cyndi Lauper, Gloria Estefan, and Debbie Harry on this song!! 'Gonna Be You' is that song you want to sing along to with all your good friends!!!"
I can't wait to hear the tune on January 12th because you know it is going to score a touchdown. Seriously, it will be the biggest soundtrack single since Moulin Rogues' Lady Marmalade. I bet you it is going to sweep the Oscars in 2024. How can it not be with all of those ladies involved?

---
What is, Jeopardy taught me something new about West Side Story?
November 23rd, 2022 under Jeopardy, Rita Moreno. [ Comments: none ]
Jeopardy is an educational show, and you are bound to learn something new if you watch it.
Case in point, yesterday, for the Final Jeopardy round Ken Jennings asked the contestants this Musical Theater answer, "The pair at the center of tumult in this long-running show were originally to be a Jewish girl and a Catholic Boy."
My first thought was Fiddler on the Roof, but Chava falls for a non-Jewish man. So it can't be that show. And then a lightbulb goes off in my head, and in a New York Jewish accent, I said aloud to myself, "West Side Story." And I was correct.
Now, I want to see that version of the musical. Not that there is anything wrong with the one we saw with the Jets vs the Sharks. But the music would be so different. Oy, it would be so much different. Plus, it would be fun to see Barbara Streisand and Bette Middler fight for the lead role that will go to Rita Moreno.
One last note, I is smarter than Jennings, who didn't know that Fiddler already had a mixed marriage. If I were a rich girl…

---