Dolly Parton addresses the tattoo rumors
September 23rd, 2020 under Dolly Parton. [ Comments:

none

]

For years, there have been rumors that Dolly Parton wears long sleeves because her arms are covered in tattoos. Is it true? That is what People wanted to find out, so they asked her.

"I do have some tattoos, that's true," Parton told the magazine. "But they're tasteful. I'm not a tattoo girl.".

However, since Dolly is a girly girl, she says that her ink is pretty and artful. Then she explained that she got them to cover up some scars. "Ribbons and bows and butterflies are the things that I have. I was very sick for a while and I had to wear a feeding tube. It left a little indention in my side and I didn't like it because I'm so fair that scars turn purple on me."

Parton added, "I like to make positives out of negatives. I had a little beehive tattooed over it — a little yellow-and-brown beehive with a tiny little bee on top of the hive. The mouth of it is that little sinkhole."

Talking about positives, the most positive thing in the singer's life is her husband, Carl Dean of 54 years. Does she have his name anywhere on her body? It is one place we can't see, her heart.

Although, Parton says she might get his name added to her body along with other tats, "just so everybody could be right!"

---
All I want for Christmas is a Dolly Parton holiday album
August 13th, 2020 under Dolly Parton. [ Comments:

none

]

File this under 2020 isn't all awful! Dolly Parton announced today that she is releasing her first holiday album in 30 years. A Holly Dolly Christmas comes out on October 2nd. It includes six new songs, five of which she wrote on her own, and six timeless classics like Mariah Carey's All I Want For Christmas Is You. That tune is a duet with The Tonight Show's Jimmy Fallon. It is just one of the six duets on her album. She will also be singing one song with her brother, Randy, and another with her goddaughter, Miley Cyrus.

"I am so excited to announce my new Christmas album 'A Holly Dolly Christmas.' I have recorded several Christmas classics like 'Holly Jolly Christmas', as well as some new material that I hope might become Christmas classics. I've recorded 5 duets with 5 very special artists as you can see," states Dolly.

"I figured since everybody probably wouldn't get to celebrate Christmas as usual this year, I wanted to be creative instead of sitting around at the house this summer. So I put on my mask, gloves and practiced social distancing, as well as all of the wonderful musicians and singers, and we proceeded to put together what I think is some of the best work that I've ever done."

Considering all legendary tunes, she has released, that says a lot. For the first time this year, I am looking forward to the holiday. Just so that I can listen to her album over and over and over again.

The first single off the record is Cuddle Up, Cozy Down Christmas with Michael Bublé. I can't wait to hear their voices together.

To see the tracklisting on the must-have Christmas album of the year, then click here!

---
Denis Leary wins the #DollyPartonChallenge!
January 23rd, 2020 under Denis Leary, Dolly Parton. [ Comments:

none

]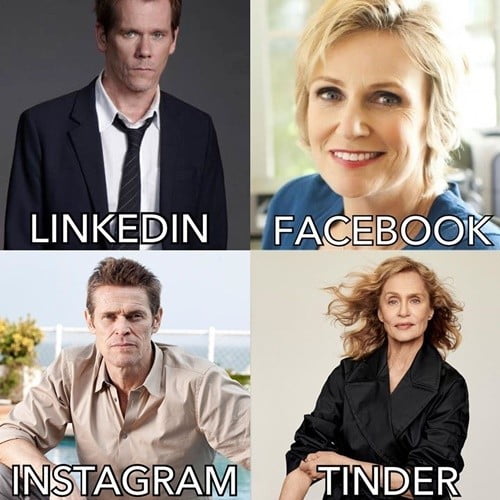 Earlier this week, Dolly Parton posted a photo with four different looks. One each for LinkedIn, Facebook, Instragram and Tinder. Since then several celebrites and non-celebs have done their take on the #DollyChallenge.
However, no one did it as brilliantly as Denis Leary. Instead, of using four photos of himself, he used images of the stars he is often mistaken for like Kevin Bacon, Jane Lynch, Willem Dafoe, and Lauren Hutton. I would like to see someone to top it. It will be impossible.
If you missed the post that started it all, then click here!

---
Dolly Parton reveals how she got her big boobs!
November 21st, 2019 under Dolly Parton, Jimmy Fallon. [ Comments:

none

]

Dolly Parton is known for her big voice and her even bigger boobs. Yesterday, when she was on The Tonight Show, she told Jimmy Fallon how she got them. That's right, they have their own story.
Watch the full interview to hear how she got her famous assets. All I will tell you is that International House of Pancakes is involved from taking her flat pancakes to a full stack!

---
Dolly Parton says she is no longer working 9 to 5
October 31st, 2019 under Dolly Parton. [ Comments:

none

]

A few years ago, there were rumors that we were going to get a sequel to 9 to 5 with Dolly Parton, Lily Tomlin and Jane Fonda. Well, when Entertainment Tonight caught up with the Country Queen, they asked her for an update on the film. The reporter was expecting a raise, but instead, she got a pink slip.
Parton said, "Well, actually I think we've dropped that whole idea…I don't think we're going to do the sequel. We never could get the script where it was enough different than the first one, and that one turned out so good."
Before you shed a tear like I did, Parton then added, "We're thinking we might do a completely different thing together though."
You know what, after waiting almost 40 years for the sequel, I am OK with them working together on something else. As long as they are working together again!

---