Andy Cohen has no mazal
March 21st, 2020 under Andy Cohen. [ Comments:

none

]

Hours after Andy Cohen annoucned that he would be doing Watch What Happens Live from his apartment starting on Sunday, he posted on socal media it will not be happening.
After a few days of self-quarantine, and not feeling great, I have tested positive for Coronavirus. As much as I felt like I could push through whatever I was feeling to do #WWHL from home, we're putting a pin in that for now so I can focus on getting better. I want to thank all the medical professionals who are working tirelessly for all of us, and urge everybody to stay home and take care of themselves.
I hope that all the housewives are sending him chicken soup and taking care of him. After all, he has been taking care of them for all of these years.
---
Will America's Next Top Model be back?
February 24th, 2020 under Andy Cohen, Tyra Banks. [ Comments:

none

]

Do you remember when America's Next Top Model was one of the biggest shows on The CW. Then it became the "it's still on the air" show until it wasn't. That is when VH-1 tried to save it, and they gave it 2 seasons.
Well, it has been two years since we got a new season, and Andy Cohen asked Tyra Banks on his show Watch What Happens Live if her competition show will be back. She told him that she does not know. However, she would like it to come back for its 25th cycle.
They should wait until 2028, which would be the show's 25th anniversary. By then we will have forgotten about it even more than we remember it now.
---
What does Martha Stewart think of Gwyneth Paltrow's candle?
January 17th, 2020 under Andy Cohen, Gwyneth Paltrow, Martha Stewart. [ Comments:

4

]

Martha Stewart is reportedly not really a fan of GOOP, which is why a caller on Watch What Happens Live yesterday wanted to know what the Domestic Goddess thinks of Gwyneth Paltrow's candle that smells like her vagina for $75.
Stewart, once she understood what it was, said, "She does that irritating read…She is trying to zhoosh up the public to listen to her." Then she said, "That is great. Let her do her thing." Which is the North Easterner's classy way of saying, "Bless her heart."
Would she buy it? Of course, not. Then Andy Cohen wanted to know, who she thinks is purchasing it? The mogul told him, "I think it is a lot of guys who are horny." Personally, I think it is a lot of horny women. Who do you think is ordering it?
---
Who has a better tush: Salma Hayek or Tiffany Haddish?
January 10th, 2020 under Andy Cohen, Better than..., Salma Hayek, Tiffany Haddish. [ Comments:

none

]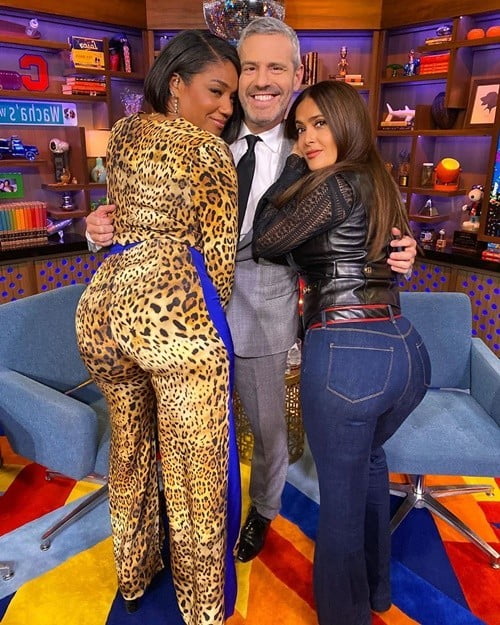 Salma Hayek or Tiffany Haddish are promoting their film Like a Boss and they took their act to Watch What Happens Live. To promote the episode, they posed with Andy Cohen and their a$$ets out. Which makes you wonder which actress has the better butt? Bottoms up, I say it is a tie.
---
Which member of One Direction of has the largest member?
December 23rd, 2019 under Andy Cohen, One Direction. [ Comments:

none

]

Liam Payne was on Watch What Happens Live the other night, and Andy Cohen asked him to play Plead the Fifth. The singer opted to plead the fifth for that question instead of revealing if he dated Naomi Campbell.
That means he had to answer the remaining two questions. With that, the Bravo host asked him, "Which member of One Direction, do you think is the most well endowed?" Without hesitation, he boasted, "I'll have to say myself."
Since he cannot lie on live television, we have to believe he is telling the truth. Do you think he committed perjury or he has the most beautiful microphone in his trousers?
---