Mary Steenburgen says we are getting another Book Club
June 12th, 2019 under Andy Cohen, Candice Bergen, Diane Keaton, Jane Fonda, Ted Danson Mary Steenburgen. [ Comments:

none

]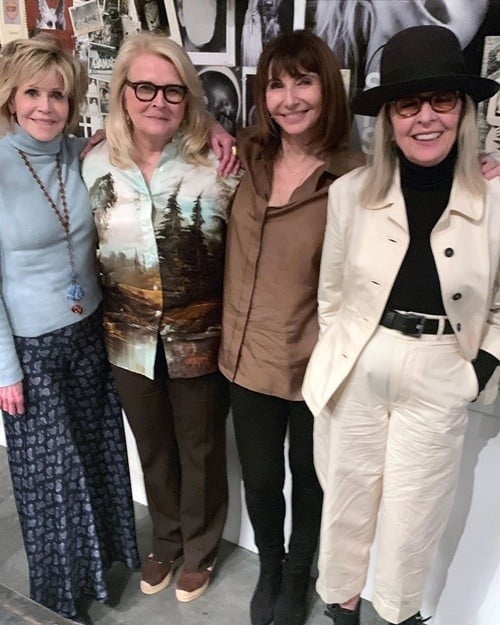 Sometimes when actors makes a movie, they become friends for life. That is exactly what happened to Mary Steenburgen, Jane Fonda, Candice Bergen and Diane Keaton when they made Book Club.
The four women have continued their friendship even off camera and met a few times since the enjoyable 2018 film came out. In fact, they even got together at Keaton's house this weekend. Andy Cohen, like me, loves seeing the ladies together, so today he asked Mrs. Ted Danson about their dinner date on his radio show. That is when she revealed they are doing a sequel to their feature.
While that is great news for fans of the movie, I would rather see it be a series. I think it would be better if they took up a new book every week for like 10 of them. Wouldn't it be fun to see how the Twilight series would inspire them? Maybe even be a little naughty and read The Art of the Deal. I don't think the actresses would allow that. However, they could have fun with Kardashian Konfidential.
No word, which of the men will be back, but I have a feeling we will be seeing them again. Which makes me so very happy. If you have not seen Book Club, you should definitely watch it. It is just a sweet movie about friends being there for you whenever you need them.
To hear what Steenburgen told Cohen on his radio show today, then click here!
---
The shocking answer Robin Givens gave about sex with Howard Stern
June 10th, 2019 under Andy Cohen, Howard Stern, Robin Givens. [ Comments:

1

]

Robin Givens was on Watch What Happens Live yesterday and Andy Cohen wanted to know if it is true that Howard Stern has a small penis. The Shock Jock has been very vocal about that, but is he lying to his listeners?
Since Givens dated him 20 years ago, she would know. What was her answer when she was asked about that? She said fondly, "Howard Stern was a magnificent lover!" Then she added that it was, "Unbelievable."
Who would have thought? You would think, because of his on-air persona, he would be a selfish lover. Turns out he is far from it. I guess you cannot believe everything you hear on the radio.
Cohen kept pressing her about Stern's microphone and all she would say, "It was all really good." Proving it really is all about the motion of the ocean. At least for the DJ!
---
Anjelica Huston says that Jack Nicholson has a very big d-thing!
May 14th, 2019 under Andy Cohen, Anjelica Huston, Jack Nicholson. [ Comments:

none

]

Anjelica Huston was on Watch What Happens Live yesterday and Andy Cohen asked her to play Plead the Fifth. Since she is an open book, she agreed to play.
When asked which co-star gave her the first worst impression, she said it was Bill Murray when they worked on The Life Aquatic with Steve Zissou. He threw a dinner party on the first day and invited everyone but her. The actress said he redeemed himself as production went on.
When it came to the second question, she pled the fifth and would not reveal which famous actor she turned down.
For his third question, the Bravo host wanted her to describe Jack Nicholson, her ex of 17 years, as a lover. She turned to RuPaul and asked, "What is that d-thing?" Ru proudly said to her, "dick." Cohen said that was only one word, she needed two more. Thus, she added, "very big." Then she elaborated, "For the moment."
However, after the game, she said the game "was really hard. And sort of inaccurate. But we won't go into that."
Now that we know Jack, it is hard to believe she said hit the road, Jack. Can we call him Jack Hammer from now on? I am Jacked up with these jokes.
---
Rhea Pearlman says she is not getting a divorce from Danny DeVito
May 10th, 2019 under Andy Cohen, Danny DeVito. [ Comments:

none

]

When it comes to celebrity couples, I thought that Rhea Pearlman and Danny DeVito were going to make it until death us do part. I was wrong because the couple separated after 30 years of marriage in 2012. I honestly thought they reconciled, and again I was wrong.
Yesterday, when she was on Watch What Happens Live with Andy Cohen she cleared up their relationship when a caller wanted to know how the exes remain so civil to each other. She said that they talk and see each other all the time. In fact, they still love each other even though do not live together anymore.
Will they get a divorce? She had a great reaction, "What for?" Is it wrong for me to hope that someday maybe they will get back together? I have loved their love for each other since they played lovers on Taxi.
---
Fox no longer has a love connection with Love Connection
February 27th, 2019 under Andy Cohen. [ Comments:

none

]

Andy Cohen announced today on Howard Stern's radio show that he is out of the single business and just working with Housewives. As in Fox cancelled his revival of Love Connection after two seasons.
I liked the show, but it was not able to find an audience like Beat Shazam. The show that aired before it for two summers. The Jamie Foxx game show will be back for a third season because it was able to find enough viewers to watch.
---