Antonio Banderas says his first time presenting at the Oscars was traumatic
January 30th, 2020 under Antonio Banderas, Kelly Ripa, Ryan Seacrest. [ Comments:

none

]

The Oscars is a traumatic experience for some people because they don't win the little gold statuette. However, Antonio Banderas revealed on Live with Kelly and Ryan why it was for a completely different situation or him.
Back in 1992, when he presented for the first time, he was in a lot of pain. That is because he bought new shoes and there were really tight. That caused his feet to swell. What could he do? He was stuck wearing them during the five-hour show and when he presented an award with Sharon Stone.
Even though he was in so much pain, the show has to go on. He went up on stage, and since he is an actor, he tried to mask the pain. He did a good job, if you don't know what was going on with him. However, when the actor points out that he was in so much agony that he shrugged his shoulders so high, he had no neck.
Hopefully, he will not wear new shows when he goes to Oscars on February 9th. He does not want his first chance of a win to be marred by Pain and Glory. Although, I think he would forget all about the pain if he won.
The moral of his story is never to wear new shoes for a big event. A lot of us have done it, and we learn never to do it again. At least we hope we do.
To see him presenting in pain, then click here!

---
Ryan Gosling and Justin Timberlake had a bet to kiss Jessica Simpson
January 30th, 2020 under Jessica Simpson, Jimmy Kimmel. [ Comments:

none

]

Back when Ryan Gosling, Justin Timberlake, and Jessica Simpson were preteens, they were all on the Mickey Mouse Club. An age when your hormones are going crazy. So imagine when you put that many good looking kids in one place, they are going to have crushes on each other.
Ryan Gosling and Justin Timberlake had one on Jessica Simpson, so they made a bet who would get to kiss her first. Which one got to first with her first? The guy who is bringing Sexy Back.
However, he did not do it when they were kids. Instead, it happened when they were in their 20's, and both singers were single. She told Jimmy Kimmel yesterday they were hanging out and the two made out. Then when they were done, he took out his phone and started texting someone. She thought she did something wrong, but then he admitted the bet to her. Yet, he did not tell her what they won.
While he might have won the bet, he would not have gotten the girl back then. Simpson had Gossling in her notebook of crushes. She thought he was cool because he was from Canada, a place she could not find on a map.
This story and some of the other things she told Kimmel, makes me want to read her autobiography Open Book even more on Tuesday.

---
It is not Lin, it is Lin-Manuel
January 30th, 2020 under Lin-Manuel Miranda. [ Comments:

none

]

If you look at Lin-Manuel Miranda's name, then you would think it is OK just to call him Lin. Right? Well, his father, Luis, would like you to know that is wrong.
The wordsmith and his dad were interviewed by Variety and the interviewer wanted to know if they had any nicknames for each other. That is when his father revealed the origin of his son's name. Back when the senior Miranda was an adolescent, he knew if he ever had a son that was going to be his name. Therefore, he told the interviewer, "You all call him Lin, it's not very flattering. We even put the hyphen so people would call him Lin-Manuel, it's an entire name"
If you ever meet Lin-Manuel, make sure to call him Lin-Manuel. It will make his daddy happy, and that is all that matters.

---
Savannah Guthrie put on her dress backward this morning
January 30th, 2020 under TV News. [ Comments:

none

]

Savannah Guthrie was up earlier than normal this morning, so she was tired. So tired, she did not realize she put her dress on backward until she was live on the air with Today. Instead of keeping it a secret, because we would've been none the wiser, she let everyone know what happened. Something, that many of us have done. We just do not do it on television.
To see a closeup of the tag as proof, then click here!

---
Hot Links!
January 30th, 2020 under Hot Links!. [ Comments:

none

]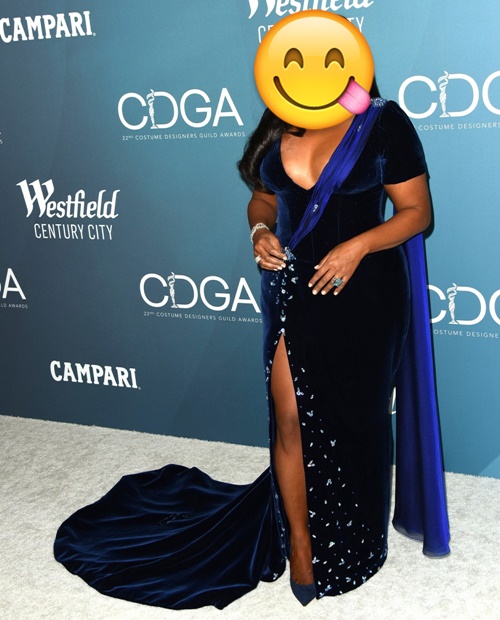 You'll never believe who that is? – Celebitchy

Naked Ninja Warrior – The Nip Slip

Is this the weirdest dog breed? – Grunge

Want to see the Octuplets now? – Dlisted

Sofia Loren was sexy AF – Drunken Stepfather

---