Is this what Def Leppard's Pour Some Sugar On Me is really about?
March 27th, 2019 under 80s, TV News. [ Comments:

none

]

Def Leppard is being inducted into the Rock and Roll Hall of Fame, and they working the press circuit to promote it. This morning, they were on Good Morning America and they might have revealed what their biggest hit Pour Some Sugar On Me is really about.
Here I have thought for all of this time that it was about sex, but it is really about putting sugar in a coffee cup? Color me red light, yellow light, green-a-light surprised!
BTW I wonder how many times they have been asked to do that since the single came out in 1987?
---
NBC's Matt Bradley gives new meaning to a spit take
March 24th, 2019 under TV News. [ Comments:

none

]

NBC's Matt Bradley was getting ready to go live the other day and he wanted to make sure he looked good on camera. Since he is in a war zone, he does not have hair and makeup available to him. Therefore, he has to use whatever he has including his own spit.
We know that because the camera caught him using his spit as gel before he went live. You know he looked better before he styled his hair. I like a man who is not perfect, especially out in the field.
---
Danny DeVito confirms that they are working on a sequel to Twins!
March 15th, 2019 under Arnold Schwarzenegger, Danny DeVito, TV News. [ Comments:

none

]

A few years ago, on April Fool's Day, there was a rumor that there was going to be a sequel to Twins called Triplets with Eddie Murphy as their brother. Turns out part of that rumor was true.
Today, when Danny DeVito was on Good Morning America they asked him about it. He said that he and Arnold Schwarzenegger are talking about it, but they don't know who their triplet will be at this point. Mostly because they still don't have a screenplay written for it. They have some ideas, but nothing written down on paper just yet.
Once they get that done, then we will finally get a sequel of the 1988 classic.
You know what, I still like the idea of Murphy as the third Benedict.
---
Jay Leno perfectly sums up what is wrong with late night TV
March 12th, 2019 under Jay Leno, TV News. [ Comments:

none

]

I used to enjoy watching late night television, but not anymore. Ever since Donald Trump got elected, the shows focus way too much attention on him. I watch comedy to get a break from reality, not to be bombarded by it again.
Today when Jay Leno was Today, they asked him if he misses doing the show in this political climate. He told them he does not. He hates that people have to know your politics now. He came from the Johnny Carson school on the issue which means we don't know what side he is on. He enjoyed getting hate mail from both the Democrats and the Republicans.
Back when he was hosting The Tonight Show, "Clinton was horny and Bush was dumb." Then he said that doing jokes about the current president is harder. He gave an example, "'How'd you like your president with a porn star.' Well, now the president is with a porn star. Where do you want me to go with that?"
Leno then said he would like to see more civility on late night TV. He is not the only one. To me, The Late Show is unwatchable. I want less political humor and more humor. We already have way too much Trump as it is in our lives, we don't need anymore.
---
When a photo tells you the interview is going to be one for the books
March 6th, 2019 under TV News. [ Comments:

none

]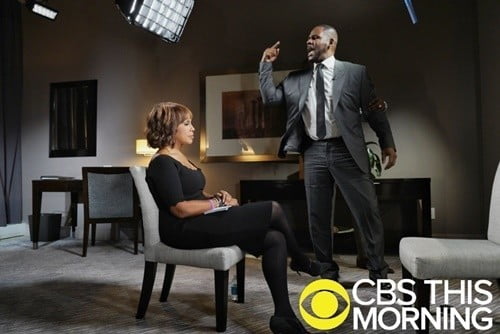 Gayle King sat down with R Kelly, and it as crazy as we think he is. The CBS This Morning host kept her cool, while he acted out every Shakespeare play for her. Talk about being over dramatic.
While I did not watch the interview because I don't care what he has to say, this photo tells me all I need to know. If you want to see the interview, then click here!
---