Ryan Seacrest tries to take the perfect Belfie
August 15th, 2019 under Kelly Ripa, Ryan Seacrest. [ Comments:

none

]

We know that Kelly Ripa is obsessed with taking the perfect Belfie. Today on Live with Kelly and Ryan, she tries to teach Ryan Seacrest how to do it. She did not use her technique. Instead, she used the models' perfect guide for the lesson.
How did he do? I like a man with a good butt, butt this made me reconsider that. It was not necessarily his fault. It was just that those instructions were hard to follow. Even Ripa could not do it.
You can say they both literally became the butt of all jokes. Which means this is so much fun to watch as they make fools of themselves for laugh.
---
Milo Ventimiglia is giving off Popeye vibes
August 7th, 2019 under Lisa Rinna, Milo Ventimiglia, Ryan Seacrest. [ Comments:

none

]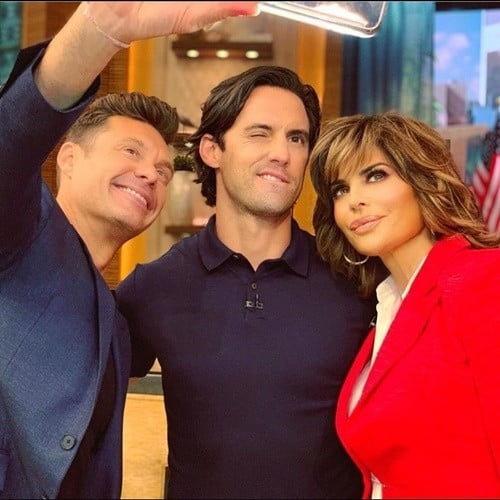 Milo Ventimiglia was on Live with Kelly and Ryan this morning. While he was there, he posed for a photo with Ryan Seacrest and Lisa Rinna. Deciding to be cute, he gave the camera a little wink. However, I don't see the caring dad from This Is Us here, I see a younger version of Popeye without his pipe, sailor's cap and spinach.
Therefore, if they ever think of bringing back the cartoon for a second time as a live-action movie, then he would be perfect for the lead role.
Am I the only one who sees Popeye here?
---
Seacrest Out?
August 5th, 2019 under American Idol 9+, Ryan Seacrest. [ Comments:

none

]

ABC announced today that Lionel Richie, Luke Bryan, Katy Perry and Bobby Jones will all be back on American Idol next year. However, there was one name missing from that group. It is Ryan Seacret. The only on-air talent who has been with the show since the beginning.
Does that mean he is making like his catchphrase and Seacrest out? Karey Burke
President, ABC Entertainment, said, "We are in ongoing conversations with Ryan and we hope he will be returning."
No reason was given for the delay, but I am sure it is a money issue. Does he really need more of it? He hosts and produces so many shows, what it is going to do with all of that dough? The other reason, I am assuming for the delay, is that he does not want to be traveling back and forth from New York to Los Angeles every week for the singing competition show.
If he does leave Idol, it makes you wonder what his future with Live with Kelly and Ryan will be. Most TV contracts are three years and this is his third year on the morning talk show. I would not be surprised if he left at the end of his contract. The same way it was hard for me as an NYer to live in Atlanta, I am sure it is hard for that boy from Atlanta to live in NYC.
Would you miss him on Idol?
---
Who does The Rock would be a better fight opponent: Statham or Elba?
August 1st, 2019 under Ryan Seacrest, The Rock. [ Comments:

none

]

The Rock is starring with Jason Statham and Idris Elba in Hobbs & Shaw, that is out tomorrow. Today, when he was on Live with Kelly & Ryan, Maria Menounos wanted to know who would put up a better fight in real life.
After some thought, he said it would be Elba. Why? DJ explained, "He's a skilled martial artist and he is the second sexiest man alive." Who is the first? Blake Shelton, of course…not. Dwayne Johnson always will be. Look at that man whose muscles show through his suit. However, we cannot see his biggest muscle. Not that one, naughty person. His heart is the hugest one of them all.
---
Ryan Seacrest clogged up Kris Jenner's toilet and left it there.
June 27th, 2019 under Kelly Ripa, Ryan Seacrest, The Kardashians. [ Comments:

4

]

Ryan Seacrest told Kelly Ripa on Live with Kelly and Ryan that one time he went to visit the Kardashians and he had to go to the bathroom. He went into their high tech, all black powder room with an electric toilet. When he was done, he went to flush. There was only one problem, he could not find the button to do it.
Finally, after some searching he found it. After he pressed it, the water started to back up. What was he going to do? He reached in to get the toilet paper and whatever else was out, so the water would go down and not up. When it stopped, he bolted out of there and left it as.
Now I am pretty sure, they all call him Little 💩 behind his back. Unless he left a big 💩 in the porcelain Gd. I mean, it had to poop and not a piss, right?
When it comes to leaving it there, they can't get mad at him. If it was not for him, they would not be able to pay for that overpriced John. After all that Little 💩 produces Keeping Up with the Kardashians.
---