Ryan Seacrest's shirt is too small
July 8th, 2020 under Kelly Ripa, Ryan Seacrest. [ Comments:

none

]

I think Ryan Seacrest has spent way too much time with Simon Cowell because he ordered a shirt that was too tight for him. He says he thought he got a small or a medium, but when it arrived, it turned out to be extra small.
When the host of Live with Kelly and Ryan tried to button it up, he had the same problem I have with button-ups. As in, you cannot button it up past the cleavage, so it bulges around the boobs. However, Kelly Ripa says it is "Mark Consuelos tight."
Do you think it is a good look for him, or should he go back to wearing shirts that don't show off his girlish figure?
---
Over 6,500 women have applied to be Matt James Bachelorette
June 18th, 2020 under Ryan Seacrest, The Bachelor. [ Comments:

none

]

Robert Mills, Senior Vice President, Alternative Series, Specials & Late-Night Programming, ABC Entertainment, was on Ryan Seacrest's radio show, On Air with Ryan Seacrest, today; and he was dishing about what we can expect from the upcoming seasons of The Bachelorette and The Bachelor.
They are hoping to resume filming of Claire Crowley's season of The Bachelorette next month. Production was halted because of the coronavirus pandemic.
Due to COVID-19, there are going to be a lot of changes for the second part of her season. Everyone, who is selected, is going to have to get tested a week before filming begins and quarantined. They will not be shooting at the mansion. Instead, they will be doing it at a resort. Since everyone will have to be negative for the virus, they will be able to go on dates at that location and, more importantly, KISS. You can't have a dating show without kissing!
We don't know if Matt James, the first Black Bachelor, will rejoin the season already in progress. What we do know is that Crowley knew about his new status a day before we all found out.
When it comes to James, over 6,500 women are hoping to be part of his season. As of now, they are hoping to start filming in September at the mansion. If things are still not normal by then (they won't be), then they will probably go to a resort too.
Personally, I like the idea of them at a resort instead of at a mansion. ABC prefers the latter because it is a lot cheaper.
What do you think of it being at resorts? Maybe one season they can do at a summer camp and another one on a cruise ship. Give us some variety!
---
Ryan Seacrest has a brilliant idea to make this end!
March 18th, 2020 under Ryan Seacrest. [ Comments:

none

]

I thought 2019 sucked, but 2020 is turning out to be equally just as craptastic. Therefore, Ryan Seacrest has a plan. He wrote, "If I start a New Year's Eve countdown, will 2020 finally be over?"
Hey ABC, make this happen, signed the World.
I mean, there is no one on Times Square now, so tonight would be perfect!
---
Ryan Seacrest doesn't look that bad with a thick mustache
March 4th, 2020 under Kelly Ripa, Ryan Seacrest, Tom Selleck. [ Comments:

none

]

Tom Selleck was on Live with Kelly and Ryan today, and the hosts wanted to make him feel comfortable. Therefore, Ryan Seacrest and Kelly Ripa put on mustaches just like the one that Blue Bloods' star has.

I can't believe I am saying this, but the American Idol host does not look awful with the Magnum. I would say he should grow one similar to that, but I don't think he can. He does not seem like the type who can grow a thick beard or mustache like Selleck. That is why the sex symbol has been known for it for almost 40 years, and he is not going to get rid of it anytime soon.
---
Ryan Seacrest is neck deep in it
February 3rd, 2020 under Katy Perry, Ryan Seacrest. [ Comments:

none

]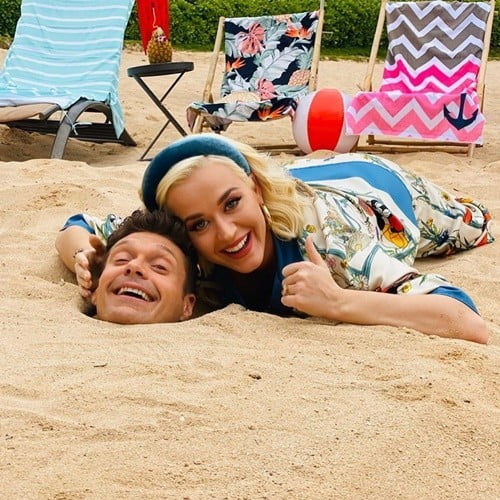 How many times have you wanted to bury Ryan Seacrest up to his neck in sand and leave him there? Well, Katy Perry beat us to it. Over the weekend, the American Idol regulars went to Hawaii, stayed at Aulani, A Disney Resort & Spa, and had some fun in the sand. For the host, it was literally in the sand.
According to his Instagram, he is still there. Do you think they should dig him up? After all, he did give us the Kardashians.
BTW this is the worst take of Beach Blanket Bimbo, I mean Bingo, yet. Sorry, it was too easy not to go there.
---