Ryan Seacrest, Kelly Ripa and Jerry O'Connell got into bed together
January 16th, 2020 under Jerry O'Connell/Rebecca Romijn, Kelly Ripa, Ryan Seacrest. [ Comments:

none

]

It is not even February sweeps, and yet Live with Kelly and Ryan is looking to boost their ratings now. That is why they had Ryan Seacrest, Kelly Ripa, and Jerry O'Connell do a segment in a bed today.
What were they talking about? How to have better sex with your partner? Sadly, nope. Sleep Doctor Michael Breus gave some advice on how to have a better night's sleep. One of the things he said to do to sleep the whole night through is drink guava leaf tea. It helps to regulate your sugar.
OK! That is boring. What was titillating is what was going on underneath the sheets. Ripa is a creature of habit and likes to rub her husband's legs when they are in bed. She did the same thing to O'Connell. There was just one important thing she did not about Jerry, he was not wearing pajama bottoms. Thus, she was rubbing his naked leg. Now you know why he was smiling so much during the segment.
Want to see how they all reacted to the scandalous revelation, then click here!
---
Ryan Seacrest fell out of his chair on Live with Kelly and Ryan
January 7th, 2020 under Kelly Ripa, Ryan Seacrest. [ Comments:

none

]
https://www.instagram.com/p/B7Bl-sGBUNG/
Ryan Seacrest can do a lot of things, but catching an oversized ball is not one of them. Today on Live with Kelly and Ryan, when he went to catch a ball that was thrown at him, he caught it and accidentally let it go. Therefore, he followed the ball's path, wound up falling off of his chair and landing back first on the floor.
Kelly Ripa and a stage director immediately jumped to his aid and helped him up. As soon as he was on his feet, he finally caught the ball and let everyone know that he did. Because that proves he not only can cover sports, he can play them too. I think for his own safety, he should stick to entertainment.
Was he hurt? Only his pride.
Thankfully, they released this video on Instagram so that we can watch this over and over and over again. That is what he gets for giving us Keeping Up with the Kardashians. He will never be done paying us for that torture he inflicted upon us. Never! But this a good start.
---
Is this the ugliest Christmas sweater?
December 24th, 2019 under Ryan Seacrest. [ Comments:

none

]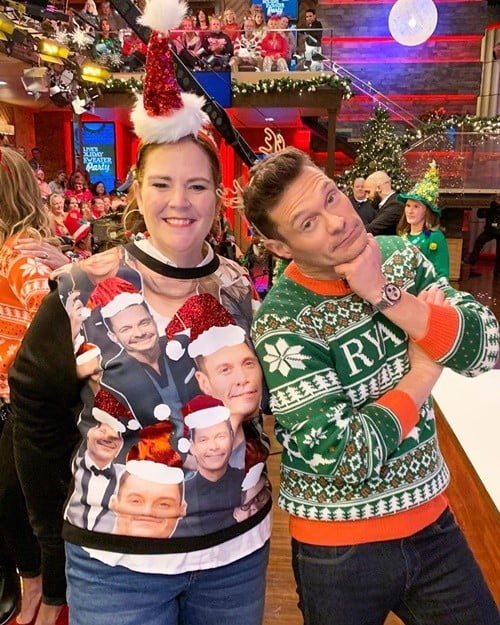 There are a lot of ugly Christmas sweaters, but is there one uglier than all of the others? This sweater that is covered with Ryan Seacrest's face all over it, might be the winner. Can you think of an uglier one you saw in 2019? I cannot.
---
BTWF: Jimmy Smits on Miami Vice
December 9th, 2019 under Before They Were Famous, Don Johnson, Kelly Ripa, Ryan Seacrest. [ Comments:

none

]

via Live with Kelly and Ryan
Before Jimmy Smits was partnered with Dennis Franz on NYPD Blue, he was Don Johnson's first partner on Miami Vice. Don't you just love the 29-year-old's smile before he was blown the smithereens in that 1984 episode?
---
Lucy Hale is the new Jenny McCarthy
November 26th, 2019 under Billy Porter, Lucy Hale, Ryan Seacrest. [ Comments:

none

]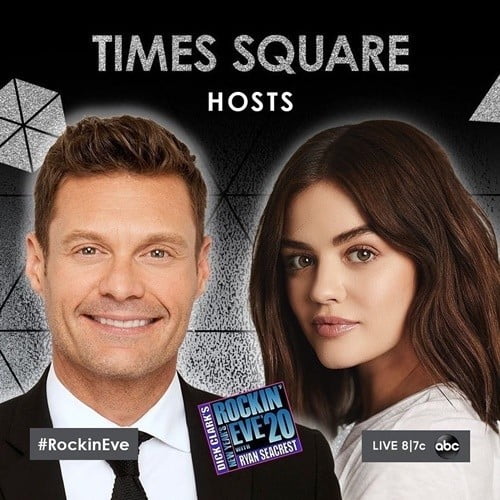 New Year's Eve got a little bit happier this year because we will not have to listen to Jenny McCarthy's annoying voice on New Year's Rockin' Eve. Who is going to be standing next to Ryan Seacrest on December 31st? Lucy Hale will be freezing her pretty little a$$ off with him at Times Square.
While they will be in NY, the epitome of NYE, Billy Porter, will be welcoming in 2020 in New Orleans for ABC as Ciara does the same in Los Angeles.
The musical acts are yet to be announced but do they really need anyone else but Porter? I can watch him for four hours straight. He is a quadruple threat!
---