Jenny McCarthy is taking a break from Rockin' New Year's Eve
October 8th, 2019 under Kelly Clarkson, Ryan Seacrest. [ Comments:

none

]

2020 is off to a good start because we will not be spending New Year's Eve with Jenny McCarthy. She announced on Live with Kelly and Ryan that she is taking the year off because her son wants to spend the holiday with her at home. Since he is 17, she knows she has to make the most of it before he leaves her.
Whatever the reason, who cares. One less show with her on it is a good start. Now if only Fox would do the same with Masked Singer. We would all be better off.
No word who will replace her, but I am assuming one of the many women who has been on Dancing with the Stars will get the job. Hopefully, Leah Remini because I would not mind watching the ball drop with her. Maybe someday Seacrest's balls will do the same. Sorry, it was too easy not to pass that joke up.
---
Sylvester Stallone is a beauty school drop out
September 20th, 2019 under Ryan Seacrest, Sylvester Stallone. [ Comments:

none

]

Sylvester Stallone was on Live with Kelly and Ryan this morning and he told Ryan Seacret what he did before he was an actor. Before he got his big break, my alma mater, the Unversity of Miami, broke up with him. Without any goals, his family wanted him to get into their business which is full of beauticians.
Even though he did not have the hands for it, he still went to beauty school like his family wanted to. He tried, but his fingers and attitude were not right for it.
Therefore, he dropped out and went into acting. After that, you know what happened.
If he had not failed out, could you imagine his paws working their magic in your hair? I can't.
---
Is Seacrest out of American Idol?
September 20th, 2019 under American Idol 9+, Ryan Seacrest. [ Comments:

none

]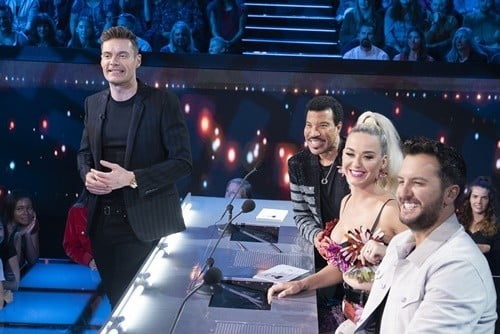 Earlier this summer, ABC announced that Lionel Richie, Luke Bryan, Katy Perry and Bobby Bones will all be back on American Idol next year. However, there was one name missing from the list and of course, it is AI original Ryan Seacrest.
Today, after months of is he or isn't he, we finally got our answer. The host is going to Hollywood! He had this to say about embarking on his 18th season with the show, "It's the greatest gift to be able to play a part in discovering new talent with a franchise that has been such a relevant part of American culture for so many years."
Are you happy he is back or were you looking forward to a change? I was hoping they would have gotten a new host. It needs to grow up now that the singing competition is no longer a minor.
---
Ryan Seacrest tries to take the perfect Belfie
August 15th, 2019 under Kelly Ripa, Ryan Seacrest. [ Comments:

none

]

We know that Kelly Ripa is obsessed with taking the perfect Belfie. Today on Live with Kelly and Ryan, she tries to teach Ryan Seacrest how to do it. She did not use her technique. Instead, she used the models' perfect guide for the lesson.
How did he do? I like a man with a good butt, butt this made me reconsider that. It was not necessarily his fault. It was just that those instructions were hard to follow. Even Ripa could not do it.
You can say they both literally became the butt of all jokes. Which means this is so much fun to watch as they make fools of themselves for laugh.
---
Milo Ventimiglia is giving off Popeye vibes
August 7th, 2019 under Lisa Rinna, Milo Ventimiglia, Ryan Seacrest. [ Comments:

none

]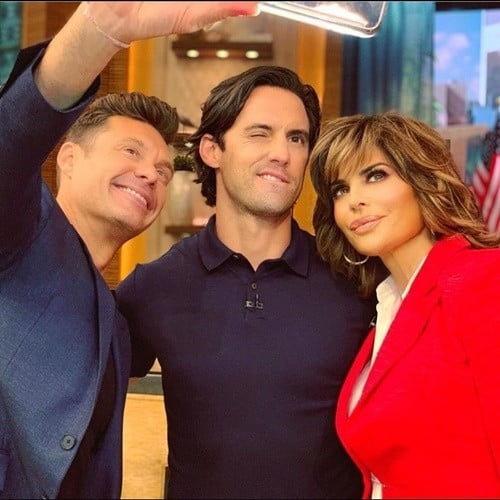 Milo Ventimiglia was on Live with Kelly and Ryan this morning. While he was there, he posed for a photo with Ryan Seacrest and Lisa Rinna. Deciding to be cute, he gave the camera a little wink. However, I don't see the caring dad from This Is Us here, I see a younger version of Popeye without his pipe, sailor's cap and spinach.
Therefore, if they ever think of bringing back the cartoon for a second time as a live-action movie, then he would be perfect for the lead role.
Am I the only one who sees Popeye here?
---