Lin-Manuel Miranda will miss the Oscars
March 26th, 2022 under Lin-Manuel Miranda, Oscars. [ Comments: none ]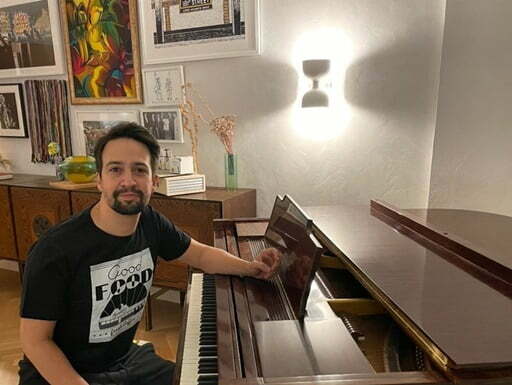 Lin-Manuel Miranda/Twitter[/caption
Lin-Manuel Miranda could become the latest member of the EGOT club tomorrow. However, he won't be able to accept his Oscar in person if he were to win.
"Made it to Hollywood…" the Emmy, Grammy and Tony winner wrote. "This weekend, my wife tested ➕ for COVID. She's doing fine. Kids & I have tested ➖, but out of caution, I won't be going to the Oscars tomorrow night. Cheering for my TickTickBoom & Encanto families w my own family, alongside all of you, ALL of you."
I hope he wins, and they let him Zoom in his acceptance speech. Manuel deserves that, especially since they screwed him over for not nominating him for Best Director for Tick Tick Boom. He deserved to win for the work he did with the musical.

---
What movie will give Lin-Manuel Miranda an Oscar this year?
June 10th, 2021 under Lin-Manuel Miranda, Netflix. [ Comments: none ]
Tomorrow, Lin-Manuel Miranda's musical In the Heights will go from the stage to the big screen. Then in the fall, he will make his directorial debut with tick, tick…BOOM by the late Jonathan Larson. Larson is best known for Rent, his little play that could.
The musical, which is being released by Netflix, is described as, "On the cusp of his 30th birthday, a promising young theater composer navigates love, friendship, and the pressures of life as an artist in New York City" during the height of the AIDS crisis.
So between this and ITH, you know that one of those movies is going to give Miranda an Oscar. Which one do you think it will be? Or will they both do it?

---
Jimmy Fallon and Lin-Manuel Miranda's ode to Broadway's return
June 9th, 2021 under Broadway, Jimmy Fallon, Lin-Manuel Miranda. [ Comments: none ]
Lin-Manuel Miranda is promoting his movie In the Heights. It is a movie that never would have been had it not started out as a Broadway musical.
For the first time, Broadway needs him more than he needs it. Therefore, yesterday when he was on The Tonight Show, he and Jimmy Fallon paid tribute to the Great White Way returning in September.
So, the two men called their famous friends up, reworked Hamilton's You'll Be Back, and performed a song and dance number that is worthy, of well, Broadway. September can't come soon enough.

---
Broadway stars get their shot to get the shot
April 14th, 2021 under Broadway, Coronavirus, Lin-Manuel Miranda. [ Comments: none ]
The lights on Broadway have been dark for over a year now, and the whole community wants to get back to work. The fastest way they can do that is if they all get vaccinated. Therefore, Mayor Bill de Blasio and Lin-Manuel Miranda opened up a location just for them to get the COVID-19 vaccine in the Theater District.
When Stephen Colbert heard this, he and the Late Show writers reworked Hamilton's song My Shot for the occasion. I am normally not a fan of Colbert's work, but this is f*cking brilliant. It is enough to make King George III go mad. And not in the angry sense.
BTW My Shot was on my vaccination playlist when I got the first injection. Now, I am going to add this song to it for when I get the second shot in 11 days. It is not like I am counting or anything.

---
The Hamilton cast is not Helpless when it comes to promoting their movie
June 29th, 2020 under Jimmy Fallon, Lin-Manuel Miranda. [ Comments: none ]

On July 4th, Hamilton is coming to Disney+, and the Lin-Manuel Miranda came up with an interesting to promote the streaming debut with Jimmy Fallon on The Tonight Show. The Tony winner got Phillipa Soo and the women from the original cast to sing Helpless from their homes with some help from The Roots, who used instruments from their houses.
Even though the coronavirus pandemic makes us feel like we are helpless, this upbeat Broadway musical number reminds us that we are not. Although people will think that we are because all we will be doing is singing the chorus in public.

---