Sweeney Todd gets Hamiltonified
May 5th, 2023 under Josh Groban, Lin-Manuel Miranda. [ Comments: none ]
Sweeney Todd just moved into the Lunt-Fontanne Theatre on Broadway. It is located next to the Richard Rodgers Theater, where Hamilton is still going on. So Lin-Manuel Miranda, being the neighborly man that he is, thought he would invite his neighbors for a song, and they said yes.
So today, both casts got together and told the story of the Demon Barber of Fleet Street to the music of the Founding Father who was shot and killed in a duel gone wrong.
There really isn't much to say except that it is brilliant. Josh Groban, AnnaLeigh Ashford, and everyone else who performed at today's Ham4Ham hit it out of the park! Bravo! Bravo!
But I have to say, as a NYer who spent a lot of time on Broadway. I would be so pissed if traffic was blocked on Friday night because of this. Am I the only one who felt that way when they saw all of those fans on the street blocking traffic? So rude!

---
BTWF: Lin-Manuel Miranda home video
January 19th, 2023 under Before They Were Famous, Lin-Manuel Miranda. [ Comments: none ]
View this post on Instagram
Before no one wanted to interrupt Lin-Manuel Miranda's Broadway shows, he wanted to interrupt a bad show. How cute was he as a little boy?

---
Lin-Manuel Miranda apologized to a Bruno
September 15th, 2022 under Kelly Clarkson, Lin-Manuel Miranda. [ Comments: none ]
Lin-Manuel Miranda was on The Kelly Clarkson Show today, and they talked about Encanto again. He told her he met a kid named Bruno a week before the film came out. As soon as the boy told the EGOT his name, he apologized to the little guy.
I think the songwriter personally needs to apologize to anyone named Bruno or anyone who has heard the earworm of the tune.
BTW We Don't Talk About Bruno almost didn't happen. That is because the character's name was originally Oscar. Too bad that name was so popular. Because otherwise, we wouldn't all be singing the song for the rest of the day. I mean, We Don't Talk about Oscar isn't as catchy.

---
Lin-Manuel Miranda will miss the Oscars
March 26th, 2022 under Lin-Manuel Miranda, Oscars. [ Comments: none ]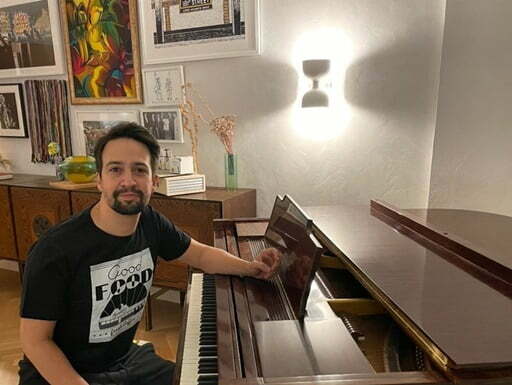 Lin-Manuel Miranda/Twitter[/caption
Lin-Manuel Miranda could become the latest member of the EGOT club tomorrow. However, he won't be able to accept his Oscar in person if he were to win.
"Made it to Hollywood…" the Emmy, Grammy and Tony winner wrote. "This weekend, my wife tested ➕ for COVID. She's doing fine. Kids & I have tested ➖, but out of caution, I won't be going to the Oscars tomorrow night. Cheering for my TickTickBoom & Encanto families w my own family, alongside all of you, ALL of you."
I hope he wins, and they let him Zoom in his acceptance speech. Manuel deserves that, especially since they screwed him over for not nominating him for Best Director for Tick Tick Boom. He deserved to win for the work he did with the musical.

---
What movie will give Lin-Manuel Miranda an Oscar this year?
June 10th, 2021 under Lin-Manuel Miranda, Netflix. [ Comments: none ]
Tomorrow, Lin-Manuel Miranda's musical In the Heights will go from the stage to the big screen. Then in the fall, he will make his directorial debut with tick, tick…BOOM by the late Jonathan Larson. Larson is best known for Rent, his little play that could.
The musical, which is being released by Netflix, is described as, "On the cusp of his 30th birthday, a promising young theater composer navigates love, friendship, and the pressures of life as an artist in New York City" during the height of the AIDS crisis.
So between this and ITH, you know that one of those movies is going to give Miranda an Oscar. Which one do you think it will be? Or will they both do it?

---