Ryan Seacrest, Kelly Ripa and Jerry O'Connell got into bed together
January 16th, 2020 under Jerry O'Connell/Rebecca Romijn, Kelly Ripa, Ryan Seacrest. [ Comments:

none

]

It is not even February sweeps, and yet Live with Kelly and Ryan is looking to boost their ratings now. That is why they had Ryan Seacrest, Kelly Ripa, and Jerry O'Connell do a segment in a bed today.
What were they talking about? How to have better sex with your partner? Sadly, nope. Sleep Doctor Michael Breus gave some advice on how to have a better night's sleep. One of the things he said to do to sleep the whole night through is drink guava leaf tea. It helps to regulate your sugar.
OK! That is boring. What was titillating is what was going on underneath the sheets. Ripa is a creature of habit and likes to rub her husband's legs when they are in bed. She did the same thing to O'Connell. There was just one important thing she did not about Jerry, he was not wearing pajama bottoms. Thus, she was rubbing his naked leg. Now you know why he was smiling so much during the segment.
Want to see how they all reacted to the scandalous revelation, then click here!
---
Ryan Seacrest fell out of his chair on Live with Kelly and Ryan
January 7th, 2020 under Kelly Ripa, Ryan Seacrest. [ Comments:

none

]
https://www.instagram.com/p/B7Bl-sGBUNG/
Ryan Seacrest can do a lot of things, but catching an oversized ball is not one of them. Today on Live with Kelly and Ryan, when he went to catch a ball that was thrown at him, he caught it and accidentally let it go. Therefore, he followed the ball's path, wound up falling off of his chair and landing back first on the floor.
Kelly Ripa and a stage director immediately jumped to his aid and helped him up. As soon as he was on his feet, he finally caught the ball and let everyone know that he did. Because that proves he not only can cover sports, he can play them too. I think for his own safety, he should stick to entertainment.
Was he hurt? Only his pride.
Thankfully, they released this video on Instagram so that we can watch this over and over and over again. That is what he gets for giving us Keeping Up with the Kardashians. He will never be done paying us for that torture he inflicted upon us. Never! But this a good start.
---
BTWF: Jimmy Smits on Miami Vice
December 9th, 2019 under Before They Were Famous, Don Johnson, Kelly Ripa, Ryan Seacrest. [ Comments:

none

]

via Live with Kelly and Ryan
Before Jimmy Smits was partnered with Dennis Franz on NYPD Blue, he was Don Johnson's first partner on Miami Vice. Don't you just love the 29-year-old's smile before he was blown the smithereens in that 1984 episode?
---
Caption Howie Mandel and Ryan Seacrest
November 21st, 2019 under Caption the Celeb, Howie Mandel, Kelly Ripa, Ryan Seacrest. [ Comments:

none

]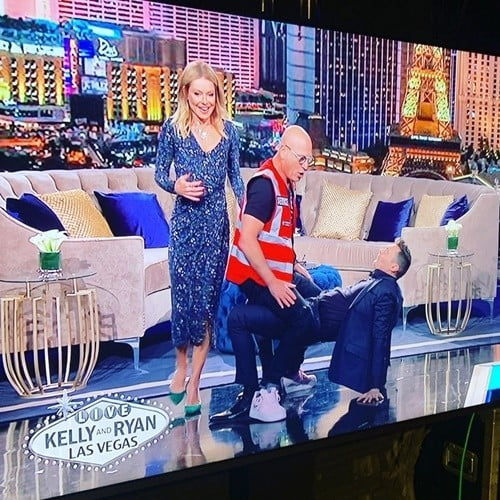 This photo of Howie Mandel on Live with Kelly and Ryan has caption me written all over it, so go ahead and do it.
---
Ryan Seacrest got a bitchin' Aaron Paul tramp stamp
October 23rd, 2019 under Aaron Paul, Kelly Ripa. [ Comments:

none

]

Ryan Seacrest loves Aaron Paul so much, and today on Live with Kelly and Ryan he revealed how much. The host got a tramp stamp of the Breaking Bad star's face. Except, it is a little higher than where it should be. Isn't that a bitch?
---