BTWF: Jimmy Smits on Miami Vice
December 9th, 2019 under Before They Were Famous, Don Johnson, Kelly Ripa, Ryan Seacrest. [ Comments:

none

]

via Live with Kelly and Ryan
Before Jimmy Smits was partnered with Dennis Franz on NYPD Blue, he was Don Johnson's first partner on Miami Vice. Don't you just love the 29-year-old's smile before he was blown the smithereens in that 1984 episode?
---
Caption Howie Mandel and Ryan Seacrest
November 21st, 2019 under Caption the Celeb, Howie Mandel, Kelly Ripa, Ryan Seacrest. [ Comments:

none

]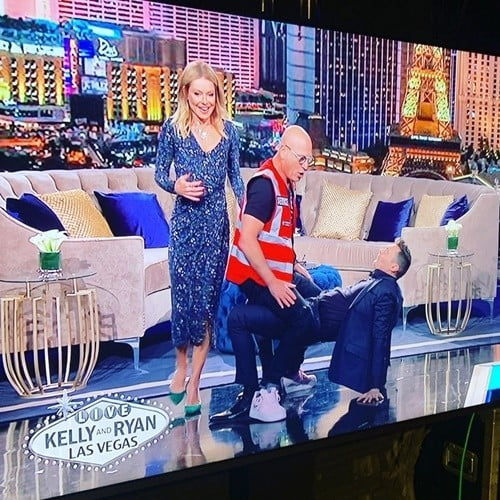 This photo of Howie Mandel on Live with Kelly and Ryan has caption me written all over it, so go ahead and do it.
---
Ryan Seacrest got a bitchin' Aaron Paul tramp stamp
October 23rd, 2019 under Aaron Paul, Kelly Ripa. [ Comments:

none

]

Ryan Seacrest loves Aaron Paul so much, and today on Live with Kelly and Ryan he revealed how much. The host got a tramp stamp of the Breaking Bad star's face. Except, it is a little higher than where it should be. Isn't that a bitch?
---
Ryan Seacrest tries to take the perfect Belfie
August 15th, 2019 under Kelly Ripa, Ryan Seacrest. [ Comments:

none

]

We know that Kelly Ripa is obsessed with taking the perfect Belfie. Today on Live with Kelly and Ryan, she tries to teach Ryan Seacrest how to do it. She did not use her technique. Instead, she used the models' perfect guide for the lesson.
How did he do? I like a man with a good butt, butt this made me reconsider that. It was not necessarily his fault. It was just that those instructions were hard to follow. Even Ripa could not do it.
You can say they both literally became the butt of all jokes. Which means this is so much fun to watch as they make fools of themselves for laugh.
---
Ryan Seacrest clogged up Kris Jenner's toilet and left it there.
June 27th, 2019 under Kelly Ripa, Ryan Seacrest, The Kardashians. [ Comments:

4

]

Ryan Seacrest told Kelly Ripa on Live with Kelly and Ryan that one time he went to visit the Kardashians and he had to go to the bathroom. He went into their high tech, all black powder room with an electric toilet. When he was done, he went to flush. There was only one problem, he could not find the button to do it.
Finally, after some searching he found it. After he pressed it, the water started to back up. What was he going to do? He reached in to get the toilet paper and whatever else was out, so the water would go down and not up. When it stopped, he bolted out of there and left it as.
Now I am pretty sure, they all call him Little 💩 behind his back. Unless he left a big 💩 in the porcelain Gd. I mean, it had to poop and not a piss, right?
When it comes to leaving it there, they can't get mad at him. If it was not for him, they would not be able to pay for that overpriced John. After all that Little 💩 produces Keeping Up with the Kardashians.
---