Katy Perry's belly is Bloom-ing
March 5th, 2020 under Katy Perry. [ Comments:

none

]

Katy Perry released the music video for her new song Never Worn White. In it, she revealed some pretty big news. She and Orlando Bloom are expecting their first child together. That means she won't be wearing white at this wedding either. However, who cares about that stupid tradition, wear whatever color you want.
Back to Perry, she confirmed the news on social media. She wrote, "omg so glad I don't have to suck it in anymore 🙄…or carry around a big purse lol"
This is her first baby and his second. He has a 9-year-old son, Flynn, with Miranda Kerr.
---
Ryan Seacrest is neck deep in it
February 3rd, 2020 under Katy Perry, Ryan Seacrest. [ Comments:

none

]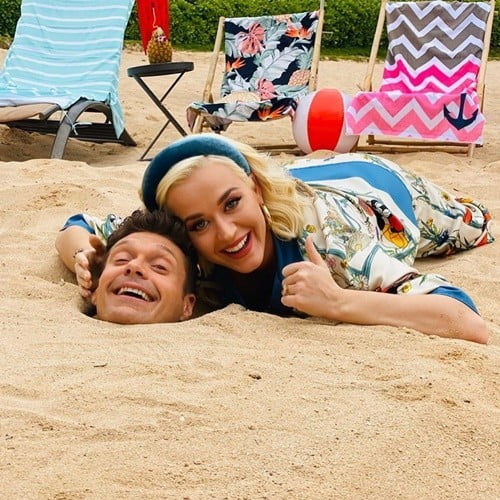 How many times have you wanted to bury Ryan Seacrest up to his neck in sand and leave him there? Well, Katy Perry beat us to it. Over the weekend, the American Idol regulars went to Hawaii, stayed at Aulani, A Disney Resort & Spa, and had some fun in the sand. For the host, it was literally in the sand.
According to his Instagram, he is still there. Do you think they should dig him up? After all, he did give us the Kardashians.
BTW this is the worst take of Beach Blanket Bimbo, I mean Bingo, yet. Sorry, it was too easy not to go there.
---
Remember when Katy Perry released good music?
October 16th, 2019 under Katy Perry. [ Comments:

none

]

Back in 2008, Katy Perry was releasing hit after hit off of her album One of the Boys. The same thing happened with Teenage Dream two years later. However, her next two albums did not have the same success because her music was not as good.
Today she released the music video for her song Harleys in Hawaii. It is as annoying as when someone starts up a Harley early in the morning.
I guess you can say she is like her single Hot N Cold. Her tunes used to be hot, but now they are cold.
---
Katy Perry goes down in roller skates
October 10th, 2019 under American Idol 9+, Katy Perry. [ Comments:

none

]
https://www.instagram.com/p/B3bJ_LtHG1n/?igshid=1dxzh1r3pn92b
For some reason, Katy Perry and Luke Bryan put on a pair of roller skates to do a bit for American Idol. However, American Idol was Katy Perry's downfall. As in her skate got caught in some signage on the floor and she kissed the floor. I don't think she liked it.
Lionel Richie went over to do a joke. As she reached over to him to help her up, he walked away like he was ready to be dancing on the ceiling. Then the country singer skated over like a baseball player successfully stealing home.
Katy was safe because she continued to skate and nearly fall.
She is just like me and doesn't get the hint. I broke my left wrist roller skating. I should have stopped then because I broke my right forearm doing it again at 13. Perry better watch out or she might be breaking more than records.
---
Calm down, Taylor Swith did not kiss Katy Perry, but they did make up!
June 17th, 2019 under Katy Perry, Taylor Swift. [ Comments:

none

]

Taylor Swift released the music video for her gay anthem You Need to Calm Down with several LGBTQ icons, Ryan Reynolds (I guess her friend Blake Lively didn't like it so she made her husband do it) and Katy Perry.
That's right the feuding singers made a "Happy Meal" and called a hamburger and french fries truce. Next up, will probably be a duet. Just in case you didn't think either one could get more annoying. Together, they will be twice as worse.
I wish I could say something positive about this song and video, because the message is a positive one, but I can't. It is as cheesy as, wait how come Perry's burger does not have cheese in it? I guess even the cheese, like Blake Lively, wanted no part of this '50s nightmare.
---