American Idol doesn't change things up
July 25th, 2023 under ABC, American Idol 9+, Katy Perry, Lionel Richie, Luke Bryan, Ryan Seacrest. [ Comments: none ]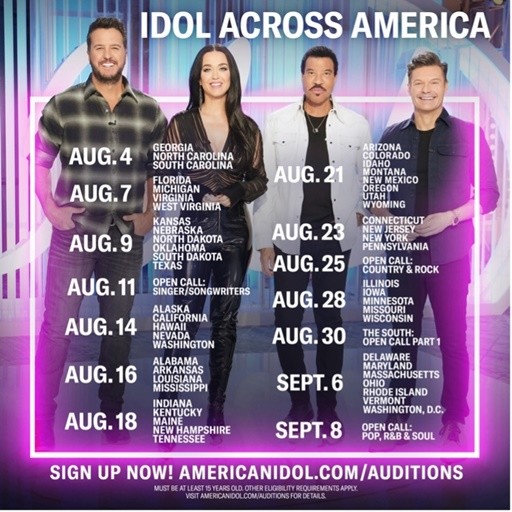 We are still months away from American Idol being back on ABC. However today, the network announced that Ryan Seacrest, Luke Bryan, Lionel Richie, and Katy Perry will all be back for season 7.
The latter is a little bit of a surprise because a lot of fans were upset with what a bitch the California Gurl was to several of the contestants. But that is good for ratings, so they invited her back because Idol is the biggest hit she has had since joined the singing competition.
If you want her to be bitchy to you, then you can audition to be on the show. To see where they are holding auditions, then click here!

---
Can America trade Ed Sheeran for Katy Perry and Lionel Richie?
May 2nd, 2023 under Alanis Morissette, American Idol 9+, Ed Sheeran, Katy Perry, Lionel Richie. [ Comments: none ]
So there is a rumor that King Charles III asked Ed Sheeran to perform at his coronation concert this weekend, and he said no. He wasn't the only musician.
So the King had to cross the pond and ask two American Idols if they would do it. And Katy Perry and Lionel Richie said yes.
Well, that leaves American Idol without two judges on Sunday's live show. So what is the singing competition going to do? They are going to ask Sheeran and Alanis Morissette to fill in for them.
So if we are getting two people who are part of the United Kingdom to fill in for the Yankees, why can't we make a trade permanent? You oughta know, I would rather them over the two who can't go all night, all night long. What about you?

---
The one time Sia should've covered her face
April 17th, 2023 under Katy Perry, Paris Hilton, Sia, The Kardashians. [ Comments: none ]
Katy Perry is in the midst of her Las Vegas residency, and celebrities are flocking to see her.
This weekend, Paris Hilton, Kim Kardashian, and Sia were in the audience. And all we got was this photo of the four of them.
Normally. Sia has her face covered with a wig. But the one time she doesn't is the one time she should've. I mean, she is better than those publicity whores. At least, I thought she was.

---
Katy Perry's ugly crying face
April 3rd, 2023 under American Idol 9+, Katy Perry. [ Comments: none ]
American Idol makes the judges cry. And tonight's episode made Katy Perry ugly cry. And boy, was she ugly when she cried!

---
Katy Perry gave Lionel Richie a mullet
February 26th, 2023 under American Idol 9+, Katy Perry, Lionel Richie. [ Comments: none ]
Katy Perry was rocking so hard during an American Idol audition that her extensions fell out.
Since she wasn't going to put it back on her head, she decided to put on Lionel Richie's instead. You know what? It works on the crooner. So much so that I think he should grow it out in the back!
What do you think?
To see her lose her hair, then click here!

---