Lots of news from ABC, including JoJo Siwa getting a same-sex partner on DWTS
August 26th, 2021 under ABC, Dancing with the Stars, JoJo Siwa, Kevin Hart, Shark Tank, Steve Harvey. [ Comments:

3

]
Today is ABC's TCA Summer Press Day, and they had a lot of news to share.
They started it off by announcing that Kevin Hart will be a Shark on Shark Tank. Does he have businesses that qualify him for the show? I guess we will find out like we did when Alex Rodriquez was a Shark.
Steve Harvey is going to be Judge Steve Harvey for 10-episodes in 2022. The judge, the jury, and the star of the series, Harvey, will welcome a variety of conflicts and characters to his courtroom – from small claims to big disputes and everything in between. Steve plays by his own rules, basing his courtroom on his own life experiences and some good old common sense.
The show is casting now, so if you got a case for him, then apply here.
Talking about casting, Dancing with the Stars announced their first two stars. They are Olympic Gold medalist Suni Lee and JoJo Siwa. The recently out teen millionaire will be the first contestant in 30 seasons to dance with a same-sex pro. We don't know who it is, but I hope they get Julianne Hough to do it.
DWTS doesn't need to name any more stars because Siwa is going to win. Between the fan base, the same-sex partner, and the fact that she was on Dance Moms and Abby's Ultimate Dance Competition means she knows how to dance.
Finally, The Conners are going live for their season premiere on September 22nd, and you can appear on the show virtually as a long-lost relative.
As part of the storyline, a Conner family member will call each lucky sweepstakes winner for a live conversation regarding how they deal with some of the same life issues that the Conners navigate on a daily basis.
Want to be a Conner, then enter the sweepstakes here.

---
When will your favorite ABC shows be back
July 15th, 2021 under ABC. [ Comments:

none

]
In just over two months, ABC will be back in business with their biggest shows. So when will they debut, along with your future favorites? You can check their premiere dates below.
MONDAY, SEPT. 20
8:00 p.m. "Dancing with the Stars"
WEDNESDAY, SEPT. 22
8:00 p.m. "The Goldbergs"
8:30 p.m. "The Wonder Years" (series premiere)
9:00 p.m. "The Conners"
9:31 p.m. "Home Economics" (new time)
10:00 p.m. "A Million Little Things"
SUNDAY, SEPT. 26
8:00 p.m. "Celebrity Wheel of Fortune" (new day)
9:00 p.m. "Supermarket Sweep" (new time)
10:00 p.m. "The Rookie"
MONDAY, SEPT. 27
10:00 p.m. "The Good Doctor"
THURSDAY, SEPT. 30
8:00 p.m. "Station 19″
9:00 p.m. "Grey's Anatomy"
10:01 p.m. "Big Sky" (new day)
SUNDAY, OCT. 3
7:00 p.m. "America's Funniest Home Videos"
FRIDAY, OCT. 8
8:00 p.m. "Shark Tank"
9:01 p.m. "20/20" (two hours)
TUESDAY, OCT. 19
8:00 p.m. "The Bachelorette"
10:01 p.m. "Queens" (series premiere)

---
Antonia Thomas checks out of The Good Doctor
June 8th, 2021 under ABC. [ Comments:

none

]
Antonia Thomas made a big decision, and that is to leave The Good Doctor after four seasons.
She wrote her goodbye on social media, "It has been a privilege and pleasure to play Claire Browne and to be a part of such a wonderful show, working with such brilliant people. You couldn't ask for a nicer work family than the @thegooddoctorabc @sptv cast and crew and I feel so lucky to call you all my friends.
"Thank you so much to the incredible fans who have been unwavering in their support- it has been so appreciated over the years. I'm sad to leave but also excited for this next chapter. Wishing my @thegooddoctorabc family the very best for Season 5. Much love to you all. ❤️❤️❤️
'Venga, Vamos!'" 😉
Personally, I think she made the right choice. Now that show is more Grey's Anatomy than House; it has not been as enjoyable. Every season I hope that it gets cancelled because I don't know why I am still watching. Yet, I keep coming back for more.

---
ABC is hoping to have a wonder year next season
May 18th, 2021 under ABC. [ Comments:

none

]
ABC is normally the network that makes the most changes, but this year they are keeping things pretty much the same.
Monday and Friday are the same. Tuesday will air the drama Queens after The Bachelorette. So does that make it a girls' night or one for the mem? Wednesday sees Wonder Years after The Goldbergs, followed by The Conners, Home Economics, and A Million Little Things. For a comedic night, it is pretty depressing. Thursday starts off with Shonda Rhimes' dramas, followed by David E. Kelley's Big Sky. Sundays has two game shows leading into The Rookie.
All in all, it is not that bad. What do you think?
MONDAY
8 PM — Dancing with the Stars
10 PM – The Good Doctor
TUESDAY
8 PM — The Bachelorette
10 PM — QUEENS
WEDNESDAY
8 PM — The Goldbergs
8:30 PM — THE WONDER YEARS
9 PM — The Conners
9:30 PM — Home Economics
10 PM — A Million Little Things
THURSDAY
8 PM — Station 19
9 PM — Grey's Anatomy
10 PM — Big Sky
FRIDAY
8 PM — Shark Tank
9 PM — 20/20
SATURDAY
8 PM — Saturday Night Football
SUNDAY
7 PM — America's Funniest Home Videos
8 PM — Celebrity Wheel of Fortune
9 PM — Supermarket Sweep
10 PM — The Rookie
To read about the new shows, then click here!

---
ABC picked up four shows and cancels as many
May 14th, 2021 under ABC, American Housewife. [ Comments:

none

]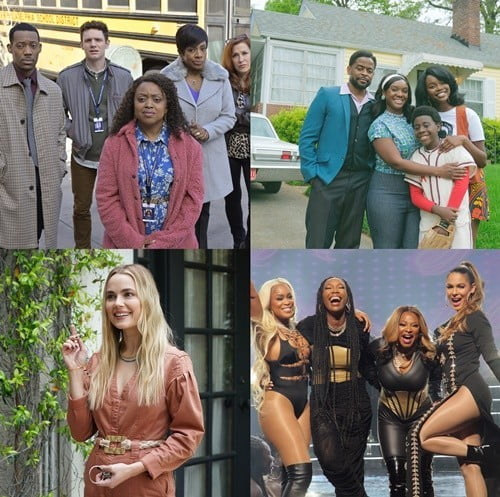 ABC is adding four new shows to their lineup, including a Wonder Years reboot starring Dulé Hill as the dad and Don Cheadle as the narrator. Then they are getting schooled (why did they cancel that show) with Abbott Elementary, a workplace comedy at a school that stars Tyler James Williams, Lisa Anne Walter, and Sheryl Lee Ralph. Next up is Queens, which brings back bandmates, who are now in their 40s, hoping to recapture their success. It stars Eve and Brandy. Finally, there is Maggie, a show about a psychic who sees her future and decides to live in the present.
Those are the shows you can watch next season. Unfortunately, you will not be able to watch American Housewife, Rebel, For Life, and Mixed-ish anymore because they were all cancelled.
ABC really screwed up with American Housewife. They had a darling show, but they never knew how to promote it. The network also kept changing its timeslot, so you never knew when it was on. It is a real shame because it was a heartwarming comedy that deserved better. Just like Mixed-ish, which is a better show than Black-ish. I said it, and I meant it.

---