Cheers to ABC for doing some Charmed reunions!
September 16th, 2019 under ABC, American Housewife, Nathan Fillion, The Goldbergs. [ Comments:

none

]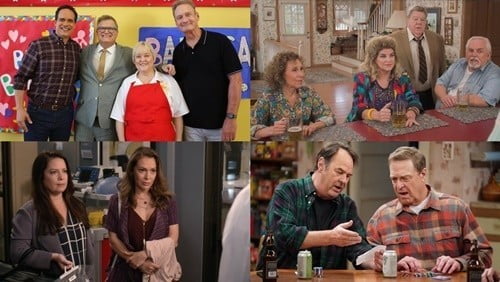 ABC found an interesting way to get us to watch their shows this season. Several of their series are staging reunions the week of October 7th.
For example, on October 9th, The Goldbergs is bringing Cheers' Kirstie Alley, Rhea Perlman, John Ratzenberger and George Wendt to a bar again. Two days later, Diedrich Bader is reunited with his castmates, Drew Carey, Ryan Stiles and Kathy Kinney, from The Drew Carey Show. That Sunday, we get a Castle reunion on The Rookie when Nathan Fillion gets to see his old pals Seamus Deaver and Jon Huertas again. I wonder where Stana Katic is? Too soon?
We also will see reunions from Girlfriends, Charmed, Blues Brothers 2000, Wet Hot American Summer and Crazy Rich Asians.
To the executive who came up with this brilliant idea, I have two words for you. They are thank and you. I can't wait to see all the reunions. Then again, I already watch most shows.
To read all about which reunions are happening on what show and what they are doing, then click here!
---
Afton Williamson quits The Rookie over sexual and racial harasment
August 4th, 2019 under ABC. [ Comments:

none

]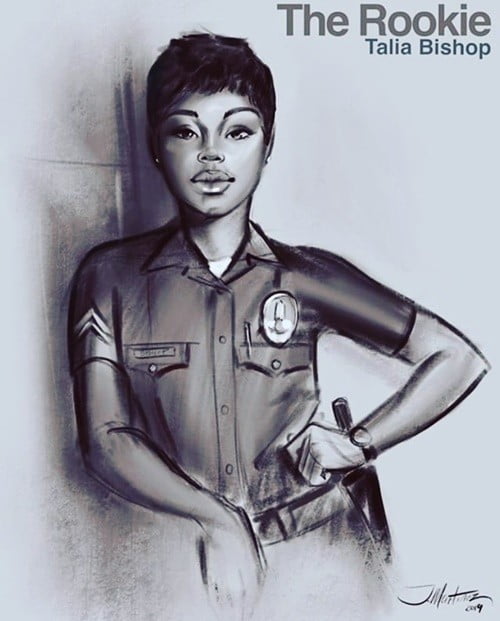 Afton Williamson plays Talia Bishop on The Rookie. However, she announced today that she will not be returning for the police procedural's second season. She wrote a long letter on social media explaining why.
I will not be returning for Season 2 of The Rookie. I owe it to you my amazing fans to share the Truth. Throughout the filming of the pilot, I experienced Racial Discrimination/Racially Charged inappropriate comments from the hair department and bullying from Executive Producers. During the Season, it continued along with Sexual Harassment from a recurring guest star and the racist commentary & bullying from the Hair Dept. Head escalated into Sexual Assault at our Wrap party.The Sexual Harassment though reported directly to the Showrunner/EP remained undocumented and was not reported to HR as promised. The Hair Dept. Head was fired ONLY after the sexual assault and NOT for an entire year of outward racism/racially charged language and bullying behavior in and out of the Hair and Makeup trailer. HR protocol was never adhered to following the above reports given by me to my Showrunner/EP and an investigation was never issued for any of my claims. The only time I was asked to participate in an investigation was after a meeting I called in June following our Season 2 announcement. This meeting included the Showrunner and two other producers as well as my agent and SAG-AFTRA Union Rep. It was clear to all present in the meeting that the Showrunner had not shared my reports with the any of the producers. After my initial report of sexual harassment, I was assured that the actor would be fired. I was also asked to film with him the very next day as a courtesy to the script, even though we had not begun filming the episode yet. This actor reappeared on our call sheet at the end of the season, I was even written in scenes with him. I asked the Showrunner about this and he admitted to me that the actor had not been fired nor had he gotten HR involved. I was asked to return this season, and promised that "everything was handled." The investigation hadn't even begun and Season 2 had already started filming. I turned it down and I walked. Now is the best time in the world to be a woman and I have a platform so it's time to use my Voice. Strength comes from within. It comes from Above. "Greater is He that is within Me than he that is in the world" ❤️🙏🏽
I think she will be OK careerwise. She is starring in the movie Otherhood that is out now. Earlier this year she wrapped production on the film Meet Me in My Happy Place. Somewhere I hope she is now that she is free of that harassment. I guess we have only come so far after #MeToo.
---
When will your favorite ABC shows be back?
July 2nd, 2019 under ABC. [ Comments:

none

]

ABC revealed when the old shows will be back and when their new ones will debut. So far it is pretty status quo. I just wish they would have brought Station 19 back in the fall over a Million depressing Little Things. However, I am happy Schooled will begin when school starts and not after winter break.
MONDAY, SEPT. 16
8:00-10:00 p.m. "Dancing with the Stars" (Season 28 premiere)
MONDAY, SEPT. 23
10:00-11:00 p.m. "The Good Doctor" (Season 3 premiere)
TUESDAY, SEPT. 24
8:00-8:30 p.m. "The Conners" (Season 2 premiere)
8:30-9:00 p.m. "Bless This Mess" (Season 2 premiere; new time)
9:00-9:30 p.m. "mixed-ish" (Series premiere)
9:30-10:00 p.m. "black-ish" (Season 6 premiere; new time)
10:00-11:00 p.m. "Emergence" (Series premiere)
WEDNESDAY, SEPT. 25
8:00-8:30 p.m. "The Goldbergs" (Season 7 premiere)
8:30-9:00 p.m. "Schooled" (Season 2 premiere)
9:00-9:30 p.m. "Modern Family" (Season 11 premiere)
9:30-10:00 p.m. "Single Parents" (Season 2 premiere)
10:00-11:00 p.m. "Stumptown" (Series premiere)
THURSDAY, SEPT. 26
8:00-9:00 p.m. "Grey's Anatomy" (Season 16 premiere)
9:00-10:00 p.m. "A Million Little Things" (Season 2 premiere)
10:00-11:00 p.m. "How to Get Away with Murder" (Season 6 premiere)
FRIDAY, SEPT. 27
8:00-8:30 p.m. "American Housewife" (Season 4 premiere; new day and time)
8:30-9:00 p.m. "Fresh Off the Boat" (Season 6 premiere; new time)
9:00-11:00 p.m. "20/20"
SUNDAY, SEPT. 29
7:00-8:00 p.m. "America's Funniest Home Videos" (Season 30 premiere)
9:00-10:00 p.m. "Shark Tank" (Season 11 premiere)
10:00-11:00 p.m. "The Rookie" (Season 2 premiere, new day and time)
SUNDAY, OCT. 6
8:00-9:00 p.m. "Kids Say the Darndest Things" (Series premiere)
---
Jamie Foxx messed up on live TV and surprised as George Jefferson
May 23rd, 2019 under ABC, Jimmy Kimmel. [ Comments:

3

]

When ABC announced that they were going to do live versions of one episode from All in the Family and The Jeffersons, I thought it was going to crap all over the sitcoms' legacy. I have been cursing out everyone involved and was prepared to freaking hate it. Shockingly, I really liked it.
When Woodly Harrelson opened his mouth and sounded like Archie Bunker, I was like what is going on? Can Marisa Tomei do just as well? I mean, we all think her Oscar was a joke. Well, she deserved it. It was like watching Jean Stapleton as Edith. Now when it comes to Mike and Gloria, Ike Barinholtz was OK and Ellie Kemper was beyond awful. Why was she the only one who did not wear a wig? She needs to stick at playing being cute and not try to be a good actress. She does not have the chops for it.
When it comes to the Jeffersons on that episode, Jovan Adepo nailed Lionel. As much as I enjoyed him, I wish they would have had someone else play him in the next episode. Just like the original series that had two Lionels. I never realized until last night that Wanda Sykes sounds like Isabel Sanford. She even looked like the late actress. Anthony Anderson was alright as Uncle Henry. He just did not have that fierceness that Mel Stewart had.
And then there was Jamie Foxx as George Jefferson. He came in like the hurricane that was Sherman Hemsley. It was like the late actor possessed him. Of course, he messed up but it just reminds you that they are doing this all live.
Next up was The Jeffersons, and we are getting a live version of the pilot episode. Jackée Harry played Diane and was not much like the original actress but she fit in perfectly. Kerry Washington was believable as Helen Willis. However, I wanted Lenny Kravitz to play Roxie Roker, his mom's part. Amber Stevens West did OK as Jenny, but she did not have a lot to do. Unlike Stephen Tobolowsky (Mr. Bently) and Will Ferrell (Tom Willis). Both played their characters very calming, but not with the oomph that Paul Benedict and Franklin Cover made their roles their own. Tobolowsky just couldn't hold his British accent for more than a few words. But it was still better than Kemper trying to do a New Yawk accident. Every time she talked, it sent a shiver down my spine.
Finally, the oddest casting choice to me was Justina Machado as Florence. Well, that was all a ruse. They decided to surprise us all and have Marla Gibbs reprise her role. Which meant she got to repeat her infamous line, "How come we overcame and no one told me?"
Her appearance was the cherry on top of what was a surprisingly good evening of programming. Hopefully, next up will be the Maude abortion episode and James' death on Good Times. As Esther Rolle said, "Damn! Damn! Damn!" that will be good.
Oh, and I will take down that Jimmy Kimmel photo with all of the darts that I have thrown at it over the last few weeks. Sorry!
---
Ungrateful Constance Wu still has her TV job
May 14th, 2019 under ABC, Constance Wu. [ Comments:

none

]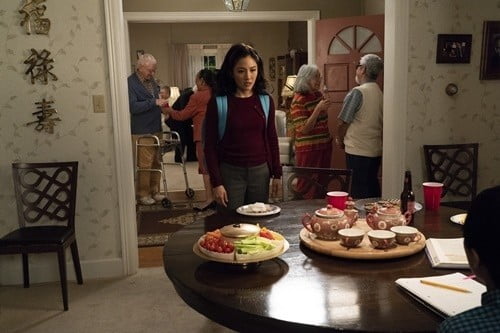 On Friday, when ABC announced that they were renewing Fresh Off the Boat, Constance Wu said it was not a good thing. Her tweets made her the most hated person. Even more so than Jussie Smollett. She tried to say by the show being picked up for another season, it meant that she could not do a role that was more challenging for her.
Ever since then, ABC has been radio silent, but today they had no choice but to respond to reporters on the Upfronts call. Karey Burke, president of ABC Entertainment, said, "There's been no thought to recasting Constance." Then she explained why "We love what she does on the show and we love the show. I did actually know that Constance had another opportunity that had Fresh Off the Boat not gone forward, she would've pursued. But we never really considered not bringing back Fresh Off the Boat. The show is just too strong for us and we love it."
Maybe since Wu has nothing to do during her hiatus, she will take some acting lessons. This way she won't play Jessica so one-dimensional. She is the weakest actor on the sitcom. She could learn a thing or two from her TV husband Randall Park who is one of the funniest guys on television.
BTW I am glad they are not recasting her. Maybe it will teach her lesson in humility. Tiffany Haddish, who we can agree is a much much much bigger star, signed on to do a remake of Kids Say the Darndest Things for ABC. All while still making movies people see. She knows what it means to be grateful for work.
---