ABC cancels Home Economics
September 29th, 2023 under ABC. [ Comments: none ]
Broadcast shows are normally supposed to find out their fates in May, but Home Economics was not one of them. Today, the sitcom, which stars Topher Grace, learned if ABC is going to order more episodes. And sadly, they are not.
According to Variety, the sitcom High Potential, starring Katlin Olson, moves to the Fall. I am sure this is the first of many broadcast shows that will move from this season to the next one.
ABC still hasn't decided whether or not to pick up The Rookie: Feds. I hope they renew it because it deserves to be back.

---
ABC changes up their Fall schedule
August 21st, 2023 under ABC. [ Comments: none ]
ABC was the first network to announce their strike-resistant schedule in May, so you would think that they would be all set with their unscripted series and repeats. But they were not. So today, they announced their revised schedule for Wednesday, Thursday, Friday, and Sunday.
Wednesday, September 27, 2023
08:00PM – 09:00PM Celebrity Jeopardy! (Season Premiere)
09:00PM – 10:00PM Celebrity Wheel of Fortune (Season Premiere)
10:00PM – 11:00PM The $100,000 Pyramid (Season Premiere)
Thursday, September 28, 2023
08:00PM – 09:01PM The Golden Bachelor (Series Premiere)
09:01PM – 11:00PM Bachelor in Paradise (Season Premiere)
Friday, September 29, 2023
08:00PM – 09:01PM Shark Tank (Season Premiere)
09:01PM – 11:00PM 20/20 (Season Premiere)
Sunday, October 1, 2023
07:00PM – 08:00PM America's Funniest Home Videos (Season Premiere)
08:00PM – 11:00PM The Wonderful World of Disney (Season Premiere)
ABC is still finalizing their Mondays and Tuesdays, which will include Dancing with the Stars. So what still needs a timeslot? Missing from the original schedule are Judge Steve Harvey, Abbott Elementary repeats, What Would You Do, and Press Your Luck.

---
American Idol doesn't change things up
July 25th, 2023 under ABC, American Idol 9+, Katy Perry, Lionel Richie, Luke Bryan, Ryan Seacrest. [ Comments: none ]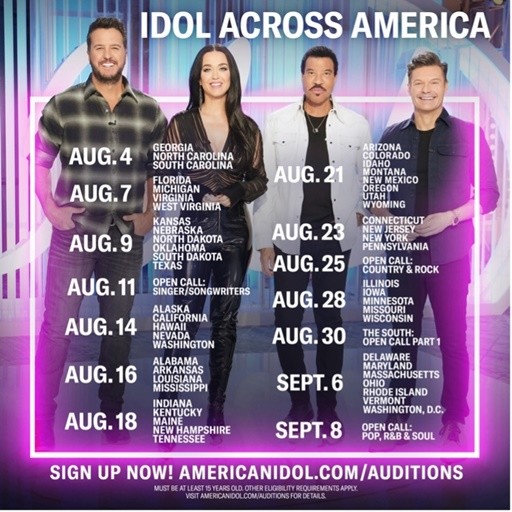 We are still months away from American Idol being back on ABC. However today, the network announced that Ryan Seacrest, Luke Bryan, Lionel Richie, and Katy Perry will all be back for season 7.
The latter is a little bit of a surprise because a lot of fans were upset with what a bitch the California Gurl was to several of the contestants. But that is good for ratings, so they invited her back because Idol is the biggest hit she has had since joined the singing competition.
If you want her to be bitchy to you, then you can audition to be on the show. To see where they are holding auditions, then click here!

---
The Wonder Years gives us something to sing about, Miss Patti LaBelle guest stars
July 5th, 2023 under ABC, Dulé Hill. [ Comments: none ]
https://twitter.com/MsPattiPatti/status/1676672303701151757
Tonight at 9p on ABC, Patti LaBelle guest stars on The Wonder Years. And you will say, "Amen!"
The Williams Family goes to Church, and they get to watch Dean's (Dulé Hill) mom (LaBelle) lead the choir. However, she is going to be down one member by the end of that service.
So, she recruits her daughter-in-law, Lillian (Saycon Sengbloh), to join, and she accepts. As soon as Lillian does, she realizes her wonderful mother-in-law is very tough on the choir.
Lillian stands up for them, and her mother-in-law walks away from it all. Will there be a feud between the family that will cause tension between Dean and the women he loves most?
Then there is little Dean (Elisha "EJ" Williams). He prays for something in Church that makes him think he got rid of the choir member. Now, he is feeling guilty for what happened to her. Did he really do it, or was it just a coincidence?
That will be answered in another heartfelt episode that shows a family who loves each other through the good times and the times when you can't stand each other.
We need more shows like The Wonder Years where people can sit down and watch it with the whole family. So many television sitcoms are all about the adult viewer. The Wonder Years is one of the few that is for both the kids and the adults. So sit back and watch it with your family tonight and every Wednesday night on ABC or on Hulu.

---
Who spoiled that they are related to someone on Claim to Fame?
June 28th, 2023 under ABC, Celeb Oops. [ Comments: none ]
Claim to Fame premiered on ABC Monday, and we are left trying to guess which celebrities the new crop of contestants are related to.
We know that Crazy Carly, who was the first one to be eliminated, is the blood relative of Rita Wilson, and her uncle is Tom Hanks. But what about the rest of them?
Thanks to Donny Osmond being a proud pop, he accidentally let us know on June 22nd via Instagram that his son Chris is on the show. Chris Osmond looks just like his dad, so we didn't really need the post to confirm it. But it still did.
So we now know who his dad is. How long will it take the other contestants to figure it out?
How are you doing when it comes to guessing who they are related to? Obviously, we got Chris down. But who else? I guessed right on Travis and cheated to find out who Bruno is related to. It's amazing how his grandfather's DNA is nowhere to be seen in his personality.
Now back to Donny. He was on Masked Singer, so you would think he would know better. But he just wanted to let everyone know that Chris has a new single called Side Effects.
He is a good dad but also a bad one. However, you can't blame him. He is a really nice guy, and he was just trying to help his son. More dads should do that with their nepo babies. Joking! Chris is making it on his own.

---