American Idol will be back for a fourth season
May 16th, 2020 under American Idol 9+. [ Comments:

none

]

For those of you, who love American Idol, ABC has some great news show for you. The singing competition will be back for a fourth season.
If you think you have what it takes to be on the show, then they are looking for you to audition now.
How they will hold auditions in front of the judges, we don't know. That is something we will find out when they find out.
---
Doesn't Katy Perry realize her moronic costumes are distracting on American Idol?
May 4th, 2020 under American Idol 9+, Katy Perry. [ Comments:

2

]

Katy Perry is so desperate for attention that she will do anything to get it. Things like wear the ugliest, over-the-top dresses, and costumes. For example, on the first two episodes of this season's live shows of American Idol, she dressed as a hand sanitizer and a roll of toilet paper. What is she going to do dress as the poo emoji next week?

I don't know who told her that is a good idea because she looks like she a schmuck. She is making the singing competition all about her when it should be all about the singers. She is the reason why I don't watch. She is just so annoying.

Can't the ABC show replace her already? You know, with someone who has released a good song in the last decade like the judges on The Voice. You know, the other singing competition where their judges are current chart-toppers?
---
American Idol will go live on April 26th
April 14th, 2020 under American Idol 9+. [ Comments:

none

]

Are you like me, and have you been wondering how American Idol will go live for the live shows while we are all being quarantined all over the United States? Today, Ryan Seacret gave us an update.

The first live show will be on April 26th, with Seacrest in…his Los Angeles house. Also, from that city will be the pregnant Katy Perry and Lionel Richie. While they will be in their homes in LA, Luke Bryan and Bobby Bones will be sitting on their couches in Nashville.

When it comes to the contestants, they will be singing from their homes. I wonder how they will handle the accompanying music? It would be nice if it is all about the singers' voices and not the instruments. That is one of the problems I have with Idol. The music is too overpowering.

What do you think of the at-home version of American Idol?
---
Katy Perry goes down in roller skates
October 10th, 2019 under American Idol 9+, Katy Perry. [ Comments:

none

]
https://www.instagram.com/p/B3bJ_LtHG1n/?igshid=1dxzh1r3pn92b
For some reason, Katy Perry and Luke Bryan put on a pair of roller skates to do a bit for American Idol. However, American Idol was Katy Perry's downfall. As in her skate got caught in some signage on the floor and she kissed the floor. I don't think she liked it.
Lionel Richie went over to do a joke. As she reached over to him to help her up, he walked away like he was ready to be dancing on the ceiling. Then the country singer skated over like a baseball player successfully stealing home.
Katy was safe because she continued to skate and nearly fall.
She is just like me and doesn't get the hint. I broke my left wrist roller skating. I should have stopped then because I broke my right forearm doing it again at 13. Perry better watch out or she might be breaking more than records.
---
Is Seacrest out of American Idol?
September 20th, 2019 under American Idol 9+, Ryan Seacrest. [ Comments:

none

]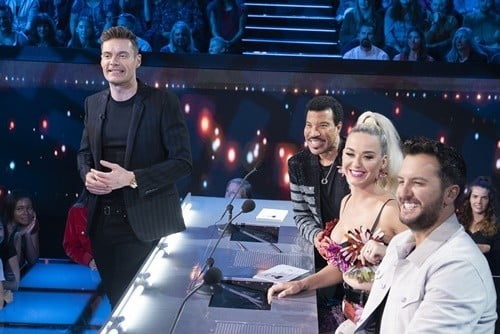 Earlier this summer, ABC announced that Lionel Richie, Luke Bryan, Katy Perry and Bobby Bones will all be back on American Idol next year. However, there was one name missing from the list and of course, it is AI original Ryan Seacrest.
Today, after months of is he or isn't he, we finally got our answer. The host is going to Hollywood! He had this to say about embarking on his 18th season with the show, "It's the greatest gift to be able to play a part in discovering new talent with a franchise that has been such a relevant part of American culture for so many years."
Are you happy he is back or were you looking forward to a change? I was hoping they would have gotten a new host. It needs to grow up now that the singing competition is no longer a minor.
---