American Idol doesn't change things up
July 25th, 2023 under ABC, American Idol 9+, Katy Perry, Lionel Richie, Luke Bryan, Ryan Seacrest. [ Comments: none ]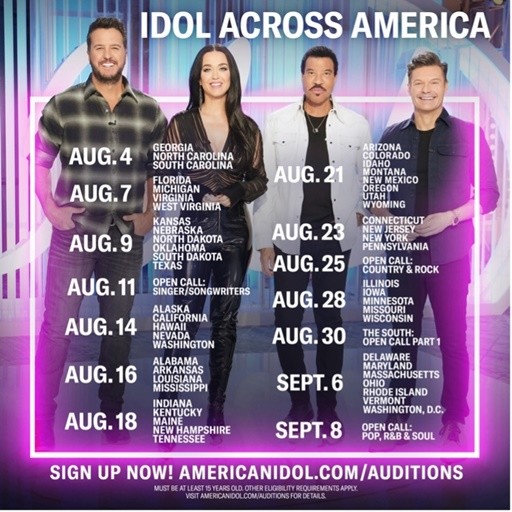 We are still months away from American Idol being back on ABC. However today, the network announced that Ryan Seacrest, Luke Bryan, Lionel Richie, and Katy Perry will all be back for season 7.
The latter is a little bit of a surprise because a lot of fans were upset with what a bitch the California Gurl was to several of the contestants. But that is good for ratings, so they invited her back because Idol is the biggest hit she has had since joined the singing competition.
If you want her to be bitchy to you, then you can audition to be on the show. To see where they are holding auditions, then click here!

---
When does Ryan Seacrest find out who won American Idol?
May 19th, 2023 under American Idol 9+, Kelly Ripa and Mark Consuelos, Ryan Seacrest. [ Comments: none ]
Ryan Seacrest has been saying, "After the nationwide vote, the winner of American Idol is" for 20 seasons. And have you ever wondered when he learns who that winner is?
Well, Kelly Ripa wanted to know, so she asked him yesterday on Live with Kelly and Mark. "I find out in the last commercial break," he told his former co-host. "Because it is a live vote. It is in real-time. The last commercial break is about four minutes long, and with 35, 45 seconds, the card comes in after a final check, and I do take a glance to make sure I can read the writing of the producer who wrote it in."
That makes sense because he doesn't want to do a Steve Harvey or a Tyra Banks and announce the wrong winner. Of course, I want him to, but he doesn't.
And as he has gotten older, it is getting closer to happening because the producer writes the results in pencil. And his eyes are not what they used to be. So it is harder for him to read the card. So who knows what will happen on Monday when he announces the winner of season 21?
BTW Am I the only one who thought he found out who the winner is at the beginning of the season finale?

---
Can America trade Ed Sheeran for Katy Perry and Lionel Richie?
May 2nd, 2023 under Alanis Morissette, American Idol 9+, Ed Sheeran, Katy Perry, Lionel Richie. [ Comments: none ]
So there is a rumor that King Charles III asked Ed Sheeran to perform at his coronation concert this weekend, and he said no. He wasn't the only musician.
So the King had to cross the pond and ask two American Idols if they would do it. And Katy Perry and Lionel Richie said yes.
Well, that leaves American Idol without two judges on Sunday's live show. So what is the singing competition going to do? They are going to ask Sheeran and Alanis Morissette to fill in for them.
So if we are getting two people who are part of the United Kingdom to fill in for the Yankees, why can't we make a trade permanent? You oughta know, I would rather them over the two who can't go all night, all night long. What about you?

---
How petite is Ryan Seacrest?
May 1st, 2023 under American Idol 9+, Ryan Seacrest. [ Comments: none ]
Adam Lambert was a mentor and performer on last night's American Idol for Rock and Roll Hall of Fame night. I don't know why because he will never get in.
Anyways. When Ryan Seacrest needed to chat with the singer, the host had to get a crate in order to do so. I knew Seacrest was little; I just didn't know he was that little.
But then again, next to Frankenstein in platforms, a lot of us look smaller in the rearview mirror.

---
Katy Perry's ugly crying face
April 3rd, 2023 under American Idol 9+, Katy Perry. [ Comments: none ]
American Idol makes the judges cry. And tonight's episode made Katy Perry ugly cry. And boy, was she ugly when she cried!

---