Bobby Bones won't be returning to American Idol
January 2nd, 2022 under American Idol 9+. [ Comments: none ]
Bobby Bones won Dancing with the Stars, and then he was offered a job as a mentor on American Idol. The DJ has had so much mainstream success since all of that happened that he got another job. Because of that new job, he is saying goodbye to his old one.
Bones is in Costa Rica working on a mystery project, and a fan wanted to know what it is.
"As soon as I can say, I will. The network hasn't even announced the show yet. So I'm going to chill for a bit. But it's a really good show," Bones wrote. "And some of you noticed, I'm not in the idol promos this season. My contract w my new network won't let me do another show right now."
Even though he will be back on the singing competition, he wanted us to know he still loves it.
Bones did not say what new network he is working with, but I am assuming it is CBS. That is because he hosted their New Year's Eve show.
When it comes to his new project, I can't wait to hear all about it.

---
When will American Idol be back?
December 2nd, 2021 under American Idol 9+. [ Comments: none ]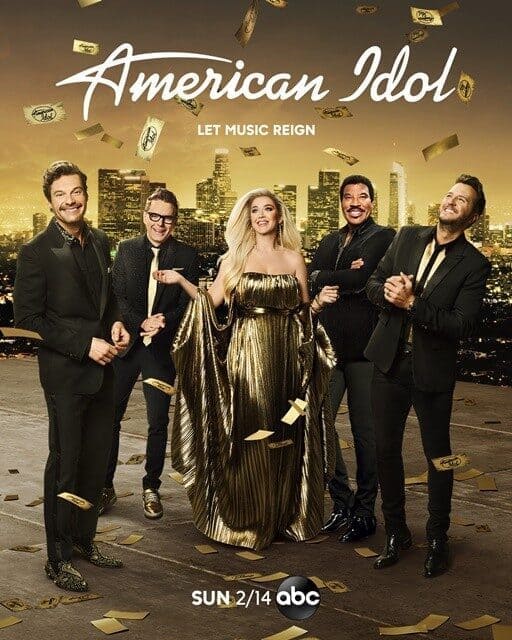 Are you one of the few million people who still care about American Idol? Then you will be happy to know that Ryan Seacrest, Lionel Richie, Luke Bryan, and Katy Perry will be back on February 27th for their 5th season on ABC and the show's 20th.
Will you be watching, or do you think it is so two decades ago?

---
American Idull is back with the same judges and host
August 3rd, 2021 under American Idol 9+. [ Comments: none ]
ABC announced today that Luke Bryan, Katy Perry and Lionel Richie, and Ryan Seacrest will all be back for the 20th season of American Idol. Its 5th on ABC.
"Luke, Katy, Lionel and Ryan are music and industry icons that have become synonymous with 'Idol' on ABC," said Rob Mills, executive vice president, Unscripted and Alternative Entertainment, Walt Disney Television. "Their star power is unmatched, and their support is a gift to our contestants that have deeply benefited from their wisdom over the past four seasons—and they're ready to do it again. As we begin a momentous season, I think it's safe to say this dream team has officially cemented their legacy on 'Idol.'"
I really wish they would have changed things up. I think that would have helped the singing competition show like Ariana Grande will help The Voice for their 20th in the Fall.
Auditions start on Friday. To see where they will be going, then click here!

---
Caleb Kennedy out of American Idol after an old racist video surfaces with him
May 12th, 2021 under American Idol 9+. [ Comments: none ]
Caleb Kennedy made it to the top 5 on American Idol this past Sunday, but he will not be performing this week. That is because he was forced to leave the singing competition after an old video surfaced of him with a friend dressed in a KKK hood.
"Hey y'all, this is gonna be a bit of a surprise, but I am no longer gonna be on American Idol," Kennedy wrote on social media. "There was a video that surfaced on the Internet and it displayed actions that were not meant to be taken in that way. I was younger and did not think about the actions, but that's not an excuse. I wanna say sorry to all my fans and everyone who I have let down. I'll be taking a little time off social media to better myself, but saying that, I know this has hurt and disappointed a lot of people and made people lose respect for me. I'm so sorry! I pray that I can one day regain your trust in who I am and have your respect! Thank you for supporting me."
According to KABC's George Pennacchio, the show will go on with only four contestants this Sunday. I guess that means no one will be eliminated this week.
ABC had no choice but to get rid of him after Roseanne sent a racist tweet, and this season's Bachelor contestant Rachael Kirkconnell who was photographed at a party at a Plantation a few years ago. When Chris Harrison defended her, he was asked to take a break from the franchise. Therefore, any perception of racism by anyone on their network will lead to that person's dismissal (unless all of their stuff was pretaped).
Back to Idol, Kennedy is the second person to leave the show this season who was not eliminated. Wyatt Pike asked to leave for personal reasons when he made the top 12.

---
What did Paula Abdul mean when she called Simon Cowell 'The STD'?
April 14th, 2021 under American Idol 1-5, American Idol 9+, Paula Abdul. [ Comments: none ]
On Monday night, Paula Abdul filled in for Luke Bryan, who has COVID-19, on American Idol. Not only was she reunited with Ryan Seacrest, but Randy Jackson called it in. While she was speaking to her old co-judge, she called Simon Cowell "The STD."
What does that mean? Is she saying he is like herpes and he won't go away. Nope. The singer told Entertainment Tonight that STD means "Sexy. Talented. Debonair."
Do you believe her, or do you think that is cap?

---