BTWF: Ed Sheeran auditioning for Britannia High
June 20th, 2019 under Before They Were Famous, Ed Sheeran. [ Comments:

5

]

Before any talent competition show would love to have Ed Sheeran as a judge, he was a contestant on Britannia High. How awwwwdorable was the 16-year-old trying to dance back in 2007?
I wonder if every one of those judges kicks themselves in their a$$es for not picking him? I know he couldn't dance, but he is the most talented male singer in his generation. They should have known that when he was halfway through his teens.
---
Ed Sheeran's Heinz Ketchup dreams keep coming true!
June 17th, 2019 under Ads, Ed Sheeran. [ Comments:

none

]

It is no secret that Ed Sheeran loves his Heinz Ketchup. He has posted about it several times and even, you might even say, harassed the company with admiration for the red condiment. They eventually gave in and created a limited amount of bottles with his name on it.
It does not stop there, he DMed an idea he had for a commercial. What did they do with it? They made the television advertiment. I think he probably likes that more than all of the awards he has gotten for his music. Don't believe me? Here is what he said, "Okay guyz, so it actually happened. I sent a voice note to @heinz, and we made a whole tv spot around it. This is pretty much what I was aiming for in life. Ketchup ad > stadium tour."
So, kids around the World, reading this, don't give up on your dreams. You too can grow up and make a commercial for your favorite product. Sure, I went to college for it and did not go into it. He sends them a DM and he is an advertiser. Don't tell my dad how much money he wasted on my education. He will be see Heinz Ketchup red!
---
Ed Sheeran's dream came true!
June 5th, 2019 under Ed Sheeran. [ Comments:

none

]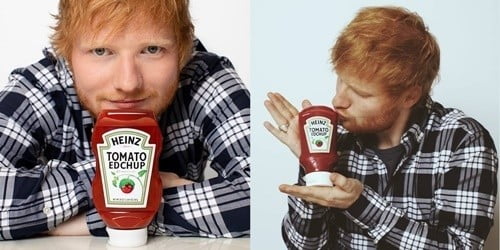 loves ketchup as much as he Ed Sheeran loves singing. In fact, he has pitched the company several ideas over the years. Well, Heinz finally threw him a bone. Or should I say a ketchup bottle? For a limited time you can buy a bottle of Edchup for $5!
How does the singer, whose hair matches the color of the condiment feel about it? He wrote, "It's actually real and you'll be able to get your hands on one very soon #Edchup #KetchupDay #EDxHEINZ #TheDreamThatKeepsOnGiving"
I think he is in love. If Cherry Seaborn does not watch out, she might lose her lover to all the bottles of Edchup he is going to buy. I think I know a way she can keep him. She can cover herself in the red sauce and you see where I am going with this thought…
---
Ed Sheeran and Justin Bieber's video is a trip, an acid trip
May 17th, 2019 under Ed Sheeran, Justin Bieber. [ Comments:

none

]

Ed Sheeran and Justin Bieber released the music video for their song I Don't Care and it is trippy. As in they went to Woodstock in 1969 and spent their time at their festival getting their hands all of the really good stuff. When they were getting ready to leave, they came up with this music video. That is the best explanation I could come up with for it.
Does anyone know what is going on in it? Are we supposed to? At least on a positive note, the saving grace is that it is a good song. That sounds a little like Sheeran's Shape of You!
---
Do you care about Justin Bieber and Ed Sheeran's duet single?
May 10th, 2019 under Ed Sheeran, Justin Bieber. [ Comments:

none

]

For the last week, Justin Bieber and Ed Sheeran have been teasing their duet and today they released the single for I Don't Care. It is a little bit of both them, which means it will be this summer anthem. Which I am OK with because I like it. Do you or do you not care for it?
---