American Idol doesn't change things up
July 25th, 2023 under ABC, American Idol 9+, Katy Perry, Lionel Richie, Luke Bryan, Ryan Seacrest. [ Comments: none ]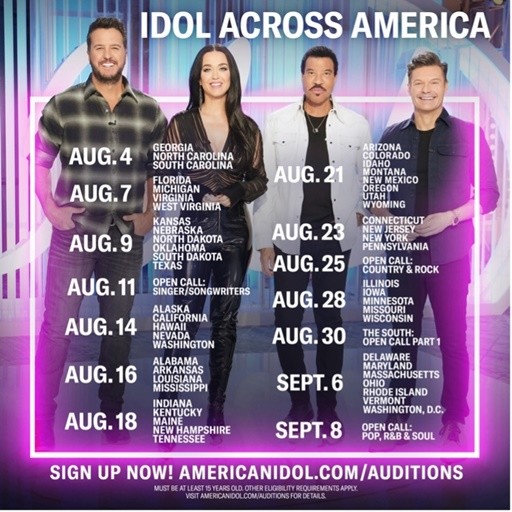 We are still months away from American Idol being back on ABC. However today, the network announced that Ryan Seacrest, Luke Bryan, Lionel Richie, and Katy Perry will all be back for season 7.
The latter is a little bit of a surprise because a lot of fans were upset with what a bitch the California Gurl was to several of the contestants. But that is good for ratings, so they invited her back because Idol is the biggest hit she has had since joined the singing competition.
If you want her to be bitchy to you, then you can audition to be on the show. To see where they are holding auditions, then click here!

---
Did American Idol finally change up the judges?
July 28th, 2022 under American Idol 9+, Katy Perry, Lionel Richie, Luke Bryan. [ Comments: none ]
Even since American Idol made the move from Fox to ABC, Katy Perry, Lionel Richie, and Luke have been the judges. Would season 6 finally be the year the network tries something new? Nope, they will all be back, along with Ryan Seacrest as the host. Maybe they will get the seven-year itch?
ABC made this announcement to let us know that virtual auditions start next week for all 50 states and DC.
To see which city they are doing on what date, then click here!

---
Luke Bryan serenades an 85-year-old grandmother!
July 22nd, 2022 under Luke Bryan. [ Comments: none ]
Luke Bryan was playing Bristow, Virginia, the other night, and there was a sign that caught his attention. It read, "Luke, Strip it down for grandma's 85th birthday."
Not only did the American Idol judge strip it down, but he also kneeled down and sang Two Lane just to her. Making her feel like a teenager all over again.
Hopefully, after the show, Bryan took her out for one margarita, two margarita, shot!

---
Luke Bryan stole a baby
June 25th, 2022 under Luke Bryan. [ Comments: none ]
Luke Bryan was performing the other night in Vegas, and he had a new duet partner. However, they didn't help him sing. That is because they are a baby that he stole from someone who had backstage passes.
I wish musicians would do that because it makes concerts more awwwwdorable.
And if I were Caroline Boyer, I would be afraid that the American Idol judge has baby fever. But then again, maybe she also wants to raise a sixth child.

---
Luke Bryan was all of us when Katy Perry fell out of her chair 
May 3rd, 2022 under American Idol 9+, Katy Perry, Luke Bryan. [ Comments: none ]
On Sunday, Katy Perry dressed up as Ariel from Little Mermaid. That means that she wore a mermaid's tail like the Disney Princess. The costume department did such a good job with it that she couldn't move her legs when it was on.
Well, she decided to lean back in her swivel chair. And as you can guess, she fell over backwards and couldn't get up. So, how did Luke Bryan react? He laughed out loud. Or, as he said, "We all have that one friend like…me!! Sorry @Katy Perry #americanidol #falling"
The Country singer is right, and to my friends, I am him! But, then again, it was almost all of us on Sunday! Because lots of us are all a little bit sadist. I am just a lot of it.

---