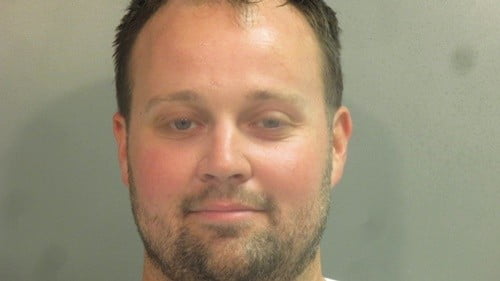 Josh Duggar was taken in by US Marshalls yesterday, and today we know why. United States Attorney's Office Western District of Arkansas said, "According to court documents, Joshua James Duggar, 33. allegedly used the Internet to download child sexual abuse material. Duggar allegedly possessed this material, some of which depicts the sexual abuse of children under the age of 12, in May 2019.
"Duggar is charged by indictment with receiving and possessing child pornography. If convicted, he faces up to 20 years of imprisonment and fines up to S250,000.00 on each count."
He is being held without bail, but that might change on May 5th when he has his detention hearing. If he is released on bond, the judge said he cannot stay in a residence with minors. That means he cannot go home to his wife, who is expecting his seventh child. Nor will he be able to stay with his immediate family, who all have minor children.
Duggar pleaded not guilty on all counts in court today. His trial is set for July 6th, according to KNWA.
If only there was a way to know that this might have been in the cards for him. For example, being accused of molesting four of his sisters and at least one family friend.

---