Ice-T drops the mic on Jussie Smollett
March 11th, 2022 under Ice-T/ Coco, Jussie Smollett. [ Comments: none ]
Jussie Smollett was sentenced to 150 days in jail and 30 months of probation for faking a hate crime and lying to the police.
One of the news sources posted this caption "#Jussie Smollett still doubling down on his lie on his way to the clink!" As soon as Ice T saw that headline, he had something to say, and that thing is, "Jussie is obviously not that good an Actor… Dun Dun."
That is cold, colder than Ice T, Ice Cube, and Vanilla Ice combined. And anyone who has seen Empire knows that it is true.

---
Mariska Hargitay and Ice T dye together
December 8th, 2021 under Dick Wolf, Ice-T/ Coco, Mariska Hargitay. [ Comments: none ]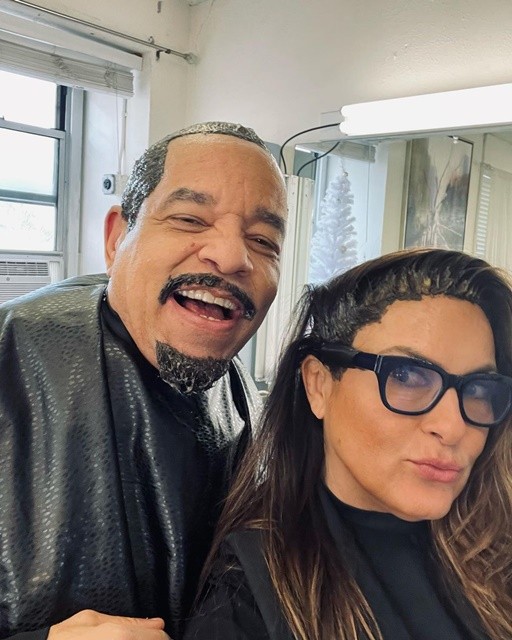 Mariska Hargitay/Instagram
Law & Order: SVU has been on the air for 22 years. Yet, Mariska Hargitay and Ice T have not gone grey after all these years and cases.
What is their secret? They dye their hair, and they do it together. Or, as the rapper puts it, "A little dye will keep us fly." And it does.
I love when stars get real about how they keep their youthful looks. And this is as real as it gets.
Personally, I think they both would look good with some salt to go with their pepper if they opted to stop darkening their roots. They look great no matter what. What do you think?

---
Ice T defends his wife for still breastfeeding their 5-year-old daughter
August 4th, 2021 under Ice-T/ Coco. [ Comments: none ]
Coco Austin recently revealed that she is still breastfeeding her daughter even though Chanel is 5 years old. As soon as people heard that, they were a little grossed out and criticized her for still doing it.
Today, her husband Ice T came to her defense on social media. "News Flash! We feed Chanel FOOD… She just likes to suck moms boob every now and then… Me Too!!!" Then he added, "News Flash! I'm still Breastfeeding! Every chance I can…"
Let's look at it this way, with Coco's breasts; there is plenty to go around! So let her and Chanel be.

---
Why wearing masks gives Ice-T flashbacks
May 6th, 2021 under Ice-T/ Coco. [ Comments: none ]
Before Ice-T was playing a cop on Law & Order: SVU, he was trying not to get caught by them. Back then, he was robbing banks and wore masks inside of them to do so. Then in 2020, he had to do it again. Not rob banks, but wear a mask in one.
"This COVID thing, the first time I walked into my bank, and I had that mask on. I had a flashback. I was like, yo, yo, what is going on," he told EW Live's, Dalton Ross. "It was really a trip."
That had to be so weird for him. I know I feel weird wearing a mask in a bank. I always tell the teller, I am not here to rob you, but I would be more than willing to take whatever extra money you want to give me for free.

---
Ice T says that Law & Order: SVU will be back on the job next month
August 27th, 2020 under Dick Wolf, Ice-T/ Coco. [ Comments: none ]

While television scripted shows in Canada and Los Angeles are back filming, it has taken a little longer for NYC shows to be given the go-ahead. That is because the city was hit very hard by the COVID-19. New York based Law & Order: SVU sadly suffered the loss of one of their crew members, Josh Wallwork, to coronavirus back in March.

Yesterday, Ice T revealed that he got the first script for season 22, and said that he is expecting to go back to work in mid-September. As excited as he is about it, he added, "Should be interesting with all the new safety protocols."

It will also be interesting to see if they will be filming inside more this season as compared to the past. SVU defintely used the city as its backdrop in almost every episode. I hope they can still do it because NYC desperately needs the money to make up for all of its lossese of Broadway and tourism.

---