Jimmy Fallon and his wife talk about how they fell in love
April 1st, 2020 under Jimmy Fallon. [ Comments:

none

]

Back in 2004, during the week of Valentine's Day, Drew Barrymore hosted Saturday Night Live. Her friend and business partner, Nancy Juvonen, came to visit her on the set because they were going out.
As soon as Juvonen got there, she was greeted by Jimmy Fallon, who was with Barrymore, and he was so welcoming to her. That really meant something to her.
Shortly after that, all three of them started working on the movie Fever Pitch. Both of them had crushes on each other, but they did not act on it. Instead, they built a strong friendship.
Then after the movie wrapped, they went to London to sell the film. That is when The Tonight Show host told her he missed her, and the rest is what fairy tales are made of.
The two of them got married on December 22, 2007, and they have two beautiful girls together. They are Winnie, 6, and Frances, 5.
---
BTWF: Jimmy Fallon at MDA Telethon
March 19th, 2020 under Before They Were Famous, Jimmy Fallon. [ Comments:

none

]

Before Jimmy Fallon was telling jokes on his Tonight Show, he was just one of the comedians telling jokes at the MDA Telethon. How hysterical was the 22-year-old back in 1997? I loved when she shook his tush!
---
Which Jimmy did a better monologue from their home: Kimmel or Fallon?
March 18th, 2020 under Jimmy Fallon, Jimmy Kimmel. [ Comments:

3

]


Both Jimmy Kimmel and Jimmy Fallon's shows are on hiatus for the foreseeable future because of the Coronavirus. Since we all need to laugh, both late night show hosts did monologues from their homes.
Much to the displeasure of their wives. Kimmel's wife, Molly McNearney, wrote, "Can someone please get this man out of my house?"
While Kimmel was able to do it kid-free because he was hiding from them, Fallon was not. His daughters were not happy that they were not getting the attention they deserve. Parents can relate to both of their situations.
While viewers can relate to the jokes that they were telling. Funny how much both monologues have in common. I wonder if they compared notes.
Both men promised to do this every night that their shows are off the air. Something we all need, and I am grateful they are bringing some much-needed joy into our world.
Conan O'Brien has been taping bits from his kitchen.
Now, can someone tell Seth Meyers he has to do it too?
---
Jimmy Fallon gets booed on a NYC subway!
February 25th, 2020 under BTS, Jimmy Fallon. [ Comments:

none

]

Jimmy Fallon did something no other late night show host has ever done. He did his whole show from a subway car in Grand Central Station. In fact, they closed the busy stop down just for him. Therefore, you can understand why NYers want to boo the Tonight Show host. However, that is not why they did it.
He told a joke during his monologue that even I gave him the old Bronx cheer. He said, "We are the home of all the best parades. Right?" Then he revealed which ones, "St. Patrick's Day parade, Thanksgiving Day, Pride, the list goes on." He should have stopped there, but he didn't. That is when he added, "Actually, a long, long time ago. we even had parades for our winning sports teams." That is when he lost the audience and is lucky, the doors were shut on the subway car.
I have lived in four cities in my life. All four of them have big sports teams, and NYC has the most loyal fans by far. You don't diss our teams. I am a Bronx girl who is a Mets fan, and you don't want to know the sh!t I would get when I go to see them play the Yankees at spring training in Ft Lauderdale. And I was born and bred in the city.
When it comes to Fallon, he is from NY, but not NYC. However, he has lived there long enough to know better than to make a joke like that. Yeah, our teams are sucking, but we just don't talk about it. If I were him, then I would not go to a Yankees game on bat day. I miss bat day! I wasn't always a Mets fan first.
Besides dissing the Mets, Yankees, Giants, Jets, Rangers, Islanders, Knicks, and Nets, he also had BTS on the show. The eight of them went to the Jewish Deli Katz's, and the K-Pop band made me feel old. They never saw or heard of When Harry Met Sally. Oh, yes, yes, yes, I would love to see their reaction when they see that infamous scene.
After eating all of that meat and knishes, it was time to work off all of that food. They played some games, talked to the NBC host about a wide range of topics, and sang their song On at the terminal. To see all they did on the show yesterday, then click here!
---
Can you spot Jimmy Fallon?
February 24th, 2020 under Jimmy Fallon. [ Comments:

none

]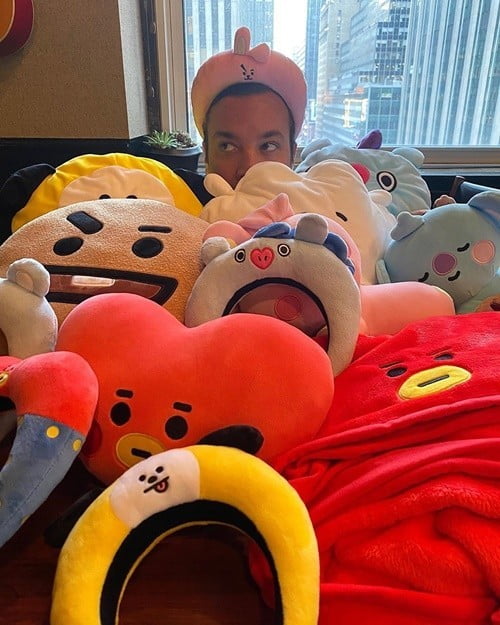 Jimmy Fallon shared a photo of himself buried under a lot of stuffed animals like Drew Barrymore in E.T. The Extra Terrestrial. However, I cannot find him. Out of all of the late night hosts, he is the most like a generic big soft toy that you want to hug. That is why he is blending in with everything else around him.
When it comes to the rest of the late night hosts. James Corden is the teddy bear. Stephen Colbert shines like the Glow Worm. If the Chucky doll was a real thing, it would be Jimmy Kimmel. Someone has to be the Ken, so why not Seth Meyers. Finally, Conan O'Brien is Raggedy Andy come to life.
---