Is Amy Schumer having octuplets?
March 21st, 2019 under Amy Schumer, Seth Meyers. [ Comments:

none

]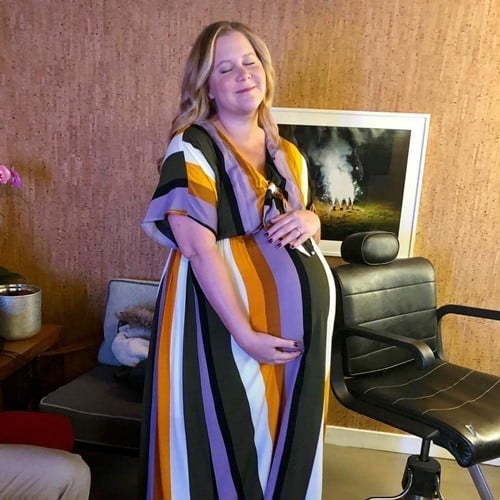 Doesn't it seem like Amy Schumer has been pregnant for forever? Well, she is looking that way too.
Here she as she is about to go on Late Night with Seth Meyers yesterday, and she is as big as a house. No, she is as big as a mansion. What does she have inside of there, a full-grown person?
We will find out if she ever gives birth. She says it is any day now, but I thought she was due months ago or at least it feels that way.
To hear her talk about her growing belly on the NBC late night show yesterday, then click here!
---
Late night television goes Christmas Caroling
December 21st, 2018 under James Corden, Jimmy Fallon, Seth Meyers. [ Comments:

none

]

2018 will be the year when Baby It's Cold Outside became a naughty song that radio stations were asked to stop playing. But the duet is a really pretty song, and I still want to hear it. Therefore, Seth Meyers came up with a version that makes the tune nice again and debuted on Late Night yesterday. Even the most politically correct person cannot find anything wrong with it.

That was not the only Christmas song to get an update. Miley Cyrus gave one to Santa Baby on The Tonight Show with Jimmy Fallon. I get where she is coming from, but this girl wants the expensive gifts from a man. There is nothing wrong with him spending all that money on me and me waiting under the mistletoe.
Plus, if he buys me the expensive gifts that I want, that just leaves me more money to buy me the costly things he did not get me on my list. It is a win/win for me. That is all that matters.

Finally, James Corden ended the night with cameo-filled Carpool Karaoke on The Late Late Show. Migos, Cardi B, Paul McCartney, Shawn Mendes, Ariana Grande, Barbra Streisand, Adam Levine and Christina Aguilera joined him in the car and belted out Christmas (Baby Please Come Home). Personally, I think if you are going to have Macca be part of it, then he should have done Wonderful Christmas Time. Am I the only person who likes that holiday single from The Beatle?
---
Has Daniel Radcliffe seen the Harry Potter show on Broadway?
November 23rd, 2018 under Harry Potter, Seth Meyers. [ Comments:

none

]

As we know Daniel Radcliffe was Harry Potter and he has done Broadway shows. Therefore, it would make sense that Seth Meters asked him if he has seen Harry Potter and the Cursed Child when he was on Late Night the other night.
The actor told the NBC host that he has not. Not because he does not want to, but he just feels that people would be distracted by him and would what not know what he is thinking throughout the whole show.
Why doesn't the magician where a costume? He said, "The thing about a disguise is that if it stops working then you are just a dude who were a disguise." Which makes sense. Especially after the time he and Rupert Grint went to a festival and they wore gas masks as a way to hide from the public. When they got too hot, they took them off and they looked like fools because people know who there were now and they felt and looked stupid.
I bet you if he went to the show dressed as Harry Potter no would recognize him. Sometimes the most obvious is the best costume.
---
Why did The Good Place's Jameela Jamil wear PJs on GMA today?
October 2nd, 2018 under NBC, Seth Meyers, TV News. [ Comments:

none

]

Good Morning America is on really early in the morning. If you on west coast time, then technically it is on three hours earlier than that. Even if you are in NYC. Therefore, does that explain why The Good Place's Jameela Jamil wore pajamas on the morning news show today?
Nope, she actually has a good excuse. She explained she did pack a bag with clothes to wear but, " I left an open chocolate in my bag without realizing. And it melted all over all of my clothes. Which looked a lot like poo. I didn't want to come on television in what looked like poo." Which is why she wore the pajamas.
The PJs and the tuxedo outfit she wore on Late Night with Seth Meyers yesterday are the only articles of clothing that she had which are not covered with brown stuff.
Whatever the reason she looks fabulous. More guests should follow suit or should I say PJs.
BTW did you know this is first action gig? She is so good as Tahani on the NBC sitcom, I never would have known.
Back to Late Night, she told the story of how she almost missed her audition for The Good Place. She did not have a curling iron and she wanted to curl her hair. Therefore, she went to use her roommate's that was in a box by a famous hairstylist. Turns out it was not something that curls your hair. Instead, it curls your toes. As in it was a vibrator. Thus, she needed to rewash her locks because she knew where that pink wand had beenn. Whatever the reason, it worked because she got the job.
To see that interview, then click here!
---
Would Ted Danson do a Cheers revival?
September 26th, 2018 under Seth Meyers, Ted Danson Mary Steenburgen. [ Comments:

none

]

So many shows from the '80s and '90s are being shopped around as revival shows and Frasier is one of them. Before there was Frasier, there was Cheers, the show it was spun off of.
Yesterday, when Ted Danson was on Late Night, Seth Meyers asked him if he is interested in bringing Cheers back for a few more episodes. Sam Malone told him, "No!" Why? He said, "Well, it would be a bunch of people in their '70s in a bar going, 'What? What?' A horse walked into a' What?' 'A car.' That's not funny." But he is up Cheers: The Old Age Home.
Danson also shared a little tidbit about bar sitcom. Before it was a huge hit, it once was 70th most-watched show of the week. Doesn't sound bad? Considering there were only 70 shows airing at the time, it is miracle we got to know everybody's name.
---