OMG, James Corden is sexy bald!
August 13th, 2019 under James Corden, Josh Gad. [ Comments:

none

]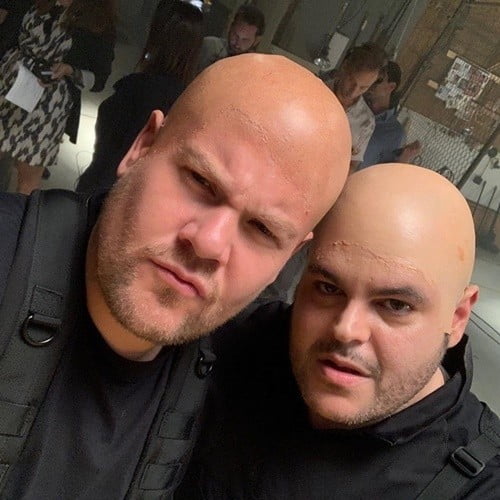 Josh Gad was on The Late Late Show yesterday. James Corden thought it would be fun if they revealed that they were the ones originally cast in this summer's biggest blockbusters. They had the roles before Brad Pitt and Leonardo DiCaprio in Once Upon a Time in Hollywood, The Rock and Jason Statham in Hobbs & Shaw and finally as Woody and Buzz Lightyear from Toy Story 4.
As we know, it did not work out for them, but we did learn something shocking about the CBS late night host. The cute Brit is actually really sexy with a chrome dome. He should shave it off ASAP and I don't normally find bald men attractive. However, on him, the Jack Russell becomes a German Shepard. Am I the only who is also turned on him by with this look?
---
The Frozen voices can't let each other go!
January 30th, 2019 under Frozen, Josh Gad, Kristen Bell. [ Comments:

none

]

Elsa, Anna, Prince Hans and Olaf were all in the same room together and they did not say why. All Josh Gad said about this kissing photo with Idina Menzel, Kristen Bell and Santino Fontana (how did I not know that the original Greg on Crazy Ex Girlfriend was in Frozen until now) is "Soon enough…"

Could it be that we are finally getting a trailer for Frozen 2 soon since the movie is slated to come out on November 22nd? Or maybe it is a Frozen treat to give to all the girls in our lives as a little present for their birthdays? What could it be? We will find out "Soon enough…"

Whatever it is, let's just hope it is not a song as catchy as Let It Go.
---
Why you have to be careful bad mouthing a celebrity's work in public
March 12th, 2018 under Josh Gad. [ Comments:

none

]

How many times have you been in public and said you hated a show or a movie? We all have.
What if you are an actor in said production and you hear someone talking crap about your work? That is what happened to Josh Gad this morning, when he Tweeted, "I'm a small room, listening to someone talk about going to the opening of Book of Mormon two days before it opened on Broadway calling it 'junk food' and saying it got too much attention. Shall I say something?" Did he? He did, "Walked up and said 'Sorry you didn't like Book of Mormon. We can't please everyone.'"
I am sure that person was left red faced. I know that is one of my biggest fear. But I grew up with my dad as a stage actor, so I try never to bad mouth something when I am nearby it. But now that I live by the studios, I have to be more careful because you never know. Although, there are a few times, I have seen something so painful, I just want to tell them in person how much they have pissed me off. We all have.
Have you ever had an experience like the one Josh Gad had today? Of course, you were not the Olaf in this scenario.
---
Josh Gad's daughter was not having it!
December 26th, 2017 under Josh Gad. [ Comments:

none

]

Josh Gad thought he bought his daughters, Ava and Isabella, the perfect gifts for Christmas, but turns out he was completely wrong. So wrong even Olaf could not save the day.

What happened? Gad found out the hard way that you need to get the three-year-old and the seven-year-old the same exacts gifts or you deal with having your Christmas day photo looking like this. Any parent of siblings can tell you that. What belongs to one, the other one wants. Then if they discard of a toy and they give it to the other one; the second the other one plays with it they want it back. You know what I mean?
---
Josh Gad uses his daughter to get Star Wars spoilers from Lupita Nyongo
December 5th, 2017 under Josh Gad, Star Wars. [ Comments:

1

]

Josh Gad tried many different ways to get Daisy Ridley to reveal spoilers from Star Wars: The Last Jedi, and none of them worked.
This time he tried a different tactic with a different actor from the Star Wars Episode VIII. When he was unsuccessful in getting Lupita Nyongo to talk, he brought in his toughest weapon. That weapon in his sweet 6-year-old daughter Ava. Was the cutie able to do what her dad could not? You just have to watch this awwwwdorable video to find out.
BTW I love that no one is fazed that the Oscar winner is covered in blood after filming a scene for her Zombie movie Little Monsters with Olaf.
---