Rick Moranis comes out of retirement
February 12th, 2020 under Josh Gad. [ Comments:

1

]

Back in 1997, Rick Moranis retired from acting to raise his two children, even though he was in some of my favorite movies. You know because it is all about me.
Anyways, Deadline revealed today that he is taking on his first scripted on-camera role since then. He will be reprising his role as Wayne Szalinski in the Honey, I Shrunk the Kids sequel Shrunk. The last movie he did was Honey, We Shrunk Ourselves.
The Disney movie will be centered around Josh Gad, who is playing his shrunken son all grown up. No word how they will handle the loss of Marcia Strassman, who played the mom in the first two movies, but not the third. The actress passed away in 2014.
Moranis has done some voiceover work and guest appearances, like on The Goldbergs, since he stayed away from the limelight. Maybe now that he is going to get the yummy taste of acting again, he will finally consider doing Space Balls 3: The Search for 2.
UPDATE: SlashFilm says that is mostly like the plit for Shrunk, "Aware that the family ties have loosened over time but seemingly afraid to confront anyone directly. He has been tinkering alone in his attic for decades, dealing with the grief of losing his wife. When we first meet him, he has accidentally shrunk himself and is flying around on a shrunken drone — seemingly lost in a continuous of tinkering and experimenting that often puts himself and his family in jeopardy. He later reveals he shut himself away to try and invent a solution to help shrink Diane's cancer but found it hard to cope when he ran out of time. His guilt and shame is palpable. Through the crisis of the kids getting shrunk, the truth emerges and the bonds begin to redevelop between him and his kids."
How screwed up is that they are doing that storyline when both his real and movie wives died from cancer? That and its sounds like an upbeat movie will be depressing. I am not even sure if Moranis is enough for me to go see it now.
---
Do you think Josh Gad does a good Idina Menzel?
November 20th, 2019 under Frozen, James Corden, Josh Gad. [ Comments:

none

]

Way before Josh Gad worked with Idina Menzel in Frozen, he became obsessed with the actress after seeing her in Rent and then Wicked. So much so, he demonstrated his best impression of her on The Late Late Show yesterday for James Corden and Perfect Harmony's Anna Camp.
The snowman was defying something with his take on his co-star, but it was not gravity. I think he needs to let it go because there are only two Idina Menzels in the world. One is the Broadway actress and the other one is Lea Michele.
---
Jenna Elfman and her TV son Josh Gad
November 4th, 2019 under Jenna Elfman, Josh Gad. [ Comments:

none

]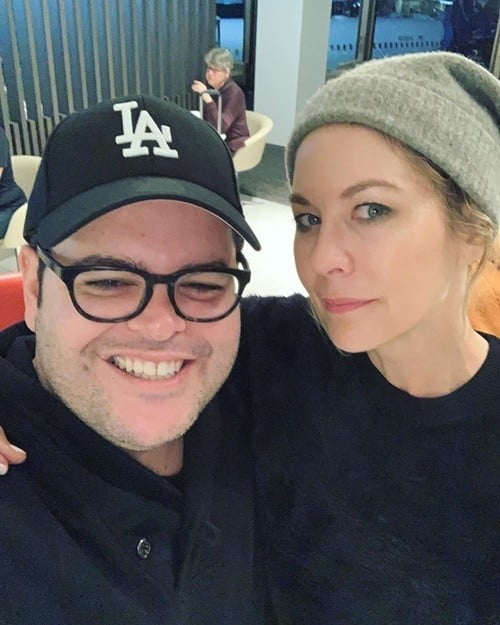 Before Josh Gad was a snowman, he was the President's son on 1600 Penn and Jenna Elfman was his TV mom. Six years after the show ended, the two actors were reunited at the airport at 2:45a. For once a red eye was not a bad thing for them
Besides catching up, maybe they were talking about bringing their show back. It could be about President Dale Gilchrist getting impeached because of the crazy and impeachable things his family has been doing. Unlike real life, the impeachable offenses are funny. Just like the show was!
BTW Can we talk about how great Elfman looks in the middle of the night? When I take a red eye, I look I went through the baggage carousel.
---
OMG, James Corden is sexy bald!
August 13th, 2019 under James Corden, Josh Gad. [ Comments:

none

]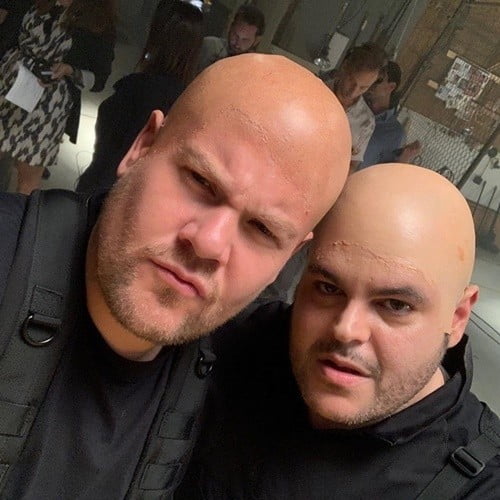 Josh Gad was on The Late Late Show yesterday. James Corden thought it would be fun if they revealed that they were the ones originally cast in this summer's biggest blockbusters. They had the roles before Brad Pitt and Leonardo DiCaprio in Once Upon a Time in Hollywood, The Rock and Jason Statham in Hobbs & Shaw and finally as Woody and Buzz Lightyear from Toy Story 4.
As we know, it did not work out for them, but we did learn something shocking about the CBS late night host. The cute Brit is actually really sexy with a chrome dome. He should shave it off ASAP and I don't normally find bald men attractive. However, on him, the Jack Russell becomes a German Shepard. Am I the only who is also turned on him by with this look?
---
The Frozen voices can't let each other go!
January 30th, 2019 under Frozen, Josh Gad, Kristen Bell. [ Comments:

none

]

Elsa, Anna, Prince Hans and Olaf were all in the same room together and they did not say why. All Josh Gad said about this kissing photo with Idina Menzel, Kristen Bell and Santino Fontana (how did I not know that the original Greg on Crazy Ex Girlfriend was in Frozen until now) is "Soon enough…"

Could it be that we are finally getting a trailer for Frozen 2 soon since the movie is slated to come out on November 22nd? Or maybe it is a Frozen treat to give to all the girls in our lives as a little present for their birthdays? What could it be? We will find out "Soon enough…"

Whatever it is, let's just hope it is not a song as catchy as Let It Go.
---