Who is late night's mystery guest coming up on Thursday?
August 2nd, 2019 under Conan O'Brien, Jimmy Fallon, Jimmy Kimmel, Seth Meyers, Stephen Colbert. [ Comments:

none

]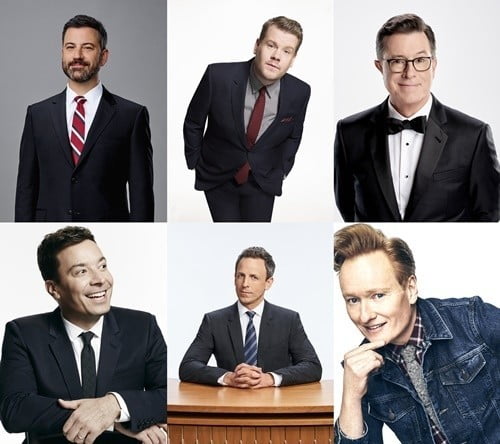 Sue Trowbridge, who runs the site Interbridge noticed something strange about the guest booking for the late night shows on August 8th. Since she has been listing which people are going to be on what talk shows since 1994, she would know if something is out of the ordinary.
What did she notice? She saw that Conan, Jimmy Kimmel Live, The Tonight Show with Jimmy Fallon, Late Night with Seth Meyers and The Late Show with Stephen Colbert all have a "Special Guest TBA." Who this guest is, we have no idea since they are to be announced.
Here are some of my theories. My first thought is Beyonce is going to release an album on the 9th and she is going to make the announcement on their shows. Or maybe one of the studios is releasing a secret movie next Friday? Could Oprah Winfrey or Michelle Obama be announcing that they are running for President of the United States? What about a bunch of celebrities announcing a telethon to raise money for something? Avengers: Endgame is coming out on home video the 13th, what if a cast member appears on each show with a special announcement.
Here is another interesting question, how will they handle it? Will they each get an exclusive with said guest? They all tape and air at different times. Would they all set a certain time so they could all interview them at the same time in a group interview? Will the guest give all of them a pre-taped statement? Will they each interview the person individually? Since Conan airs first, we will have to wait until T0ursday at 11p to find out.
Who do you think the mystery guest is? It has to be someone HUGE and it is not television show related.
---
Jeff Goldblum lost his virginity on his opening night!
July 26th, 2019 under Jeff Goldblum, Stephen Colbert. [ Comments:

none

]

Jeff Goldblum has had an interesting life and it all started on the first night of his professional career.
Back when he was 18 years old, he made his acting debut in Shakespeare in the Park's Two Gentlemen of Verona. On the opening night, he not only lost his acting cherry, but he also lost the other important one.
Only Jeff Goldblum can kill two milestones in one night! Which is why we bow down to him.
Too bad Stephen Colbert didn't let him finish the story. That is why I say The Late Show host is the worst interviewer in late night.
---
Beyonce was photoshopped into the Lion King group photo
July 23rd, 2019 under Beyonce, Stephen Colbert. [ Comments:

none

]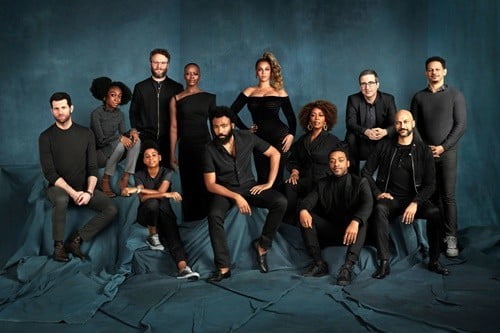 Disney released a group photo of the cast of The Lion King and people wondered if Beyonce was photoshopped into it. Yesterday, when John Oliver was on The Late Show, Stephen Colbert asked him just that.
Oliver admitted, "She wasn't there…I think almost everybody else was there." He then revealed that there was a piece of tape on the floor where she was supposed to be.
Even though she was not there physically, her presence was still felt. In fact, Oliver said he was intimidated by her and you can see it on his face.
I wonder why she was not there? Did she think she was better than everyone else? Things that make you go hmmm…
---
Jimmy Fallon and Stephen Colbert's NeverEnding Story!
July 16th, 2019 under Jimmy Fallon, Limahl, Netflix, Stephen Colbert. [ Comments:

none

]

I will admit, I am one of the few people who has not seen Stranger Things season 3 yet. I am still stuck on season 2. However, I have heard about the NeverEnding Story scene. Since I have been a neverending fan of Limahl's, I have been curious about that scene.
Then last night late night competitors Jimmy Fallon and Stephen Colbert went from their shared love of Ben & Jerry's ice cream to '80s soundtrack songs that are bigger than the movies they are from. In other words, they did that scene from the Netflix show, so now I get what all the fuss is about.
Even though The Tonight Show and The Late Show go head-to-head, the two hosts are in perfect harmony when they sing.
Now back to Limahl, personally, NeverEnding Story is not one of my favorite songs of his. I prefer everything off of his album Colour All My Days and from Kajagoogoo over it. Which means you need to discover his tunes. He is becoming a huge hit again on Spotify, so start there.
Now, if you are like me and have not seen the scene that started all of this, then click here!
---
Triumph The Insult Comic Dog triumphantly insults Ted Cruz!
November 6th, 2018 under Stephen Colbert. [ Comments:

none

]

The Late Show with Stephen Colbert sent Triumph The Insult Comic Dog to interview to Texas to interview their candidates for Senator Beto O'Rourke and Ted Cruz.
When the cigar smoker got a chance to talk to the emasculated candidate, the dog was really ruff on Cruz. The failed presidential candidate thought he had a chance to bark back with Just remember, it wasn't the Republicans, it was the Democrats that took you into the vet to get fixed. And there is freedom on the other side."
That is close but no cigar. Especially when the expert howled back with, "I support spaying and neutering, just like Trump did to you." You would think there is nothing left to take down there for the Cruz, but whatever was left is completely gone now.
Why do these politicians think they can out insult comedians, they can't. Especially ones like Cruz who takes it when someone attacks his wife's looks and his dad's reputation. Grow a pair because it is obvious he does not have any.
---