A '60s boy's wet dream, Barbara Eden and Connie Stevens!
August 21st, 2019 under 60s, Barbara Eden, Wet dream. [ Comments:

none

]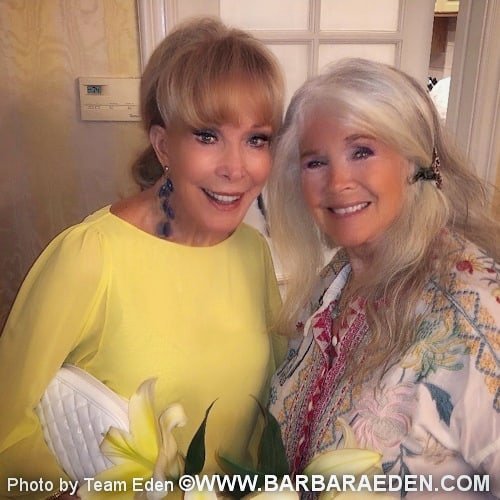 Back in the '60s, boys were at home watching Barbara Eden on the small screen in I Dream of Jeannie and going out to see Connie Stevens on the big screen. However, the two blondes never would share the screen together. Even though they only worked together with Bob Hope to entertain the troops, they have a friendship that has survived many decades.
One that brought them together yesterday looking as beautiful as they did 60 years ago at the start of their careers. Can you believe Eden is 87 and Steven is 81? 80 is the new 40. I am no longer afraid to get old if that is what it is going to look like.
---
Has Milo Manheim hit hard times?
April 9th, 2019 under 60s, Camryn and Milo Manheim. [ Comments:

none

]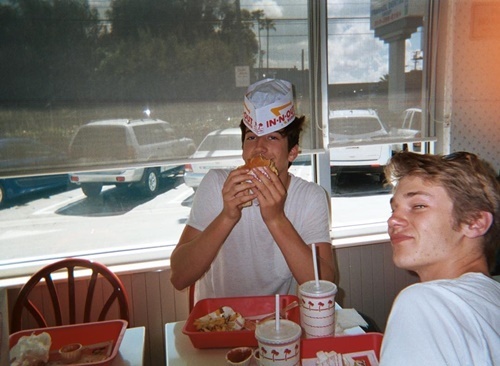 In the last year, Milo Manheim made it to the finals of Dancing with the Stars, guest starred on several episodes of American Housewives and is filming the sequel to Z-O-M-B-I-E-S, and yet he shared a photo of himself looking like he was on a break at In-n-Out. What is going on? Has the actor hit hard times?
Far from it. His mom, Camryn Manheim, revealed he will be going to NYU Tisch School. Since there are no In-N-Outs in NYC, I am sure he was just having some fun at the fast food joint.
---
Z-O-M-B-I-E-S come alive for a second movie!
February 11th, 2019 under 60s, Camryn and Milo Manheim, Disney Kids. [ Comments:

none

]

Movies like La La Land can win and lose the Oscar for Best Movie in a matter of minutes, but I would rather watch the Disney Channel Musical Z-O-M-B-I-E-S over and over again instead. In fact, I have. I am not alone because Disney finally announced today that they will begin filming the sequel in the spring. I don't know why it took them a year to make it official because I knew after watching it for the first time that it needs as many sequels as they can produce.
The first film is about Zombies being integrated into a human high school for the first time and the normals don't want to accept them. Think what it was like when schools ended segregation, but this is with Zombies, who are no longer brain eaters. Powerful, right? Plus, this movie is filled with several catchy songs and I cannot get enough of it.
Now we just have to wait for the sequel. Which according to press release, the telemovie, "will pick up at Seabrook High where, after a groundbreaking semester, Zed (Milo Manheim) and Addison (Meg Donnelly) continue to steer both their school and community toward unity, but the arrival of a new group of outsiders—mysterious werewolves—threatens to shake up the newfound peace and causes a rift in Zed and Addison's budding romance."
Unlike the big screen features, Disney Channel actually makes good sequels for their movies like Descendants 2 and Teen Beach 2. I might have aged out of their demographic a long long long time ago, but that does not mean I do not still love their movies. Teen Beach and Z-O-M-B-I-E-S are two of my all-time favorites and I don't care who knows it!
Sincerely, if you have not seen Z-O-M-B-I-E-S, then you need to watch it on the ABC app ASAP. Trying saying that three times fast. However, you will want to watch it three times fast!
---
BTWF: Milo Manheim home video
November 19th, 2018 under 60s, Before They Were Famous, Camryn and Milo Manheim. [ Comments:

none

]

Before Milo Manheim was robbed of the mirror ball trophy on Dancing with the Stars, he was in a tap dance club with his best friend. How cute was the sixth grader back in 2013? How is cute is it that his proud mother, Camryn Manheim, is sharing these home videos of her son?
---
Dawn Wells is having an estate sale
October 3rd, 2018 under 60s, Auctions. [ Comments:

none

]

Dawn Wells is having some financial woes and she is downsizing. Because of that, this weekend she is holding an estate sale.

The beloved actress is not only selling off items of her furniture but also some memorabilia from her days on Gilligan's Island and other shows. Therefore, if you are near Valley Village and a fan, it is the must go to sale of the weekend. Just don't expect to see her because her publicist Harlan Boll says she will not be in attendance. While she will not be there, I will be.

How could I say no to some of the things she is getting rid of? To see what she is parting with, check out EstateSales.Net.
---