A classic sitcom fan's wet dream!
January 13th, 2020 under 60s, 70s, 80s, Lydia Cornell, Wet dream. [ Comments:

none

]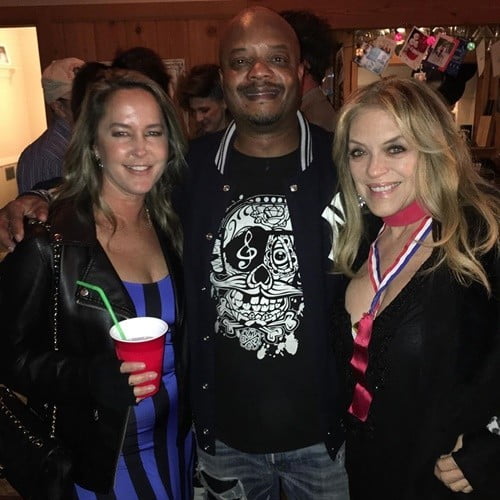 If you are a fan of classic sitcoms, then you recognize all of these faces. In the late '60s, we got to know Erin Murphy as Tabitha Stephens on Bewitched. Then in the mid-'70s, we were all saying, "Whatcha talking about Willis," to Todd Bridges on Diff'rent Strokes. Finally, in 1980, Lydia Cornell was making TV sexier on Too Close for Comfort. Even though their shows have been in syndication forever, they never did one together.
So what brought the three of them together now? They were all celebrating Keith Coogan's 50th birthday. Doesn't it feel like all of this would be a perfect start for a new sitcom? It could be about child stars trying to get a second chance in Hollywood.
---
A Time Tunnel reunion
October 24th, 2019 under 60s, Reunions. [ Comments:

none

]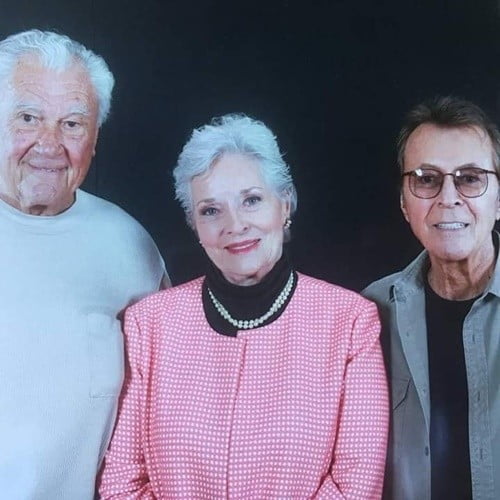 Even though Time Tunnel aired for just one season from 1966-1967, it still airs in syndication. The cast also formed a special bond and still hang out 53 years after it debuted. James Darren shared this photo with his co-stars Lee Meriwether and Robert Colbert and they still all look fantastic.
Even though they are all in their 80's, I think they have one more season in them. Would you watch?
---
A '60s teen girl's wet dream, James Darren and Engelbert Humperdinck!
September 24th, 2019 under 60s, Wet dream. [ Comments:

none

]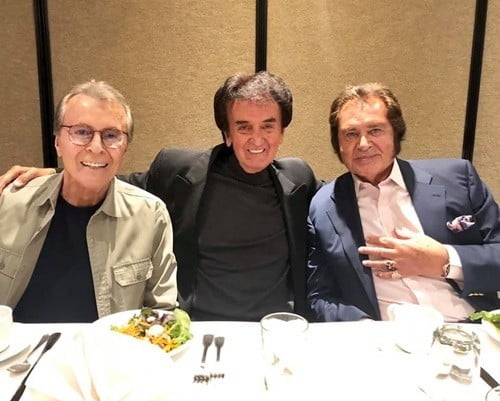 Back in the '60s, teenage girls were listening to Engelbert Humperdinck sing Release Me and watched James Darren in The Time Tunnel. However, they never saw the two teen idols together.
What those teens did not know is that they are actually good friends. So much so, that this weekend Darren and comedian Johnny Dark came out to help the crooner accept his Hall of Fame Award from the Hollywood Media Professionals.
Even though both the iconic crooners are 83 years old, I am sure none of those girls would turn them down now because they look great for their age. They might not be teen idols anymore, but they are definitely octogenarian idols!
---
A classic sitcoms' fan's wet dream
August 23rd, 2019 under 60s, 70s, 80s, Barbara Eden. [ Comments:

none

]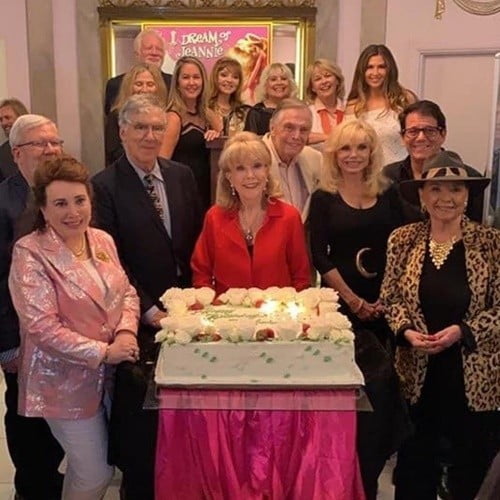 Today is Barbara Eden's 88th birthday. However, she celebrated it earlier this week with some friends at The Hollywood Museum. You might recognize some of them because, like her, they have been on our TVs all of our lives.
Do you recognize Leonard Maltin (movie critic), Elliott Gould (E/R), Roslyn Kind (Singer), Donny Most (Happy Days), Erin Murphy (Bewitched), Judy Tenuta (comedian), Peter Marshall (Hollywood Squares), Loni Anderson (WKRP in Cincinnati), Ilene Graff (Mr. Belveder), Anson Williams (Happy Days) and Dawn Wells (Gilligan's Island)?
We normally might have to change the channels to see them all, but for once we get to see them all in one dream photo? I feel like I rubbed Jeannie's bottle and a wish I never knew I wanted came true. While we got our wish, I hope that Eden got the one she made when she blew out her candles.
Happy Birthday Barbara Eden, may you get everything you want and more!
---
A '60s boy's wet dream, Barbara Eden and Connie Stevens!
August 21st, 2019 under 60s, Barbara Eden, Wet dream. [ Comments:

none

]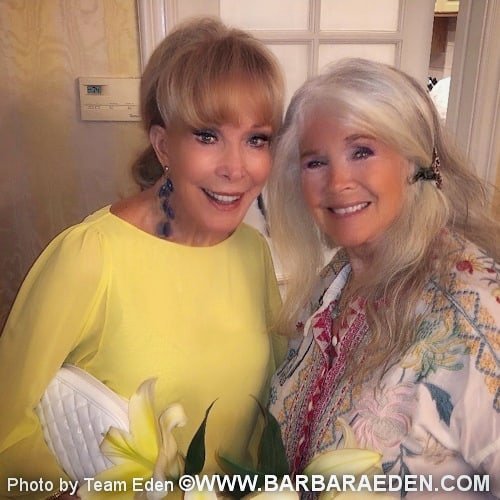 Back in the '60s, boys were at home watching Barbara Eden on the small screen in I Dream of Jeannie and going out to see Connie Stevens on the big screen. However, the two blondes never would share the screen together. Even though they only worked together with Bob Hope to entertain the troops, they have a friendship that has survived many decades.
One that brought them together yesterday looking as beautiful as they did 60 years ago at the start of their careers. Can you believe Eden is 87 and Steven is 81? 80 is the new 40. I am no longer afraid to get old if that is what it is going to look like.
---