Lindsey Buckingham takes the high horse with the Cranberry Dreams craze
October 22nd, 2020 under 60s. [ Comments: none ]

Nathan Apodaca became a viral sensation while riding his skateboard, drinking some Ocean Spray cranberry juice, and singing Fleetwood Mac's Dreams. The video got so popular that Mick Fleetwood and Stevie Nicks did their own take on it.
Even though the band told him to go his own way, that is not stopping Lindsey Buckingham from recreating the video. The singer got a camera and showed his former bandmates that he will take the high horse. As in, he got on one.
Wouldn't it be bitchin' if this trend actually brings the band back together? Stranger things have happened.

---
Did Julie Newmar really just turn 87?
August 19th, 2020 under 60s, Are they really their age?. [ Comments: none ]

On August 16th, Julie Newmar turned 87 years old. However, I would never believe it, looking at this photo she shared from her birthday celebration. She is just a purrfect now as when she played Catwoman on Batman in the mid-'60s.

Doesn't she make you go, "meow"? That is why she got a film in honor, you know, To Wong Foo, Thanks for Everything! Julie Newmar.

---
Dawn Wells spills the coconut creme pie on Gilligan's Island
May 29th, 2020 under 60s. [ Comments: none ]

So sit right back, and you'll hear a tale. In 1964, seven people went on a three-hour tour, and we are still talking about them today. Of course, I am talking about Gilligan's Island. And Dawn Wells, who played MaryAnn, is talking about it to Studio 10's Craig Bennett.
The actress revealed secrets to him about her fellow castaways. She says that Bob Denver was a shy man, unlike Gilligan. However, he was funny like his character. Alan Hale, Jr. loved playing the Skipper up until his death in 1990. Jim Backus was just as cheap as Thurston Howell. While Natalie Schaffer was as proper as Mrs. Howell. When it comes to who she thinks MaryAnn would have had an island fever with, both her and her character had a thing for the Professor, Russell Johnson.
Although, he was never going to see her bellybutton. Back then, they were not allowed to show the whole thing. A half-moon was OK, but not a full circle. She says cleavage was also a no-no. Imagine what would have happened if Raquel Welch had landed the role of the sweet girl next door?
One thing, most girls next door know how to do is cook, and Wells showed us to bake a coconut creme pie. How yummy does it look? I told my friend to make it bake it for me because I don't do that.

---
The Cleaver brothers from Leave It to Beaver reunited
February 24th, 2020 under 60s, Reunions. [ Comments: none ]

Ever since Leave It to Beaver debuted in 1957, everyone has been in love with the Beaver and his brother Wally. Now, 62 years later, Jerry Mathers and Tony Dow recently reunited at The Hollywood Show. It is nice to see their friendship has lasted as long as their show that is still airing in syndication.
I find that shows where the casts remain close after it has its run are the ones that last the longest in syndication. It is as though we can feel their chemistry through the screen.
Now let's talk about the actors, can you believe they are in their 70's? They both aged really well. Maybe it is time they revived the show again, and their grandsons are the best of friends like they were.

---
A classic sitcom fan's wet dream!
January 13th, 2020 under 60s, 70s, 80s, Lydia Cornell, Wet dream. [ Comments: none ]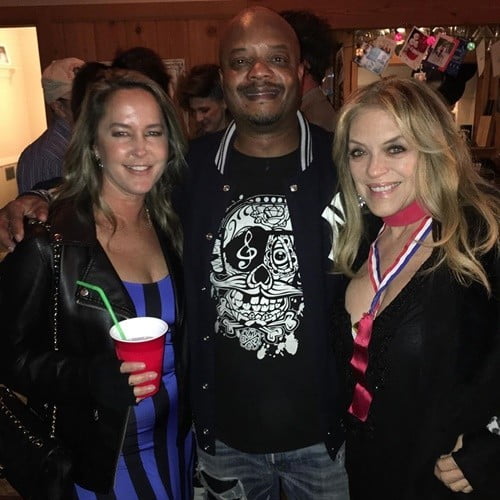 If you are a fan of classic sitcoms, then you recognize all of these faces. In the late '60s, we got to know Erin Murphy as Tabitha Stephens on Bewitched. Then in the mid-'70s, we were all saying, "Whatcha talking about Willis," to Todd Bridges on Diff'rent Strokes. Finally, in 1980, Lydia Cornell was making TV sexier on Too Close for Comfort. Even though their shows have been in syndication forever, they never did one together.
So what brought the three of them together now? They were all celebrating Keith Coogan's 50th birthday. Doesn't it feel like all of this would be a perfect start for a new sitcom? It could be about child stars trying to get a second chance in Hollywood.

---