BTWF: Barbara Eden in Bachelor Father
December 21st, 2021 under Barbara Eden, Before They Were Famous. [ Comments: none ]
Before Barbara Eden was married to the Major on I Dream of Jeannie, she was dating the Bachelor Father. How beautiful was the 26-year-old in that 1957 episode?

---
What storyline does Barbara Eden think was the demise of I Dream of Jeannie?
December 20th, 2021 under Barbara Eden. [ Comments: none ]
I Dream of Jeannie is one of the most beloved TV shows. It has been on the air ever since it debuted. However, it did get cancelled after five seasons in 1970.
Barbara Eden feels it could have gone longer, and she has a theory of why it ended. Over the weekend, the actress tweeted, "What was your favorite episode of I Dream of Jeannie? Mine was the pilot and The Wedding, although marrying Jeannie and Tony was a mistake and ultimately brought about the end of the show, also she was just a wisp of smoke, even if SHE thought she was real! -B"
Do you agree with her? TV experts believe her because it is noted as the first show to get the ax for this reason. Other shows that met their fate the same way are Moonlighting, Who's the Boss?, and The Nanny. Once the sexual tension is gone, so is the show.

---
BTWF: Barbara Eden for Dial Soap
August 24th, 2021 under Barbara Eden, Before They Were Famous. [ Comments: none ]
Before Barbara Eden could change the color of soap because she was a Jeannie on I Dream of Jeannie, she had to buy colored Dial Soap. How gorgeous was the 25-year-old in that 1952 ad?

---
Is Barbara Eden really 90 years old?
August 23rd, 2021 under Barbara Eden. [ Comments: none ]
Today is Barbara Eden's 90th birthday. However, you would never know it by looking at her enjoying her celebratory cupcakes today.
She never ages. I want to know what her secret is. But I think it has something to do with sleeping in Jeanie's bottle. Does anyone know where I can get one?
Although, if the bottle turns back the hands of time as it does for her, then I will be a baby all over again. And I ain't going through school and puberty all over again.
Now back to our favorite Jeannie. If you didn't know her real age, how old would you think she is?

---
A classic sitcoms' fan's wet dream
August 23rd, 2019 under 60s, 70s, 80s, Barbara Eden. [ Comments: none ]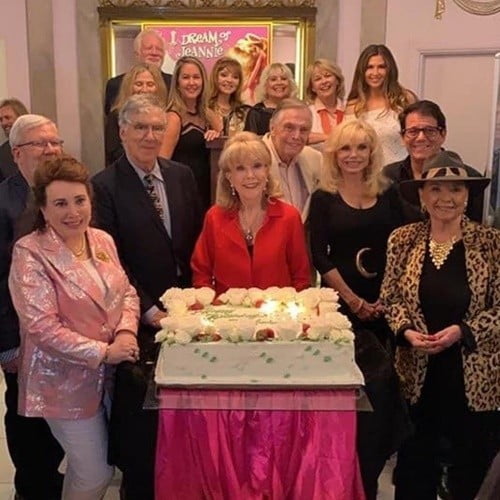 Today is Barbara Eden's 88th birthday. However, she celebrated it earlier this week with some friends at The Hollywood Museum. You might recognize some of them because, like her, they have been on our TVs all of our lives.
Do you recognize Leonard Maltin (movie critic), Elliott Gould (E/R), Roslyn Kind (Singer), Donny Most (Happy Days), Erin Murphy (Bewitched), Judy Tenuta (comedian), Peter Marshall (Hollywood Squares), Loni Anderson (WKRP in Cincinnati), Ilene Graff (Mr. Belveder), Anson Williams (Happy Days) and Dawn Wells (Gilligan's Island)?
We normally might have to change the channels to see them all, but for once we get to see them all in one dream photo? I feel like I rubbed Jeannie's bottle and a wish I never knew I wanted came true. While we got our wish, I hope that Eden got the one she made when she blew out her candles.
Happy Birthday Barbara Eden, may you get everything you want and more!

---