Lifetime brings five '80s divas together for a Christmas movie!
October 3rd, 2023 under Dallas, Donna Mills, Lifetime, Loni Anderson, Morgan Fairchild, Nicollette Sheridan. [ Comments: none ]
Christmas came early this year because Lifetime announced today that they are bringing some of the '80s most beautiful divas together for a telemovie.
Ladies of the '80s: A Divas Christmas stars Loni Anderson (WKRP in Cincinnati), Morgan Fairchild (Falcon Crest), Linda Gray (Dallas), Donna Mills (Knots Landing), and Nicollette Sheridan (Knots Landing and Dynasty).
In Ladies of the '80s: A Divas Christmas, five glamorous soap opera actresses reunite to share the spotlight to shoot the final Christmas episode of their long-running soap opera. The producer, Alex (Travis Burns) and director Nell (Taylor Ann Thompson), who happen to be old college friends, do their best to keep things on the rails but as the ladies come together, old rivalries resurface that threatens to tear the whole production apart. With the show nearly canceled before it even begins due to the ladies' famous diva behavior, they reluctantly agree to set aside their differences and past secrets to "act" as if they all still love each other. When old sparks reignite between Alex and Nell, the ladies become eager to play cupid and conspire to bring the couple together. Along the way, the divas also discover that the love between them all is still very strong too.
Ladies of the '80s will debut later this year. But since it is already filed, I hope it is soon rather than later because I can't wait to see this film.
So many gorgeous women in one place, and not a single one of them looks any different than they did in the '80s. They just keep getting better and better with age!
To see two more fun photos from the movie, then click here!

---
Loni Anderson talks about kissing Arnold Schwarzenegger
March 12th, 2021 under Andy Cohen, Arnold Schwarzenegger, Loni Anderson. [ Comments: none ]

Loni Anderson was on Watch What Happens Live yesterday, and Andy Cohen wanted to know about her kissing scene with Arnold Schwarzenegger in The Jayne Mansfield Story.
It was the body builder's first role, and he wanted to make sure he was authentic when he played Mickey Hargitay, Mansfield's husband and Mariska Hargitay's dad. Therefore, he went all-in for the kiss, and it has been reported the director had to yell cut.
"It was a pretty amazing kiss. I think I yelled, 'cut,'" Anderson said. "It was getting pretty intimate." She then added that he was a good kisser.
Now, let's talk about the actress. Can you believe that she is 75 years old? She looks phenomenal. Even better than when she starred in the 1980 telemovie.

---
A classic sitcoms' fan's wet dream
August 23rd, 2019 under 60s, 70s, 80s, Barbara Eden, Loni Anderson. [ Comments: none ]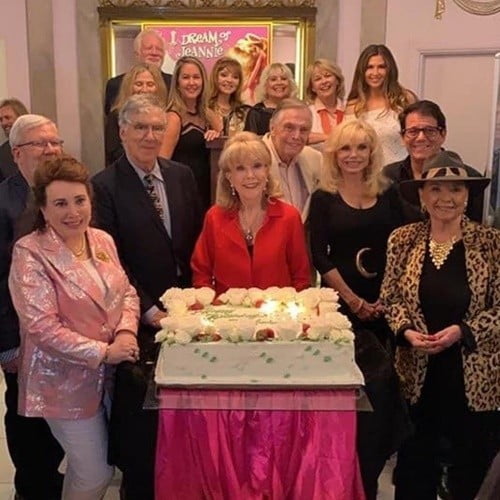 Today is Barbara Eden's 88th birthday. However, she celebrated it earlier this week with some friends at The Hollywood Museum. You might recognize some of them because, like her, they have been on our TVs all of our lives.
Do you recognize Leonard Maltin (movie critic), Elliott Gould (E/R), Roslyn Kind (Singer), Donny Most (Happy Days), Erin Murphy (Bewitched), Judy Tenuta (comedian), Peter Marshall (Hollywood Squares), Loni Anderson (WKRP in Cincinnati), Ilene Graff (Mr. Belveder), Anson Williams (Happy Days) and Dawn Wells (Gilligan's Island)?
We normally might have to change the channels to see them all, but for once we get to see them all in one dream photo? I feel like I rubbed Jeannie's bottle and a wish I never knew I wanted came true. While we got our wish, I hope that Eden got the one she made when she blew out her candles.
Happy Birthday Barbara Eden, may you get everything you want and more!

---
The World's Largest Disco celebrates with the era's biggest stars
November 26th, 2018 under Loni Anderson, The Brady Bunch, The Facts of Life. [ Comments: none ]

Over the weekend, Buffalo held the World's Largest Disco and several '70s icons came out to put on their boogie shoes. The groovy celebs are The Brady Bunch's Barry Williams, Mike Lookinland, Chris Knight, Susan Olsen with "Fake Jan" Geri Reischl, Howard Hesseman and Loni Anderson from WKRP in Cincinnati, Lisa Whelchel from The Facts of Life and Deney Terrio from Dance Fever.

What a neato lineup of actors who look just as great now as they did then. Plus, they did it for a good cause because the event was to raise money for Camp Good Days & Special Times. That's the way, uh huh, uh huh, I like it.

---
BTWF: Loni Anderson for Secret Deodorant
May 22nd, 2018 under Before They Were Famous, Loni Anderson. [ Comments: none ]

Before Loni Anderson was good at keeping secrets on WKRP in Cincinnati, she was using Secret Deodorant. How beautiful is the 27-year-old in that 1972 commercial?

---