Your grandmother's wet dream: George Hamilton and Tom Jones!
May 15th, 2023 under George Hamilton, Tom Jones, Wet dream. [ Comments: none ]
Back in the '60s, your grandmother was dreaming of George Hamilton while listening to Tom Jones' music. However, she never saw those two tanned men together.
That was then, and this is now. Over the weekend, the actor, 83, and singer, 82, hung out at the Hard Rock Cafe in Miami, and they created a Sex Bomb! One that will make your grandma's panties say, "What's New Pussycat?"
I hope grandpa got the Viagra ready because he is going to need it!!!

---
Your cool aunt's wet dream: Richard Marx, John Corbett and James Brolin!
May 12th, 2023 under John Corbett, Richard Marx, Wet dream. [ Comments: none ]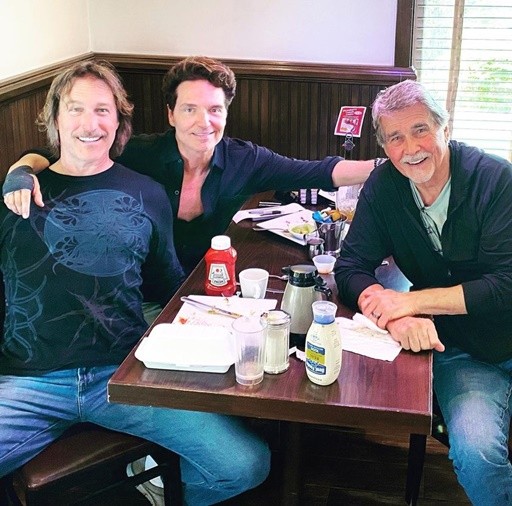 Let's admit it, we all have that cool aunt! And she has some interesting taste in celebrity men. She is the type of woman who would listen to Richard Marx and watch John Corbett and James Brolin.
So for National Aunt Day, you would love to get her lunch with the three sexy men. But that is not possible?
Actually, it is. She can have wet dreams about it because that is what they did yesterday, and the singer shared photographic evidence of them hanging out.
I wonder what they talked about. They probably shared secrets on how they remain so hot after all of these years.

---
A '70s music fan's wet dream: Charo, Barry Manilow and Dionne Warwick
May 3rd, 2023 under Barry Manilow, Charo, Dionne Warwick, Wet dream. [ Comments: none ]
Back in the '70s, everyone was doing the Cuchi Cuchi to Charo, Barry Manilow, and Dionne Warwick. However, they weren't doing it at the Copacabana. Instead, they were doing it in their bedrooms because that was the only location where they could hear the three of them in the same place.
And as often as they would say a little prayer to make the three of them be in the same room, it never happened. But someone said a big prayer, and we have a lineup that would make The Love Boat wet.
That is because the three singers met up at Carnegie Hall, and we just get to bask in the glory of their enormous talent. And wishin' and hopin' that they were talking about either releasing a song or going on tour together. I would pay bucks to see them on a weekend in New England or anywhere they perform live.
Imagine the stories these legends could tell. It is stuff that Manilow writes songs about.

---
An '80s boy's wet dream: Diane Franklin and Kelli Maroney
April 5th, 2023 under Diane Franklin, Wet dream. [ Comments: none ]
Back in the '80s, boys wanted to lose their virginity to Diane Franklin from The Last American Virgin. But they would likely be Better Off Dead before that would happen.
And then there was Kelli Maroney, who was the original cheerleader who was going to save the world in the Night of the Comet.
Even though teenage boys would dream about them both, they never worked together.
However, they are now playing on the beach together in their bathing suits. Don't the '80s sex symbols still look hot today? Someone get these Scream Queens a movie because they can still make the boys scream.

---
An '80s boy wet dream: Diane Franklin, Heather Langenkamp, and Deborah Foreman!
February 21st, 2023 under Diane Franklin, Wet dream. [ Comments: none ]
Back in the '80s, Diane Franklin wanted to lose her virginity in The Last American Virgin, Heather Langenkamp was Freddy Krueger's obsession in Nightmare on Elm Street, and Deborah Foreman dated a city boy in Valley Girl.
Girls wanted to be them, and boys wanted to date them. However, the three actresses never did a movie together. That was then, and now they can get together at conventions like Days of the Dead in Las Vegas.
Hopefully, someone will see this photo and be like I have to make a film with the trio. Especially since they are all still so beautiful!

---