A '70s sitcom fan's wet dream!
October 1st, 2019 under 70s, Wet dream. [ Comments:

none

]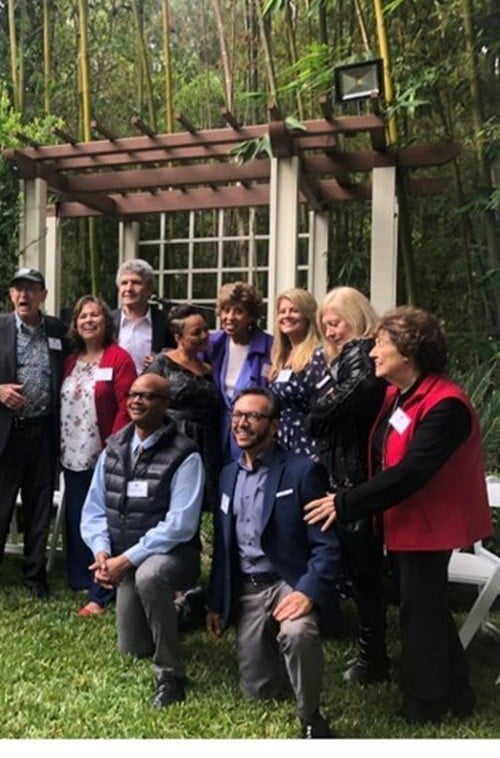 Back in the '70s, people were addicted to watching Marla Gibbs on The Jeffersons, Todd Bridges on Diff'rent Strokes, Lisa Whelchel and Kim Fields on The Facts of Life and Glenn Scarpelli on One Day At a Time.
That was then, where are Florence, Willis, Blair, Tootie and Alex now? They all got together over the weekend at an event for the National Parks Conservation Association. While we got this amazing photo of them still looking totally far out, we also need to remember we need to preserve these parks. We want our kids to enjoy them as much as we did. Then we want their kids to enjoy it as much our kids did and so on.
Just like syndication, home video and streaming keep their shows alive, we need to keep out national parks thriving.
---
A '60s teen girl's wet dream, James Darren and Engelbert Humperdinck!
September 24th, 2019 under 60s, Wet dream. [ Comments:

none

]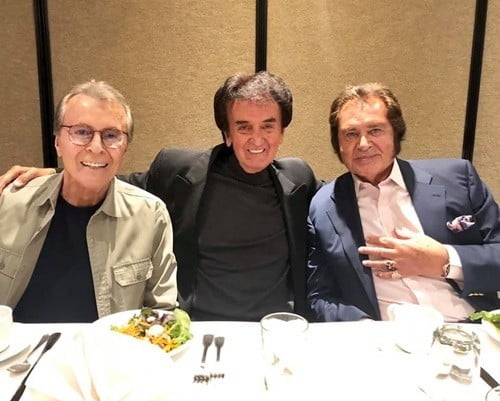 Back in the '60s, teenage girls were listening to Engelbert Humperdinck sing Release Me and watched James Darren in The Time Tunnel. However, they never saw the two teen idols together.
What those teens did not know is that they are actually good friends. So much so, that this weekend Darren and comedian Johnny Dark came out to help the crooner accept his Hall of Fame Award from the Hollywood Media Professionals.
Even though both the iconic crooners are 83 years old, I am sure none of those girls would turn them down now because they look great for their age. They might not be teen idols anymore, but they are definitely octogenarian idols!
---
A '70s girl's wet dream: Henry Winkler and John Travolta!
August 26th, 2019 under Henry Winkler, John Travolta, Wet dream. [ Comments:

none

]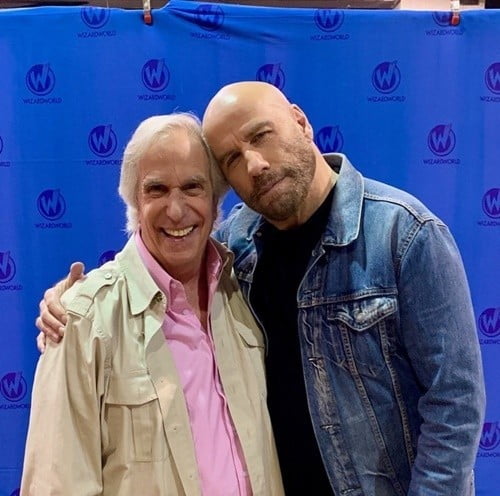 Back in the '70s, women were in love with The Fonz and Vinnie Barbino. Even though both of them shared many magazine covers, we never saw them in the same photo.
That is until now. The two men met over the weekend, and we got this smile-inducing photo as a present. It might be over 40 since we fell in love with Henry Winkler on Happy Days and John Travolta on Welcome Back, Kotter, however, we still adore them as much now as we did then. They both get better with age. And I still would not tell them to "Sit on it" or say to them "Up your nose with a rubber hose." Yet, I would love to scream "Ayyyy" with them. If you know what I mean.
Seriously, doesn't this picture bring you so much joy? It made my day!
They should do a project together. Maybe they both can compete to be Danny Zuko in a sequel to Grease. Since Winkler turned it down and Travolta, as we know, got the role. I wonder if they talked about that when they met up?
I can honestly just see the two of them talking to each other with huge smiles on their faces. They both are some of the nicest guys in Hollywood.
---
A '60s boy's wet dream, Barbara Eden and Connie Stevens!
August 21st, 2019 under 60s, Barbara Eden, Wet dream. [ Comments:

none

]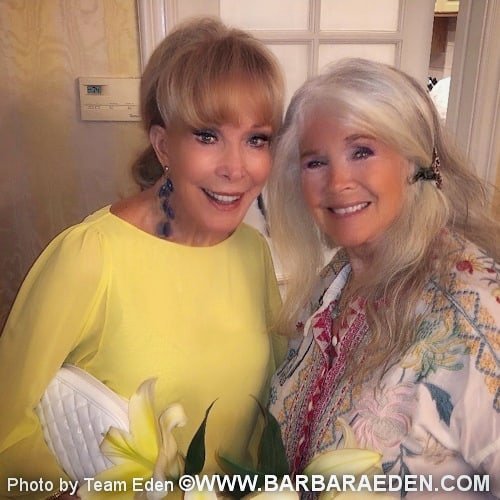 Back in the '60s, boys were at home watching Barbara Eden on the small screen in I Dream of Jeannie and going out to see Connie Stevens on the big screen. However, the two blondes never would share the screen together. Even though they only worked together with Bob Hope to entertain the troops, they have a friendship that has survived many decades.
One that brought them together yesterday looking as beautiful as they did 60 years ago at the start of their careers. Can you believe Eden is 87 and Steven is 81? 80 is the new 40. I am no longer afraid to get old if that is what it is going to look like.
---
An '80s girl's wet dream: Billy Idol and Dave Wakeling
July 29th, 2019 under 80s, Billy Idol, Wet dream. [ Comments:

none

]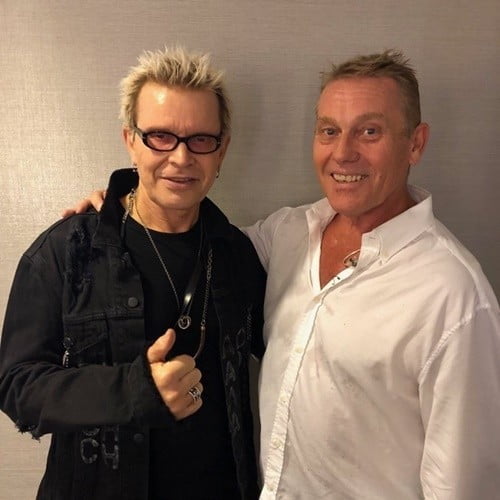 Back in the '80s, Billy Idol was dancing with himself. While Dave Wakeling was dancing with English Beat and General Public. One was a little bit Rock'n'Roll, while the other one was a little bit New Wave. Therefore, never should the two not meet!
That was then and this is now. Over the weekend, they showed a little Tenderness towards each other as you can see in this photo! Maybe they can make some Mony Mony together and go on tour. I know seeing them on one bill will take me there.
Sadly, Ranking Roger Charlery will not be able to join them. He passed away in March at the age of 56.
---