An '80s music fan's wet dream: Billy Idol and Bryan Adams on tour
April 29th, 2019 under 80s, Billy Idol, Bryan Adams, Wet dream. [ Comments:

none

]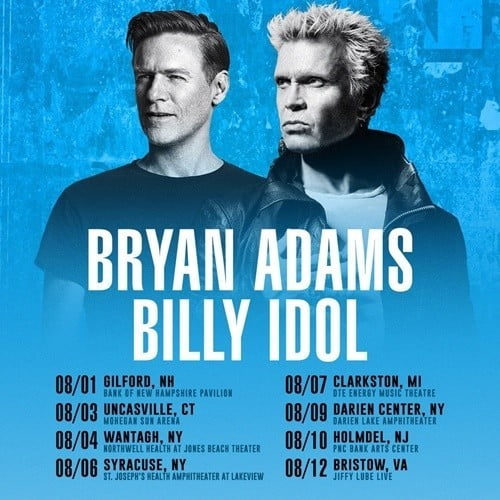 Back in the '80s, Billy Idol and Bryan Adam were two of the decade's biggest rockers. The Rebel Yell singer was a harder rocker while the Summer of '69 one was softer. Which means, they were opposites and they would not have gone on tour together.
That was then and this is now. They are no longer only Dancing with Myself because 35 years later, the two of them are hitting the road in August together with an epic 8-city tour in the North East. Giving fans of the '80s a wet dream of a double bill.
Hopefully, if it makes a lot of Mony, Mony, they will expand their dates to the rest of the country. So on May 1st, Run to You computer and get your tickets to see them rocking. I bet you it is a night that will leave you in Heaven.
I wonder what song they will sing together on the tour? I am thinking it will be the Canadian's Diana because it was about Princess Diana and Idol is British.
---
A '90s girl's wet dream: Vanilla Ice, Tone Loc and Kid
February 4th, 2019 under 90s, Vanilla Ice, Wet dream. [ Comments:

none

]

Back in the '90s girls were listening to Vanilla Ice and Tone Loc while watching Kid 'n Play, but never did the three meet. That was then, this is now.

The two rappers posed with DJ Born for a photo and the actor was able to photobomb them. I hope they invited him and talked about doing a movie together. Imagine the three of them doing a party movie? Girls from that era would run out to theaters to see. They might even go old school and buy the soundtrack on CD. Just like they did back then.
---
Echo and a Bangles woman
January 4th, 2019 under 80s, Wet dream. [ Comments:

none

]

Back in the '80s, The Bangles, and Echo and the Bunnymen had some of the biggest songs on the huge soundtracks, but, believe it or not, the never met. That was a long time ago. Over the weekend the lead singers of both groups, Susanna Hoffs and Ian McCulloch, finally got to meet.

Who knows maybe they can combine their voices for People are Strange when the Walk Like An Egyptian? Actually, who cool would it be if both bands went on tour together? The sound is so different but yet almost the same.
---
A '80s boy's wet dream!
December 12th, 2018 under 80s, Donna Mills, Wet dream. [ Comments:

none

]

Back in the '80s, boys lusted after Greatest American Hero's Connie Sellecca, Wheel of Fortune's Vanna White and Knot's Landing's Donna Mills. What they did not know is that the three of them have been getting together almost every week for lunch for the last 24 years.

If only they knew that ahead of today, they could have been a waiter at that restaurant and had their wet dreams come true. Three for the price of one. Not only that, they would have gotten more than one tip! I won't make that other tip joke because it is too obvious.

Back to the three ladies, can you believe that Sellecca is 63, White is 61 and Mills is 78 because they still look like they did in the '80s. Actually, they might even look better now than they did then. What do you think?
---
An '80s boy's wet dream: Lydia Cornell and Kristy McNichol
October 23rd, 2018 under Kristy McNichol, Lydia Cornell, Wet dream. [ Comments:

none

]

Back in 1980, Kristy McNichol was everyone's little darling and boys wanted to see what was Too Close for Comfort for Lydia Cornell. At the time, their careers were going in different directions, and we never saw them together.

That was then, now 48 years later the long-time friends met up at the Hollywood Show and took this photo. They are just as beautiful now as they were then. They could still do a poster and their fans would hang it up on their walls. Which makes you wonder why some studio has not given them a project together.
---