A classic sitcoms' fan's wet dream
August 23rd, 2019 under 60s, 70s, 80s, Barbara Eden. [ Comments:

none

]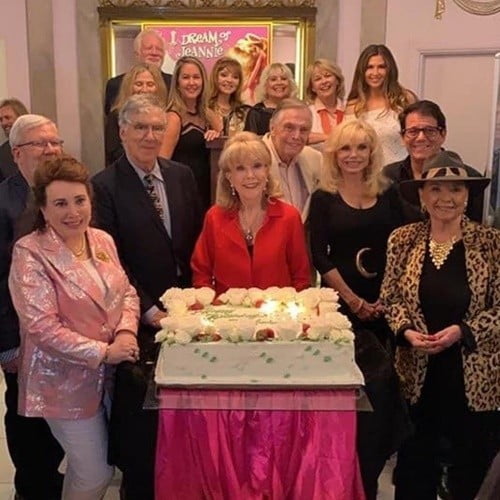 Today is Barbara Eden's 88th birthday. However, she celebrated it earlier this week with some friends at The Hollywood Museum. You might recognize some of them because, like her, they have been on our TVs all of our lives.
Do you recognize Leonard Maltin (movie critic), Elliott Gould (E/R), Roslyn Kind (Singer), Donny Most (Happy Days), Erin Murphy (Bewitched), Judy Tenuta (comedian), Peter Marshall (Hollywood Squares), Loni Anderson (WKRP in Cincinnati), Ilene Graff (Mr. Belveder), Anson Williams (Happy Days) and Dawn Wells (Gilligan's Island)?
We normally might have to change the channels to see them all, but for once we get to see them all in one dream photo? I feel like I rubbed Jeannie's bottle and a wish I never knew I wanted came true. While we got our wish, I hope that Eden got the one she made when she blew out her candles.
Happy Birthday Barbara Eden, may you get everything you want and more!
---
Watch Alan Alda teach Mike Farrell how to find his podcast!
February 5th, 2019 under 70s. [ Comments:

none

]

Back on the '70s, Alan Alda and Mike Farrell knew everything about medicine on their show M*A*S*H. In the year 2019, the two of them have to figure out how to set up Alda's Podcast, Clear+Vivid, on his buddy's phone.
In a time when things seem so dark, here is something that is so full of light. I dare you not to smile through the whole lesson. Especially when Arlene Alda complains about having to hold the camera up for so long. Boys will be boys. Isn't it so sweet to see that they are still such great friends after 40 years?
Oh and I hope no one tells Alda he spelled ApplePodcasts.com wrong. But we all do that when we have to type two long words together. Which makes that tweet even sweeter!
---
BTWF: Brad Garrett on Dick Clark's Nitetime
November 7th, 2018 under 70s, Before They Were Famous, Brad Garrett. [ Comments:

none

]

Before Brad Garrett had his own comedy club in Las Vegas, he was an up and coming comedian doing standup on Dick Clark's Nitetime. How funny was the 25-year-old in that 1985 episode? Who knew he could do impressions?
---
What's Happening's Danielle Spencer recently got emergency brain surgery
October 19th, 2018 under 70s. [ Comments:

none

]

Back on the '70s, Danielle Spencer was known as the tough-talking Dee on What's Happening. On September 7, 1976, she was in a car accident that left her in a coma for three weeks, a broken leg, arm and pelvis. Her stepfather died in that accident.
Since then she has had several complications from it, the latest one almost killing her. On the 41st anniversary of the accident, she started suffering debilitating headaches. She went back and forth to the doctor and was prescribed medicine. Then she was found unresponsive and rushed to the hospital. Doctors "did emergency brain surgery removing a bleeding hematoma that formed due to the car accident 41 years ago."
Now she is on the road to recovery, but she needs some financial help. Her friends started a GoFundMe Page to raise the $25,000 she needs during the long rehabilitation period.
Since the show ended she has worked as a veterinarian and did some occasional acting. Back in 2014, she was diagnosed with breast cancer. Throughout all of her health issues from the accident and cancer, she remains positive. She will get through this too, she just needs a little help from us.
---
Fuller House just got six million dollars richer!
July 2nd, 2018 under 70s, Full House. [ Comments:

none

]

Fresh off of their successful Hallmark movie, Eat, Play, Love, the Six Million Dollar Man and the Bionic Woman are joining forces again. This time Lee Majors and Lindsay Wagner are cruising their way over to Fuller House.

The '70s icons filmed their episode this weekend and Jamie Sommers gave us a little sneak peek. According to TVLine, "D.J. (Candace Cameron Bure), Stephanie (Jodie Sweetin) and Kimmy (Andrea Barber) mix things up by planning a girls night out — only to discover they've accidentally booked themselves on a senior citizens dinner cruise." The ladies come across some interesting people like the bionic duo and shop & dash's Lanie Kazan.

No word when season four of Fuller House will begin to stream on Netflix, but this is an episode to watch out for.

You know if Majors and Wagner keep teaming up like this, then I bet you someone will revive their shows based on their bionic babies. They can have babies, right? I mean, they were still human after all. Did they ever address their reproductive organs on the dramas?
---