Whatcha talkin' about Todd Bridges?
January 4th, 2022 under 70s, The Brady Bunch. [ Comments: none ]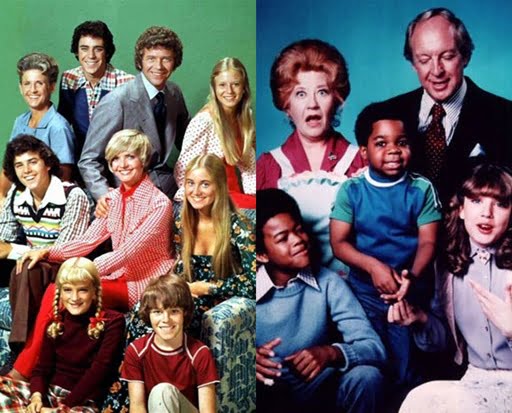 Did you ever watch Diff'rent Strokes and think this show is so much more risque than The Brady Bunch ever was? It was not.
What? Todd Bridges just revealed a secret about the show that made him famous. "A lot of our scripts were actually The Brady Bunch. We had the same executive producer," he wrote. "When I would watch the Brady Bunch I would say wow that was the Different Strokes episode. Talk about recycling ideas."
Now, I am off to rewatch both shows and see which episodes were recycled. We know the bicycle man episode was all Diff'rent Strokes.
OMG! Does that mean that Cindy Brady and Arnold Jackson are one in the same? And that Willis is Greg, Kimberly is Marcia, and Sam is cousin Oliver? Mind officially blown!

---
The Unknown Comic comes out of retirement to retire
December 23rd, 2021 under 70s. [ Comments: none ]
Back when the original Gong Show was on the air in the '70s and '80s, the Unknown Comic was one of its biggest stars. Everyone wanted to know who was the mystery man under that paper bag.
That was then. Where is he now? He announced on Twitter, "I Retired 15 years ago & realized nobody knew I retired so gonna come out of retirement for a few gigs & try to retire again."
Now, he is up there with other legendary acts from that era like Cher, Barbra Streisand, and Mötley Crüe, as in saying they retired from live shows but resumed touring after some time.
If you want to see him live, then you can catch him at JR's Comedy Club in Simi Valley on February 25th, JR's Comedy in Valencia on the next night, Marine Comedy Winery in Novato on April 2nd, and Ventura Comedy Club sometime in April.
Maybe, just like paper bags, his career could have a resurgence, and he won't retire again.

---
Look it's Mrs. Cunningham and Cindy Brady
August 19th, 2021 under 70s, The Brady Bunch. [ Comments: none ]
Back in the '70s, every little kid wanted a mom like Mrs. Cunningham and a friend like Cindy Brady. However, the two never met because they were in different decades. Now that Marion Ross and Susan Olsen are both in 2021, we get to see what it would be like to hang out with the both of them.
While we won't personally be able to do it, Josh Gates got to do it on Josh Gates Tonight yesterday. I don't know about you, but I am so jealous of him.
Now that we got that out of the way, can we talk about the Happy Days matriarch never ages? Can you believe that she is 92 years young? We should all be like her when we get that old.
Want to feel old now? The youngest Brady Bunch star just turned the big 6-0 on the 14th. Shady Pines, I am coming your way

---
A scary moment for Marla Gibbs at her Hollywood Walk of Fame Star ceremony
July 20th, 2021 under 70s. [ Comments: 1 ]
Marla Gibbs was finally given a Star on the Hollywood Walk of Fame today after being in the business for over 50 years. However, there was a scary moment actress who turned 90 last month.
According to KABC's George Pennacchio, she looked as though she was overcome* by the heat because it is as hot as she is old here today. Thankfully, after she rested for a bit, The Jeffersons' star told the reporter that "She was overwhelmed by the honor but she says she's fine now! 😁"
Since the show must go on, it did. She was able to get her star, and now whenever we are on Hollywood Blvd, we can see it.
Congrats to Gibbs. It is an honor that was a long time coming.
*This is a reference to The Jeffersons' pilot when she finds out that Louise Jefferson and Helen Willis both live in the luxury Manhattan high rise. She says to them, "Well, how come we overcame, and nobody told me."
To see that memorable line, then click here!

---
Ed Asner dances to Drake's Tootsie Slide
April 28th, 2020 under 70s. [ Comments: none ]

I know Ed Asner as Lou Grant from The Mary Tyler Moore Show and Lou Grant, and the kids know him from Up. Now, we are all going to know him as the 90-year-old man who showed Drake how to do the Tootsie Slide.
Current SAG President Gabrielle Carteris challenged the former one to the #dorkitoutdancechallenge to raise money to give people in need $100 grocery gift cards via On Being Human 2020. He gleefully accepted and showed he is a double threat. I have never heard him sing, so I can't say triple one.
Either way, I hope I have moves like that when I am his age.
Asner challenged Dancing with the Stars' host Tom Bergeron to dork it out, and how could he say no to his old friend. If you want to see him dork it out via dancing, then click here!

---