Surprise '80s actors Anthony Edwards and Mare Winningham are married
February 23rd, 2022 under 80s, Weddings. [ Comments: 1 ]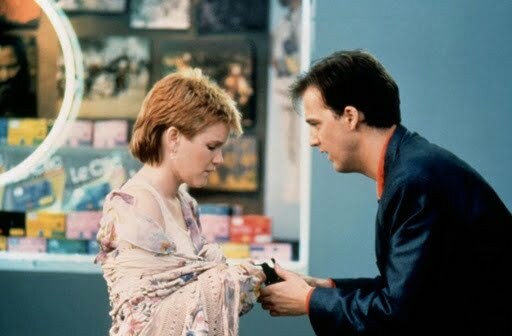 Back in 1984, Anthony Edwards and Mare Winningham auditioned for The Sure Thing. However, neither one got the lead role. Two years later, they starred in the nightmare-inducing movie Miracle Mile. (Side note – It is why I am still scared to go to Park La Brea to visit my friend)
Anyways, that movie was about a bomb, and their friendship never bombed. So much so that in 2018, their friendship turned into dating. And Edwards tells Esquire that the two of them eloped late last year.
The actor, who turns 60 this year, said that they are too old for weddings before praising his wife's acting in the Broadway play Girl from the North Country.
Congrats to the newlyweds.

---
Devo's Jerry Casale whips it with shaving
December 3rd, 2021 under 80s, Awesome Videos. [ Comments: none ]
Back on 1980, Jerry Casalawee had a huge hit with Devo called Whip It. The song has had such an influence over him that he uses whipped cream whenever he can.
One of the things he uses it for is to shave his face. He says it works really well. And the best part is you can get your lover to lick your face when you are done. I will lick whipped cream off almost anything, so I am willing to try this.
While that is what I would do with it, Casale wants to know what you Whip It with. So let him know on TikTok at @Devo, and he might try it out.

---
An '80s Horror movie fan's wet dream with these Scream Queens!
November 2nd, 2021 under 80s, Wet dream. [ Comments: none ]
Back in the '80s, Barbara Crampton starred in Re-Animator while Heather Langenkamp and Amanda Wyss took on Freddy Krueger in Nightmare on Elm Street. However, their characters never met.
That was then. Now, the three of them are bonding over being Scream Queens and surviving the success of their cult movies.
Now, let's talk about how killer Crampton, 62, Langenkamp, 57, and Wyss, 60, look. They can still make anyone scream with them in a movie. So let's get them in one!
I am saying this even though Wyss scared the sh!t out of me when she was walking in that body bag. I made my dad watch the rest of the film with me because I was too scared to watch it by myself.

---
Christopher Atkins is looking for a girlfriend who wants to have sex
April 13th, 2021 under 80s. [ Comments: none ]
'80s Teen Idol Christopher Atkins is single, but he doesn't want to be.
What is the Blue Lagoon actor looking for in a woman? He told Page Six, he wants her to be "Very sexual," as in have sex with him twice a day. He knows as the relationship goes on, that number will decrease.
Sex is not the only thing the 60-year-old is looking for in a lover. "I want a woman, obviously no drama, I'm too old for that," he explained. "A woman who loves to laugh, can be spontaneous … has to be open and what I mean by open is I believe that a good relationship is how healthy your intimacy is and what I mean by intimacy is not sex, but the ability to express oneself on an intimate basis without judgment and ridicule."
Ladies, what will you be doing besides doing him? Be prepared to go "snake hunting…camping, fishing, play ball, wrestle all the time, we have a blast."
Does he sound like your ideal guy? Then let him know. Personally, I would love to see him get a reality show looking for love. Remember when Bret Michaels and Flavor Flav had one? Why can't he? He is still doable! Would you do him?

---
Is Kim Wilde really 60?
November 18th, 2020 under 80s, Are they really their age?. [ Comments: none ]

Back in 1981, Kim Wilde released a song called Kids in America. Now, nearly 40 years later, the singer still looks like one. That is why I can't believe that today is her 60th birthday. So you still have a Kandy Krush on her?

---