A classic sitcoms' fan's wet dream
August 23rd, 2019 under 60s, 70s, 80s, Barbara Eden. [ Comments:

none

]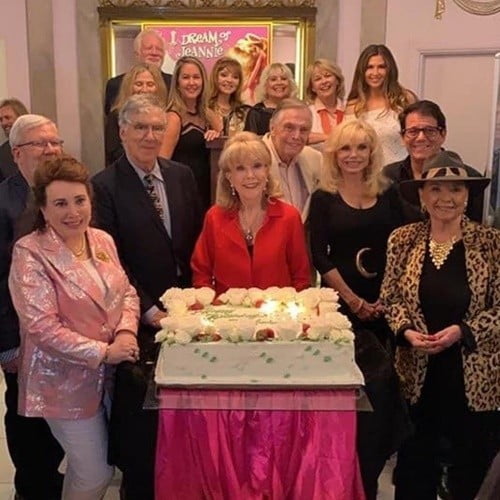 Today is Barbara Eden's 88th birthday. However, she celebrated it earlier this week with some friends at The Hollywood Museum. You might recognize some of them because, like her, they have been on our TVs all of our lives.
Do you recognize Leonard Maltin (movie critic), Elliott Gould (E/R), Roslyn Kind (Singer), Donny Most (Happy Days), Erin Murphy (Bewitched), Judy Tenuta (comedian), Peter Marshall (Hollywood Squares), Loni Anderson (WKRP in Cincinnati), Ilene Graff (Mr. Belveder), Anson Williams (Happy Days) and Dawn Wells (Gilligan's Island)?
We normally might have to change the channels to see them all, but for once we get to see them all in one dream photo? I feel like I rubbed Jeannie's bottle and a wish I never knew I wanted came true. While we got our wish, I hope that Eden got the one she made when she blew out her candles.
Happy Birthday Barbara Eden, may you get everything you want and more!
---
Lenny Kravitz is the epitome of a rock star
August 20th, 2019 under 80s, Lenny Kravitz. [ Comments:

1

]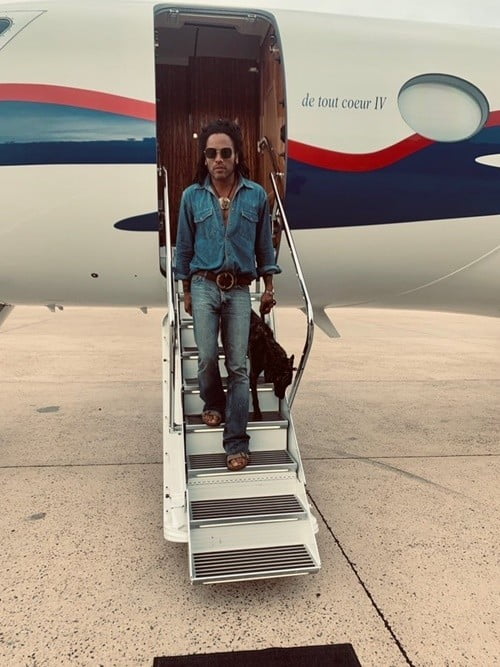 When you picture a rock star, you picture him effortlessly walking down the steps of a private jet in an opened button-down shirt that is tucked in his clean dirty-looking jeans covering his cowboy boots. Since his future is so bright, he is going to wear shades whether it is daytime or nighttime. His hair, pulled back because he was resting on the plane before he embarks on the madness he is about to experience.
That is exactly what Lenny Kravitz looks like here in this photo as he takes his first steps out for his Raise Vibration tour. Since the American man is even cooler than we imagine, his loyal dog is by his side with no intentions of leaving it.
Even if Kravitz wasn't a singer, he would still look like one. Since he is one, he is what the future musicians want to be. And we enjoy staring at all day long as we listen to his music.
---
Guess who still brushes his teeth twice a day?
July 30th, 2019 under 80s, Guess who?, Lenny Kravitz. [ Comments:

none

]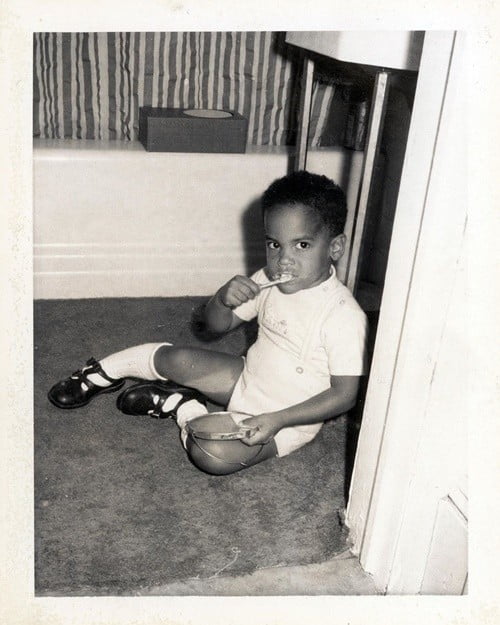 Want to see who that precious boy grew up to be, then click here!
---
An '80s girl's wet dream: Billy Idol and Dave Wakeling
July 29th, 2019 under 80s, Billy Idol, Wet dream. [ Comments:

none

]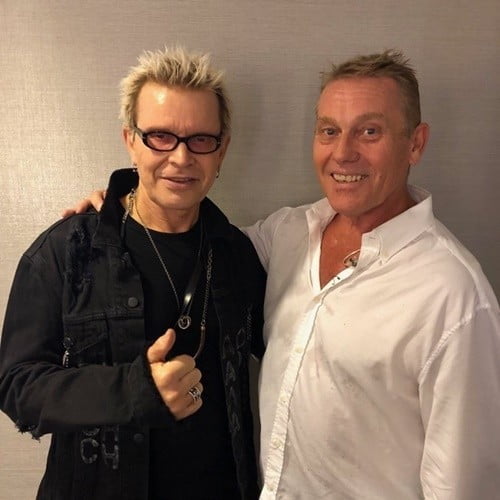 Back in the '80s, Billy Idol was dancing with himself. While Dave Wakeling was dancing with English Beat and General Public. One was a little bit Rock'n'Roll, while the other one was a little bit New Wave. Therefore, never should the two not meet!
That was then and this is now. Over the weekend, they showed a little Tenderness towards each other as you can see in this photo! Maybe they can make some Mony Mony together and go on tour. I know seeing them on one bill will take me there.
Sadly, Ranking Roger Charlery will not be able to join them. He passed away in March at the age of 56.
---
An '80s girl's wet dream, Corey Hart and Paul Young!
July 3rd, 2019 under 80s, Corey Hart, Wet dream. [ Comments:

none

]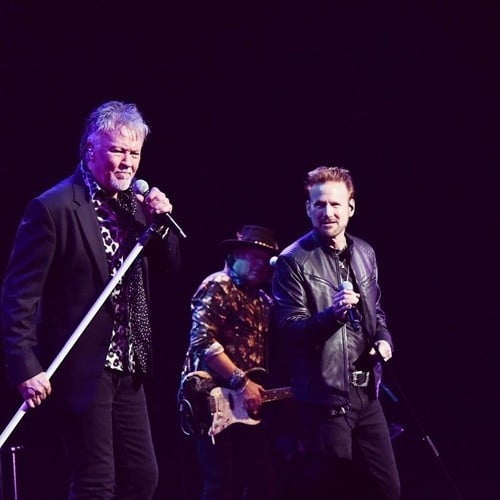 Back in the '80s, girls were singing Corey Hart's Never Surrender and Paul Young's Everytime You Go Away. However, they never performed on the stage together. That is until now.
Yesterday while both of them were in Tokyo, they became Young at Hart during the It Ain't Enough singer's concert. Much to the delight of their fans who could not get enough of the two singers.
You know what? They look so good together (and separately), I think they should iron out the rough spots and consider going on tour together as Young at Hart. I know I am not the girl who would wear their sunglasses at night to see them live on one stage.
---