The Valley Girl cast and crew reunited for the 40th anniversary
April 29th, 2023 under 80s, Reunions. [ Comments: none ]
Forty years ago today, a little movie came out called Valley Girl. And it created a movement around the country. Girls all over the U.S. started talking like actresses, shopping at malls, and hoping to date a punk like Nicolas Cage or Cameron Dye. It was like totally cool!
And you know what else is also totally cool is that several of the cast, musicians, and crew came out to Mann's Chinese Theater to celebrate the milestone this week.
Here is come out to watch and talk about their film: Deborah Foreman "Julie", E.G. Daily "Loryn", Cameron Dye "Fred", Heidi Holicker "Stacey", Colleen Camp, "Sarah", Lee Purcell "Beth", Christopher Murphy, "Ralphie", David Ensor, "Skip", Joanne Baron "Prom Teacher", Tony Plana "Low Rider", Josie Cotton, Performer "Johnnie are you Queer", "He Could be the One", David Pahoa, Performer/Bass Player The Plimsouls; "A Million Miles Away", "The Oldest Story in the World", and "Everywhere at Once". Lou Ramirez, Performer/Drummer The Plimsouls; "A Million Miles Away", "The Oldest Story in the World", "Everywhere at Once", Tony Markes "Brad", Camille Calvet "Allyson", Gary Myrick, Musician "She Talks in Stereo", "Time to Win", and filmmakers Martha Coolidge, Director, Andy Lane, Writer/Producer, Eva Gardos, Editor, Scott Wilk, Music Composer.
Don't they all look groovy to the max? So like, awesome!
Now, I am going to rewatch the movie and remember why I moved to the Valley when I moved to L.A. Yes, I saw that movie and said I wanted to be Valley Girl. And imagine how disappointed I was when no one talked like they did in the film. It wasn't until my niece started school that she started talking like one, and I would imitate her. And she would get mad at me for doing so. But I like didn't care. Because I was so happy to have someone to be all Valley with! Too bad she lost the accent, but I still have it.

---
Is this why we love Ferris Bueller's Day Off so much?
April 6th, 2023 under 80s, Talk Shows. [ Comments: none ]
It has been over 35 years since we met Ferris Buller (Matthew Broderick) and his friend Cameron Frye (Alan Ruck), and audiences of all ages still love watching their day off.
So what makes their movie so magical? Yesterday when Ruck was on The Talk, he shared his theory. "It is about friendship and generosity," he said. "Cause here's this guy. You know, he is almost a con man. And he has the whole school wired. He can take the day off and spend it with his gorgeous girlfriend. But who does he call up? His mopey friend, to show him a good time. You know, and pull him out of his shells. So I think that is a large part of it."
Now that he said that, it all makes sense.
I don't know about you, but I was always Team Cameron. And I love that he still moves and talks just like his character did. There was something about the way he does that that just attracted me to him. I just wanted to hug him and tell him everything is going to be OK.
However, when it comes to the TV series, I was so Team Ferris!

---
Turf war at the Goonies House!
January 24th, 2023 under 80s. [ Comments: none ]
A couple of months ago, the house that was seen in The Goonies was up for sale, and Behman Zakeri bought it. He obviously bought the house because he is a big fan of the movie.
Sadly, the woman two doors down is not a fan of all of the traffic it brings to the neighborhood, so she made a sign that reads "Goonies Not Welcome."
Well, the new owner responded with his own sign that says, "Hey you guys! Goonies welcome!"
To make matters worse for the Mama Fratelli, the neighbor in between wrote, "Ignore Karen" with an arrow pointing at her house.
She messed with the wrong people, and that is why Goonies never die.
KGW got a tour of inside the house. To see what it looks like, then click here!

---
Curtis Armstrong reacts to the Moonlighting rumor
October 4th, 2022 under 80s. [ Comments: none ]
Yesterday, Glenn Caron, who created Moonlighting, tweeted something that got fans of the '80s detective dramedy super excited. He wrote, "Disney and I have put our heads together and come up with a plan. Big announcement Wednesday!!! #Moonlighting #BruceWillis #CybillShepherd #AllyceBeasley #CurtisArmstrong"
Since Bruce Willis has retired from acting, it doesn't sound like it will be a sequel. So what could it be? We are only left to guess.
We are not the only ones wondering what is going on, so is Curtis Armstong. Because he wrote, "This is intriguing…🤔" That it is.
What do you think his announcement is? And why isn't Moonlighting in syndication?

---
Surprise '80s actors Anthony Edwards and Mare Winningham are married
February 23rd, 2022 under 80s, Weddings. [ Comments: 1 ]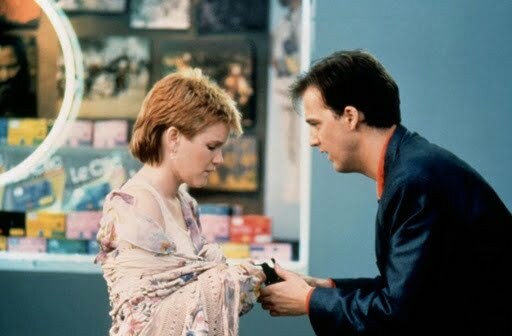 Back in 1984, Anthony Edwards and Mare Winningham auditioned for The Sure Thing. However, neither one got the lead role. Two years later, they starred in the nightmare-inducing movie Miracle Mile. (Side note – It is why I am still scared to go to Park La Brea to visit my friend)
Anyways, that movie was about a bomb, and their friendship never bombed. So much so that in 2018, their friendship turned into dating. And Edwards tells Esquire that the two of them eloped late last year.
The actor, who turns 60 this year, said that they are too old for weddings before praising his wife's acting in the Broadway play Girl from the North Country.
Congrats to the newlyweds.

---