Turf war at the Goonies House!
January 24th, 2023 under 80s. [ Comments: none ]
A couple of months ago, the house that was seen in The Goonies was up for sale, and Behman Zakeri bought it. He obviously bought the house because he is a big fan of the movie.
Sadly, the woman two doors down is not a fan of all of the traffic it brings to the neighborhood, so she made a sign that reads "Goonies Not Welcome."
Well, the new owner responded with his own sign that says, "Hey you guys! Goonies welcome!"
To make matters worse for the Mama Fratelli, the neighbor in between wrote, "Ignore Karen" with an arrow pointing at her house.
She messed with the wrong people, and that is why Goonies never die.
KGW got a tour of inside the house. To see what it looks like, then click here!

---
Curtis Armstrong reacts to the Moonlighting rumor
October 4th, 2022 under 80s. [ Comments: none ]
Yesterday, Glenn Caron, who created Moonlighting, tweeted something that got fans of the '80s detective dramedy super excited. He wrote, "Disney and I have put our heads together and come up with a plan. Big announcement Wednesday!!! #Moonlighting #BruceWillis #CybillShepherd #AllyceBeasley #CurtisArmstrong"
Since Bruce Willis has retired from acting, it doesn't sound like it will be a sequel. So what could it be? We are only left to guess.
We are not the only ones wondering what is going on, so is Curtis Armstong. Because he wrote, "This is intriguing…🤔" That it is.
What do you think his announcement is? And why isn't Moonlighting in syndication?

---
Surprise '80s actors Anthony Edwards and Mare Winningham are married
February 23rd, 2022 under 80s, Weddings. [ Comments: 1 ]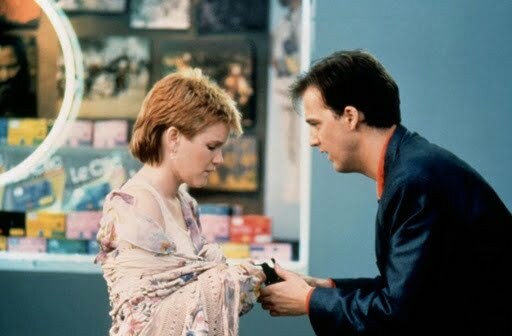 Back in 1984, Anthony Edwards and Mare Winningham auditioned for The Sure Thing. However, neither one got the lead role. Two years later, they starred in the nightmare-inducing movie Miracle Mile. (Side note – It is why I am still scared to go to Park La Brea to visit my friend)
Anyways, that movie was about a bomb, and their friendship never bombed. So much so that in 2018, their friendship turned into dating. And Edwards tells Esquire that the two of them eloped late last year.
The actor, who turns 60 this year, said that they are too old for weddings before praising his wife's acting in the Broadway play Girl from the North Country.
Congrats to the newlyweds.

---
Devo's Jerry Casale whips it with shaving
December 3rd, 2021 under 80s, Awesome Videos. [ Comments: none ]
Back on 1980, Jerry Casalawee had a huge hit with Devo called Whip It. The song has had such an influence over him that he uses whipped cream whenever he can.
One of the things he uses it for is to shave his face. He says it works really well. And the best part is you can get your lover to lick your face when you are done. I will lick whipped cream off almost anything, so I am willing to try this.
While that is what I would do with it, Casale wants to know what you Whip It with. So let him know on TikTok at @Devo, and he might try it out.

---
An '80s Horror movie fan's wet dream with these Scream Queens!
November 2nd, 2021 under 80s, Wet dream. [ Comments: none ]
Back in the '80s, Barbara Crampton starred in Re-Animator while Heather Langenkamp and Amanda Wyss took on Freddy Krueger in Nightmare on Elm Street. However, their characters never met.
That was then. Now, the three of them are bonding over being Scream Queens and surviving the success of their cult movies.
Now, let's talk about how killer Crampton, 62, Langenkamp, 57, and Wyss, 60, look. They can still make anyone scream with them in a movie. So let's get them in one!
I am saying this even though Wyss scared the sh!t out of me when she was walking in that body bag. I made my dad watch the rest of the film with me because I was too scared to watch it by myself.

---