The Proud Family is coming back Louder and Prouder!
February 27th, 2020 under Alisa Reyes, Disney Kids, Soleil Moon Frye. [ Comments: none ]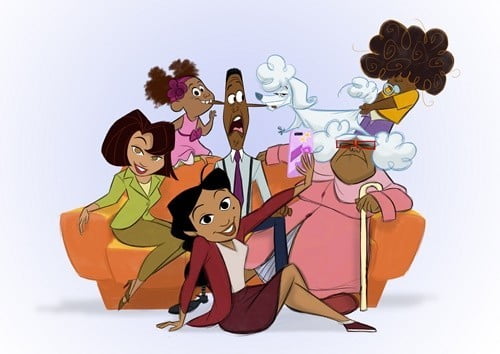 For months there have been rumors that The Proud Family is coming back, and Disney+ finally made it official today! It has been 18 years since the show premiered, so it makes sense that they would make Penny a teenager for The Proud Family: Louder and Prouder.
Kyla Pratt will once again voice Penny, and she is not the only one who is back from the original run. Tommy Davidson as Oscar Proud, Paula Jai Parker as Trudy Proud, Jo Marie Payton as Suga Mama, Karen Malina White as Dijonay Jones, Soleil Moon Frye as Zoey Howzer, Alisa Reyes as LaCienega Boulevardez, and Cedric the Entertainer as Uncle Bobby Proud are also once again joining in on the fun.
The keep the animated show feeling like it did, Academy Award-winning creator/executive producer Bruce W. Smith and executive producer Ralph Farquhar are back to keep the Prouds in line. At least, they will try to do so.
We don't know when the revival will begin to stream. Therefore, in the meantime, you can watch the OG run on Disney+ anytime you want. It will get you even more excited for the new episodes.
One of the most excited people for the reboot is Alisa Reyes, and she told me how much she is looking forward to returning as LaCienga Boulevardez. She said, "I am just so grateful and blessed to have a full-circle moment it started with All That on Nickelodeon and now again with The Proud Family. I am humbled and so thankful for this opportunity to continue doing what I love and that fills my soul with joy!" It fills our souls with joy to see our childhood favorites coming back to life in our adulthood. Who says we have to grow up?

---
Candyman. Candyman. Candyman. Candyman. I ain't saying his name a fifth time
February 27th, 2020 under Movies. [ Comments: none ]

Back in 1992, Tony Todd gave us all nightmares as the Candyman. Now, he and the hook are back for a "spiritual sequel" of the classic franchise.
The Jordan Peele take, brings us back to the Chicago Cabrini-Green neighborhood that has been gentrified for the new era. While the area might look all nice and new, they are still haunted by the old, scary legend that is known as Candyman.
Visual artist Anthony McCoy (Yahya Abdul-Mateen II) has just moved into the area, and someone tells about the ghost story that has terrorized the area for as long as anyone can remember. He decides to bring the urban legend back to life with his art, and it has deadly consequences. Will he be able to stop the Candyman before someone else says his name five times into a mirror.
We will find out on June 12th. I am a huge fan of the Candyman franchise, and at first, I was hesitant about this version. Then after watching the trailer and seeing that Tony Todd is going to be in it as Daniel Robitaille , I am excited to watch it. It looks more like a horror movie from the 20th century than the over CGIed ones we have been getting in this one. Those are so fake, I don't know how people get scared over them.

---
Courteney Cox confirms the Friends reunion is just them reminiscing
February 27th, 2020 under Friends (cast). [ Comments: none ]

Remember how everyone thought that BH90210 was going to be revival and not a spinoff based on the actor's lives and not their character's? Then they got all pissed off when they realized that was the case?
A lot of people think the Friends' reunion on HBO Max is going to be a scripted episode, but it is not. Courteney Cox confirmed that while she was Hikin' with Kevin Nealon. She told him, "We are all going to get together for the first time, in a room, and actually talk about the show." Then she added, "I am so excited. We are going to have the best time…We really all haven't done that, and actually sat there and talked about and reminisced about this incredible experience that we had."
Now, that you know it is just going to be Cox, Lisa Kudrow, Jennifer Aniston, Matthew Perry, Matt LeBlanc, and David Schwimmer, and not Monica, Phoebe, Rachel, Chandler, Joey, and Ross. Are you still as excited about it?
We will find out when it must likely starts streaming in May.

---
Taylor Swift becomes Jake Gyllenhaal
February 27th, 2020 under Jake Gyllenhaal, Taylor Swift. [ Comments: none ]

In the past, Taylor Swift wrote at least one song about her ex Jake Gyllenhall. Now, she has taken it to a whole new level by looking like him for her new music video The Man. In it, she depicts many of the things women hate about men.
Therefore, you have to wonder if it was her idea which man she would look like as Tyler Swift, or the makeup department came up with all on their own. Since she directed it, I think you can we all assume the answer to that question.
When it comes to the song, it is another one of her catchy tunes I cannot get out of my head.

---
Today's on how fast food is trying to kill us: Dunkin' is selling a just bacon side
February 27th, 2020 under Fast Food. [ Comments: 4 ]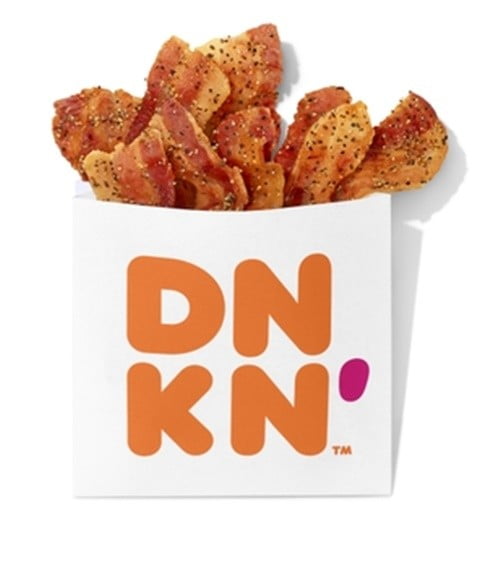 It seems like every day, fast food is coming up with new ways to kill us with yummy mashups like the KFC fried chicken sandwich that uses glazed donuts for bread. Well, Dunkin' doesn't need a mashup for their latest mouth-watering, fattening idea.
The donut shop that is no longer just about donuts is selling 8-half slices of bacon for us to enjoy as a snack. Their "Snackin' Bacon starts its journey smoked with natural cherrywood. It's then treated to our sweet and savory blend of brown sugar and black pepper seasoning." If you like the pig meat from the Sweet Black Pepper Bacon Breakfast Sandwich, then you don't have to order the whole sandwich anymore to get the taste of the bacon. You just have to order their new side.
Now, I am going to knock the industry every time they come up with a new scrumptious sounding idea like this one. Mainly because I must try everything they put out there. I want a sleeve of bacon to enjoy as a snack. What person who eats bacon doesn't? Well, my doctor will not want me to eat it when I go in for my checkup. She always gets mad when I go to get my blood tested, and I have a breakfast sandwich in my hand. Imagine how she will feel when I come in with just this? And not share because every piece is only my piece. I am not a sharer when it comes to bacon! Who is?

---